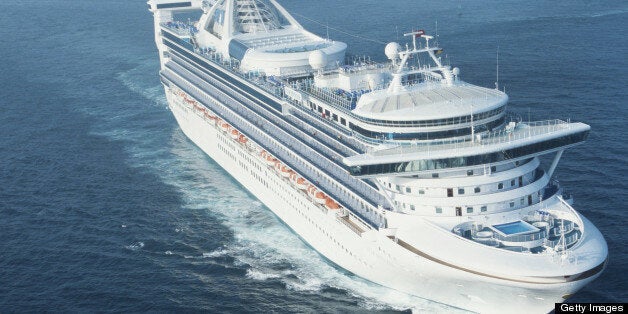 Green for Go. Red for STOP. That's how the Brasilians do it. At least, that's how they do it in the famous and fabulous BBQ restaurants over in Rio and Sao Paolo. Churrasco is what they call BBQ. And my second time to 'Go Brasilian' is at the Moderno Churrascaria restaurant. I had recently eaten succulent grilled BBQ mushrooms and pork at the Cabana Restaurant in my hometown and so had some idea of what to expect.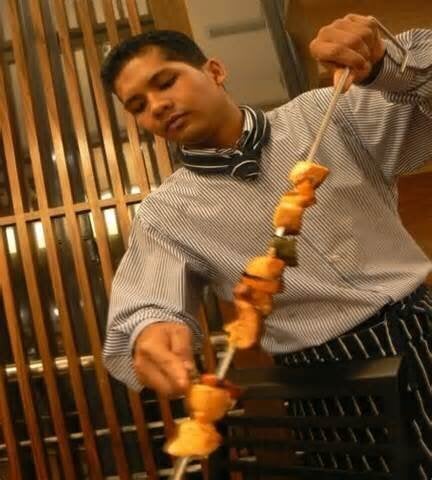 First course. A monster buffet with an unbelievably varied spread of food. Artisan cheeses, gorgeous greens, leaves and vegetables for salads, soups, a variety of meats and breads. I could have feasted on this alone and would have been more than happy. But I decided not to overindulge so I would have room for the main course(s). After ordering drinks with my pals, we head for the buffet.
First course over, plates are cleared, we turn over our individual coasters to GREEN and wait. Soon a server arrives with a skewer of BBQ chicken that is dispatched onto everyone's plates. Little by little every sort of grilled meat imaginable arrives. We eat like Kings and Queens! The BBQ meat keeps coming until, sated, I turned my coaster over to RED. When the servers see I have turned over my coaster, they know to quit asking if I want more. Simple.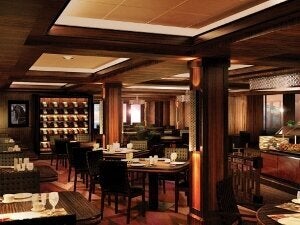 At lunch on the same day I sashayed over to the Shanghai Noodle Bar. I gobbled up Steamed Shrimp Dumplings and fantastic Singapore Noodles from the wok (rice noodles, shrimp, roast pork, bean sprouts and yellow curry). Yum! The chilled mango pudding was exceptionally good, too. And the prices are very reasonable ranging from $2.50 for dessert up to $5.50 for a main course.
Ready for the surprise? The Moderno Churrascaria and Shanghai Noodle Bar are on a cruise ship. Just two of the speciality restaurants on the recently launched Norwegian Breakaway newest of Norwegian cruise-line's mega ships.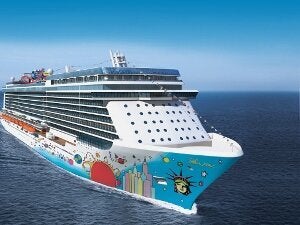 In fact, the sheer number of restaurants, cafes, clubs and venues you can find at 678 Ocean Place (Deck 6, 7 and 8) is pretty amazing. Ranging over three decks, there are bakery shops and ice cream stalls, a Teppanyaki restaurant and Geoffrey Zakarian's Ocean Blue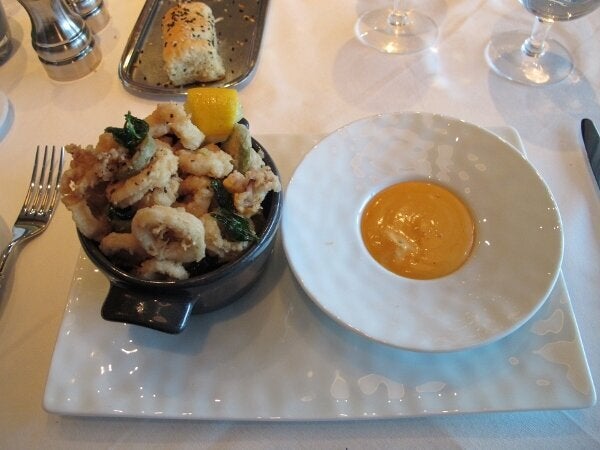 Starter of Calamari at Ocean Blue
As well as an American style steakhouse and French bistro. It is all about choice but do bear in mind that there is an extra charge for these specialty restaurants which can add up quickly if you are traveling with a family.
And I could 'Go Brazilian' outside because the Moderno Churrascaria is on The Waterfront. This is where restaurants spill out onto an ocean promenade on Deck 8 that encircles the ship. So rather than dining inside on a sunny day or a sultry evening, you can move outdoors. Al fresco dining on a ship is nothing new but on the promenade deck with other guests strolling by and with a view out to sea? This is different.
After my meal I was going to check out The Haven. This celebrity-styled private area ranging over two decks is billed to be for those seeking refuge from the madding crowds. Many of the cruise lines that feature large ships now offer a privileged space like this. Though I wasn't enjoying a multi-room suite myself, it would be nice to sneak a peek anyway. I saw the Penthouse Suite which is 425 sq ft. and has a sitting room and dining room. Suites are surrounded by a private courtyard which is open to the sky. It has a glamorous pool and sun deck, comfortable loungers and hot and cold running butlers. Adults only. Quiet and sophisticated. With a shared lounge and bar, should one want to lounge indoors and private dining in the suites. Bliss.
Speaking of Bliss. I was now heading for the Bliss Ultra Lounge to rock out with dope DJs and party until dawn. Well, I won't exactly party until dawn. Particularly as I need to hear one of my favourite soul singers, Slam Allan, who is playing just a few yards away at the Fat Cats Jazz and Blues Club. I wouldn't miss his act for the world.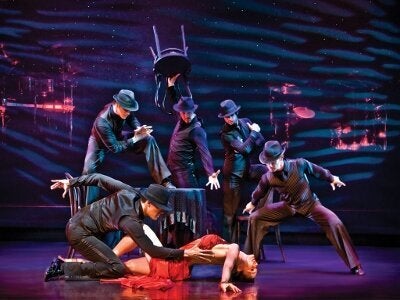 At the Breakaway Theatre, a new version of Broadway hit 'Burn the Floor' is playing to standing ovations. It was great to see the dancers do their own take on traditional 'Strictly Come Dancing' ballroom moves and turn each of them on their head. This show rocks! From The Savoy, where the Lindy, Foxtrot and Charleston were born, to the Latin Quarter, where the Cha-Cha-Cha, Rumba and Salsa spice up the stage, all the popular styles are re-created by these talented performers. The story telling is perfect and moves are brilliantly synchronised and executed. The Paso Doble is my favourite, particularly steamy with two 'matadors' fighting over a very fetching bull.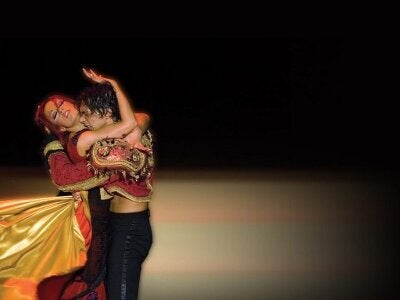 The thing about these floating resort style ships is you have venue upon venue of entertainment at your fingertips. I would defy any passenger to run out of things to do on a Norwegian cruise ship.