"Just after you pass Yelverton, you need only drive up this road a few minutes to have views like this," proclaims Elaine our Nordic Walking instructor. She gesticulates towards the surrounding hillsides which undulate down to the sea. A part of the view is green, farmed and fenced fields but most is rugged landscape and wild. I am not sure if it is the rolling hills, the vast open sky with clouds skirting across or the roaming, untamed animals that make this place so romantic. Breaking my reverie, Elaine's Bernese Mountain Dog, Maisie, has just leaned against me and is so sturdy she has nearly knocked me over! I love this dog. What a great start to the afternoon.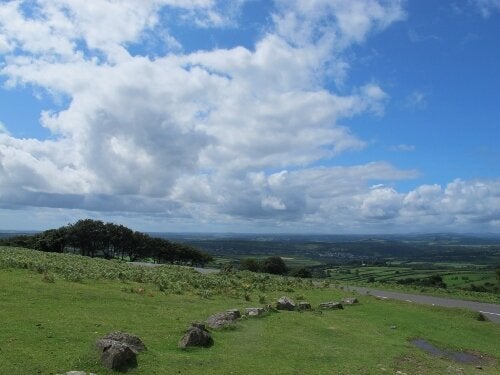 Dartmoor Vista ©Rob Watson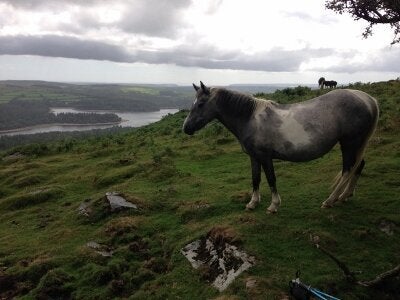 Wild pony on Dartmoor ©LoveDartmoor
On my first visit to Dartmoor, Elaine is teaching hubby and I a nifty way of trekking using ski type poles to create forward thrust. Nordic Walking was developed by cross country skiers and uses all the body's muscle groups, unlike regular hiking or walking. A fantastic work out. It is handy that Elaine could pick us up in her 4x4 wheel drive vehicle at our accommodation. We had traveled from London by train and had not rented a car. Big mistake. Dartmoor is far to spread out to manage on the minimal public transport provided here and taxis can be pricey. Having your own vehicle or rental car is a must.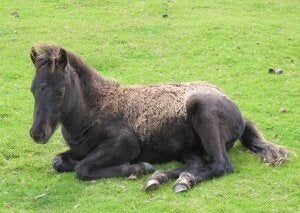 We quickly learn that the sheep on Dartmoor are 'hefted' to the land. An ancient shepherding expression which refers to animals that freely roam the moor all year round. The ewes teach the lambs the best places to graze, shelter and also teach them to respect natural boundaries. This is passed down generation after generation. Wild ponies also pepper the landscape, descendants of Welsh pit ponies who were the muscle of the granite industry. In fact, within a few minutes, we are sheltering from the rain under the same twisted tree as the ponies (there are so few trees on the moor that we have to share). Maisie, is happy to relax in the grass and get soaking wet.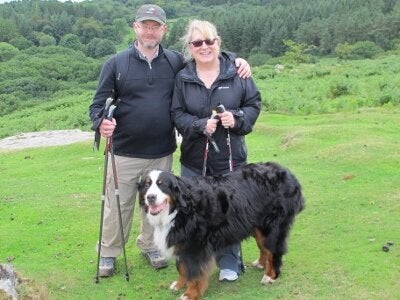 Hill tops with exposed granite called Tors are the most prominent feature here. It is hard to believe that a mere century ago this wild area was industrialised with working granite quarries scarring the landscape. The granite which came from Dartmoor became the building blocks of Britain, particularly during the Victorian era and before cheap materials like concrete were invented. Bridges, palaces and monuments were all constructed of Dartmoor granite.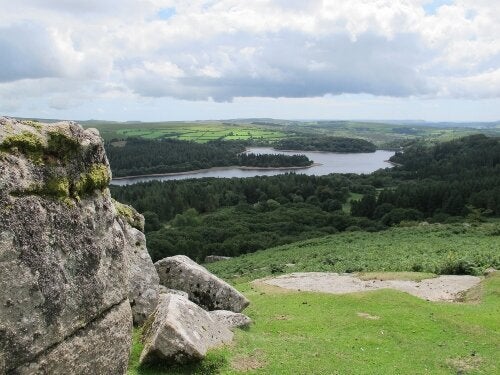 Another feature which dates from Victorian times is the Burrator Reservoir. We can see the water glittering in the distance below us. Locals call it a 'honey pot' as it attracts tourists who flock to this manmade lake. I can see the attraction. There is a two mile flat tarmac road surrounding the reservoir which is not terribly challenging for those wishing to have a stroll, cycle or horse ride. This valley was intentionally flooded in the 19th century when nearby Plymouth needed long term solutions for drinking water and is a tranquil spot...except for the profusion of visitors.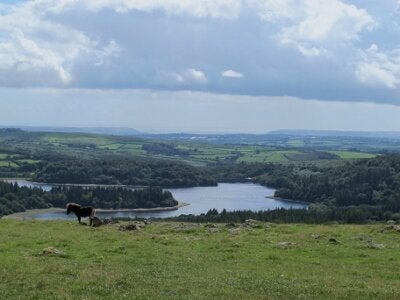 Burrator Reservoir ©Rob Watson
Today there is glorious sunshine with only intermittent showers - perfect for our outing. But yesterday, we were well and truly rained out. However, we had made contingency plans. A country walk down a lane behind the hotel was quite relaxing (until getting completely drenched) but we dried off at our hotel's Dartmoor Bar and had a very scrummy lunch. Leek and potato soup and the lamb burger went down a treat and we shared a West Country cheese platter for dessert.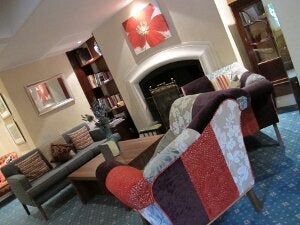 Moorland Garden Hotel Lounge ©roamingscribe
Hubby was then treated to a massage which he enjoyed in the privacy of our Lily of the Valley suite (almost could be the name of a spa, eh?). Trisha Jarrett, a qualified therapist, offers 'natural safe therapies for Ladies and Gentlemen'. Might sound Victorian but she is very good. Trisha comes to the hotel but you must book in advance.
After our wonderful Nordic walking session we head out to The Royal Oak Inn in the hamlet of Meavy. Built in the 15th century, opposite the Inn is an 800 year old Oak tree surrounded by the tiny village green. The Royal Oak boasts an enormous fireplace, several higgledy piggledy rooms with a well-stocked bar featuring local ales and a good menu with traditional English fare. I tuck into delicious Cornish Lemon Sole while hubby tries out the pork loin. Only complaint; one dessert is enough to feed three people. You have been warned! Try out the Meavy Mess - mouth-wateringly decadent.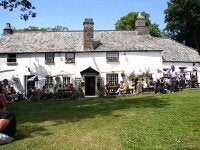 There are many sporting activities you can do on the moor: Nordic walking, cycling, mountain biking, hiking and horse riding. For those who are twitchers, bird watching on the Tamar Estuary is fascinating and there are bird watching river cruises during the winter months. Across the Tamar River in Saltash is the location of the China Fleet Country Club which boasts a golf course and driving range on its grounds. Run by the Navy, China Fleet was originally started in Hong Kong at the turn of the last century for the use of overseas serviceman.
I will certainly come to Dartmoor again to experience this exceptional wilderness. The sky, the land, the animals and the friendly locals will all welcome anyone exploring their spectacular terrain.
Rooms at the Moorland Garden Hotel cost from £100 per night on a bed and breakfast basis and from £150 per room per night including 3 course dinner at the Mayflower Restaurant. Avis can drop off a rental car at the hotel for a £15 additional charge.
Nordic walking sessions can be booked from £49 per person for two hours on a one to one basis; £60 for two people; and £25 per person for groups of 3-6 people. Guided Dartmoor Discovery walks and Nordic Walking Weekends are also available. For further details visit Love Dartmoor.
Healing Works offers ancient holistic therapies. Call: 01822 832 490