Grace on the West Loop plus Publican and MOTO in the meat packing district are all part of Chicago's emerging nouveau cuisine scene.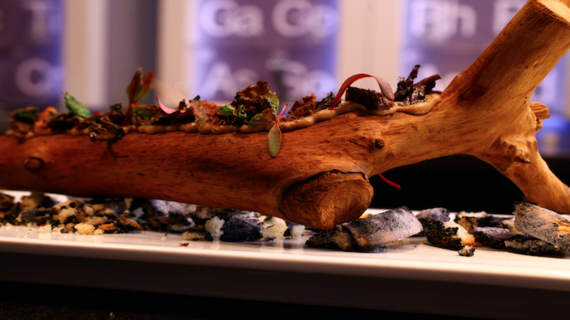 Forest Foraging © Moto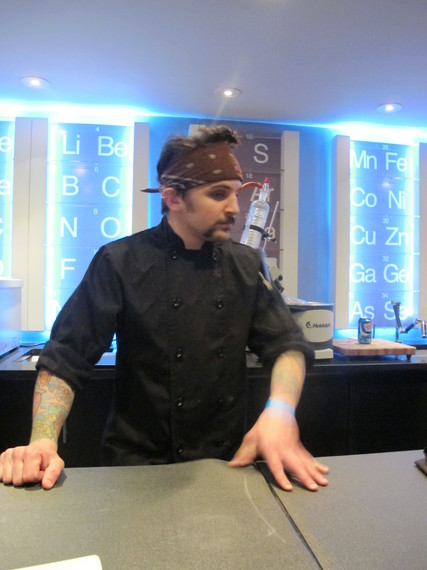 Chef Richard Farina of Moto
Chicago has come a long way since it was known for stockyards and the mass marketing of processed meats. Haute cuisine is on the rise as the natural choice for connoisseurs and is attracting young professionals interested in food and wine. Ethnic food restaurants are becoming ever more diverse as this entire industry starts to expand and diversify.
King Lobster and liquified butter at Grace
During a visit to IPW2014, the U.S. International Travel Trade Show, I was invited to visit three different restaurants in the host city. These movers and shakers are prominent in the emerging culinary scene and represent what is fun and furious about this incredible city. We started with the Michelin star bravado of Grace, moved on to a phenomenal gastro pub and ended with an avante garde restaurant dedicated to futuristic menus.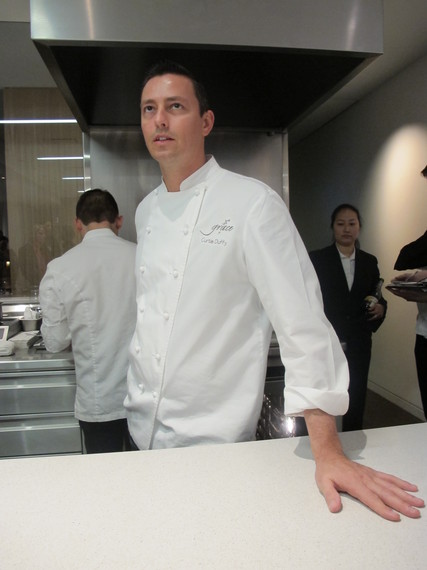 Chef Curtis Duffy at Grace
GRACE
Grace, on Randolph Street, is the name of Curtis Duffy's two Michelin star restaurant which currently has a two month wait list for its American Progressive menu that is seasonal and ingredients driven. Flora and Fauna are two of the whimsical names describing the meat and vegetarian 10 - 12 course menu selections.
First impression is of a quiet space constructed out of natural materials. Modern, chic and sexy is how general manager and partner, Michael Muser, describes the restaurant as we begin our tour. He introduces us to head chef and owner, the acclaimed Curtis Duffy. Duffy started cooking at a very young age and counts Chicago's own Charlie Trotter as an important influence.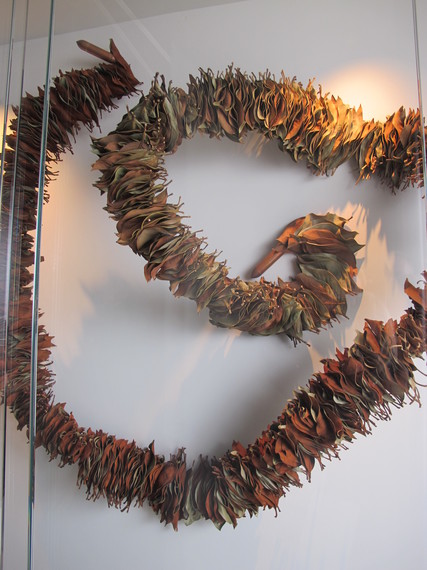 Artwork at Grace
In 2008, Duffy took his impressive skill set to Avenues (The Peninsula Chicago) and was instantly celebrated for his imaginative cuisine by consumers and media alike. After leaving in 2011, he focused on starting his own restaurant.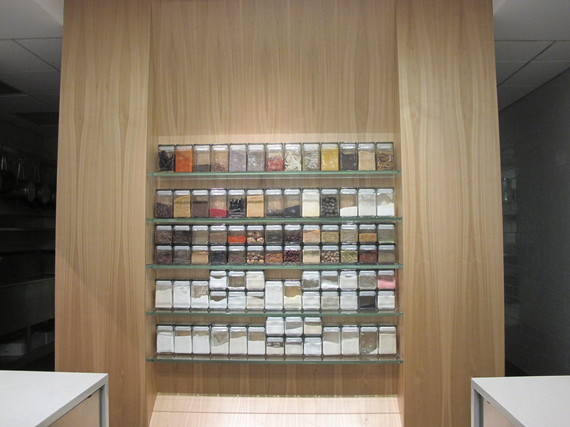 Kitchen at Grace
Duffy's kitchen is clean and mean with a total of 17 chefs at any one time working for him. An example spoonful - King Crab and liquefied butter - had been prepared for each of us to taste, it was excellent. Quite literally, it melted in your mouth.
The restaurant's dining room is decorated with natural materials to create a warm and welcoming space. Decanting stations are situated near each table as wine pairing is an important element of the dining experience.
MOTO
This restaurant's motto is disruptive green technology. If you have never heard of anything like that don't feel alone, neither had I.
Indoor Grow Farm at Moto
Executive chef, Homaro Cantu, bandies about phrases like "zero food mile gastronomy, organic micro-greens and indoor farming" as if he coined them himself. Perhaps he did. Moto is all about experimentation and getting diners to open their minds to new types of food experiences.
"Put this tablet on the end of your tongue and let it dissolve," instructs resident chef Richie Farina. Looking bohemian with a bandana tied around his head and arms covered in tattoos, he has caught my attention. "Now try a bit of sour cream. It should taste like cheesecake and very sweet". He was right. It didn't taste at all like sour cream but instead like the decadent creamy dessert we all love so much.
The discovery of an enzyme that fools the tongue into thinking it is eating something sweet, could revolutionise eating forever.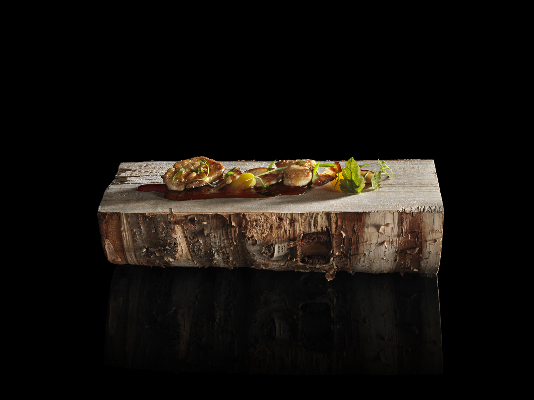 Maple Breakfast © Moto
Chef Homaro Cantu is equal parts chef and inventor and is bringing his unique view on cuisine to an eager public. A dining experience at Moto is an adventure in eating - taking place right in the heart of the traditional meat packing district.
12 courses on one plate is a popular tasting menu. But also try their fanciful desserts: strawberries & cream, date cake, chocolate mousse and toasted marshmallows.
Moto has its own grow room which features Indoor farm products including all sorts of micro fruits and vegetables. These fresh ingredients are used every day as part of their experimental menu. For those that live in the Chicago area, Moto will come to your house and build you your own indoor farm. Now you will have no excuse to grow your own organic vegetables at home.
PUBLICAN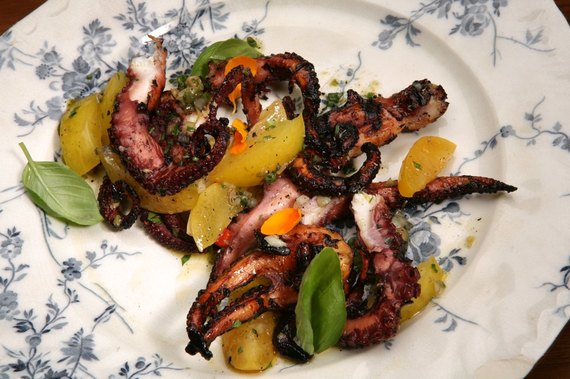 Octopus © Publican
Gastro pub, Publican, you might think, is all about butchery (pork to be specific) and beer. But there is more than meets the eye to this über popular restaurant in the meat packing district.
Rustic dishes anchor the Publican's menu along with an extensive international beer list developed by partners Donnie Madia, Eduard Seitan and Terry Alexander, featuring 100 ales, lagers, stouts and ciders.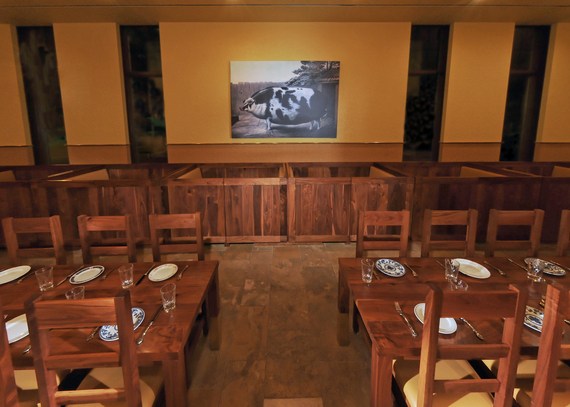 Dining Room © Publican
I must admit, it was the seafood selection on the menu that 'wowed' me. An enormous array of oysters and fresh catch that comes from as far away as Japan and Holland. This is not any old gastro pub.
The wooden interior of Publican is warm and welcoming and it was busy and full of guests the afternoon that I visited.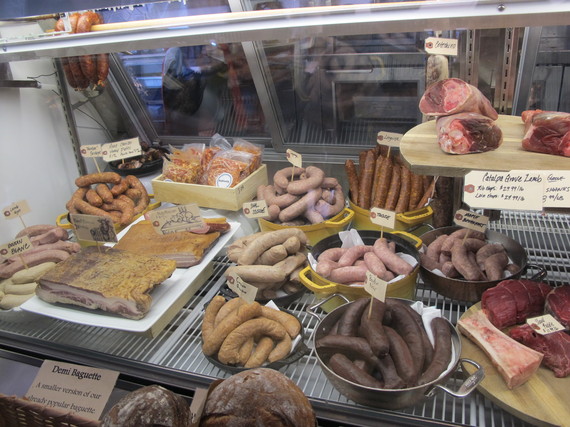 Meat Counter at Publican
Publican is based exactly where it should be. The middle of Chicago's meat packing district.
The meat packing district is the first place in the world where the mass market production of food products took place. The stock yards where located nearby and cattle and pigs were shipped here from all over the mid-west. Before the railways, it was the cattle drives that brought beasts to market, both animals and cowboys covering vast distances to get to Chicago, the hub of meat distribution.
Much has changed but Chicago, as the centre of the gastronomic universe, is just beginning.
All images © roaming scribe unless stated
For more information visit www.choosechicago.com
Grace, 652 W Randolph St., Chicago, IL 60661
T: +1 (312) 234-9494
Moto, 945 West Fulton Market, Chicago, IL 60607
T: +1 (312) 491-0088
Publican, 837 W Fulton Market, Chicago, IL 60607
T: +1 (312) 733-9555