Toronto is where crustaceans are king and Dangerous Dan's serves up Colossal Colon Clogger Burgers
I am slurping down yet another succulent oyster. Does dining get anymore decadent than this? I have a choice of five different oysters that range from rare Olympias from Washington State, to Beausoleils from New Brunswick and even Tsarskayas from St.Kerber, France. And each taste slightly different from the other.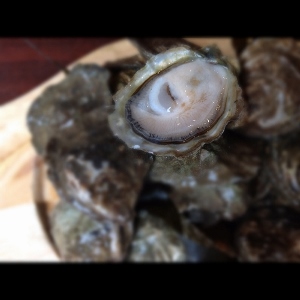 To begin with there is a table full of starters: calamari, crab cakes and tempura shrimp which must be eaten. Next, someone at my table is downing a Gin Oyster Shooter! Finally, we all devour the main courses of salmon and sea bream. The man serving us is restaurateur and seafood enthusiast Patrick McMurray who holds the Guinness World Record for the most oysters shucked (38) in one minute. He shows us his technique using a special oyster shucking knife with a pistol grip and chain mail gloves for protection. At the Starfish Oyster Bed and Grill, seafood and crustaceans truly are King and I have become a loyal subject.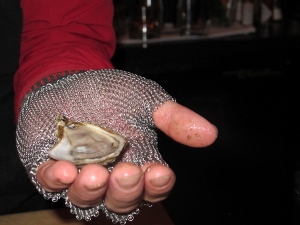 In Toronto I have found gastronomic wonders that defy expectation: not only fresh oysters from all over the world in a land locked city but a starter made with cricket flour that you might not dare put in your mouth, and a Canadian staple, Maple Mustard, at Kozlick's in St. Lawrence Market. There is even a 24 oz. burger, part of the Colossal Colon Clogger Combo to be found at Dangerous Dan's on Queen Street East and Broadview Street; voted unhealthiest restaurant in the world.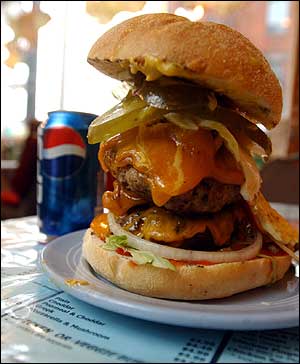 Colossal Colon Clogger Burger
Cross the road to grab a Guinness at The An Sibin Pub and saunter just a few metres further to find HOOKED, the only sustainable fish shop in Toronto. This and much, much more tantalised my taste buds during a munchtastic 48 hours in Toronto.
On my culinary adventure, I will try to hit a few of the over 7,000 restaurants in this multi-ethnic city on the lake. I quickly learn that folks in Toronto take gastronomy very seriously.
I decide to check out something new happening at TOCA at the Ritz Carlton. TOCA (Toronto, Canada) is run by chef Gihen Zitounihas and has opened a 'cheese cave'. With a cost of $250,000 CAD to build, it keeps cheese at a perfect room temperature. The Barolo cheese from Italy, aged in a wine soaked barrel, has a bit of the wine left on it. I was allowed a tiny fragment to taste. Really something special, particularly when washed down with a Meiomi Pinot Noir.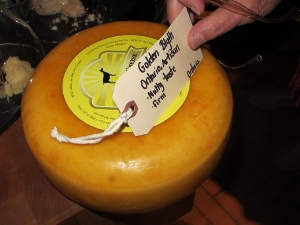 I enjoy experimental food, so it made sense to visit trendy URSA located on 924 Queen St. West. URSA is all about hyper nutrition and challenging eating preconceptions. An appetiser of foie gras and cricket flour was delicious though I passed on the air-dried lamb (reminded me of a recent visit to the Faroe Islands where not only air-dried lamb is on the menu but also raw whale blubber). The Living Salad was my favourite by a mile. It featured a plate of local vegetables delivered with a pot of sprouts along with scissors to snip them. There was olive oil and Saskatchewan Salt to season. A unique cocktail called Winter Oaxaca with lashings of Mescal was an extra treat.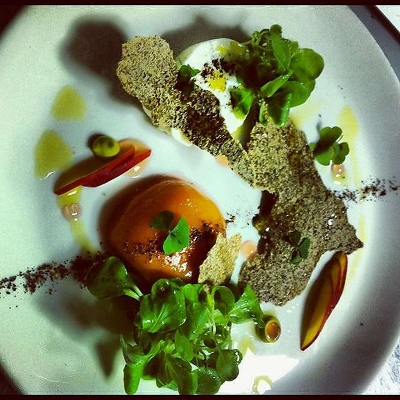 A walking tour with Chef Scott of Leslieville was a real eye opener. He immerses his groupies in the emerging culinary scene in what was once the industrial heart of Toronto.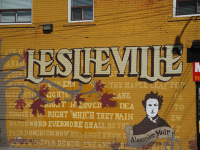 First stop is the wonderful Dark Horse Espresso Bar on 682 Queen St. East. Here I tried a naughty Butter Tart. A combination of Treacle Tart and Tarte au Zucre, the Canadian version has pecans thrown in and is utterly delicious. We visited organic St John's Bakery started by a 'down on his luck' baker who slept in his car behind the mission. This haven for bread and sustenance is a real community success story and people now come here, literally, day and night to buy bread.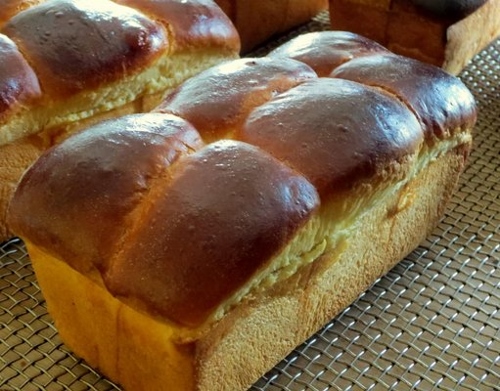 Pain Broche a L'ancienne
As part of the tour we experienced an olive oil tasting at Olive and Olives on 779 E Queen Street. My socks were knocked off by an exquisite Las Valdesas - Hojiblanca extra-virgin olive oil. It was peppery yet smooth. Ruby Watch Co. has some great home canned food and is run by the much loved TV chef, Lynn Crawford.
EPIC restaurant at the Fairmont Royal York Hotel a great place to visit for yummy desserts and for their enormous breakfast buffet. There are honey bees kept on the roof of the hotel. Herbs and other fresh veg are grown up there, too. Speaking of breakfast, I can also testify that the Lemon Ricotta Hotcakes at the Café Boulud in the brand new Four Seasons Hotel, are to die for!
If you have a chance to get to Kozlik's Mustard Stand at St Lawrence Indoor Market it is well worth the effort. I bought the Maple Mustard and also a hot garlic variety. Apparently, 93% of the world's mustard comes from Canada (who knew?). The Carnival Bakery is famous for its spectacular peameal Canadian bacon sandwiches, also worth a try.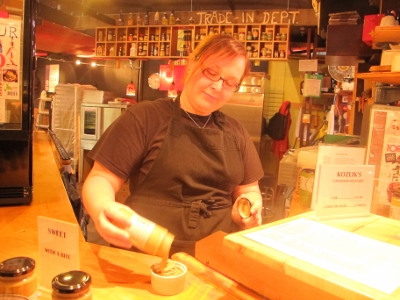 Market Vendor and Mustard Maker setting up a tasting session at Kozlick's
The bar scene in Toronto is pretty amazing, too, with some crazy mixology going on. I consumed the best Mojito I had ever tasted at Drake's Hotel on 1150 Queen Street West.