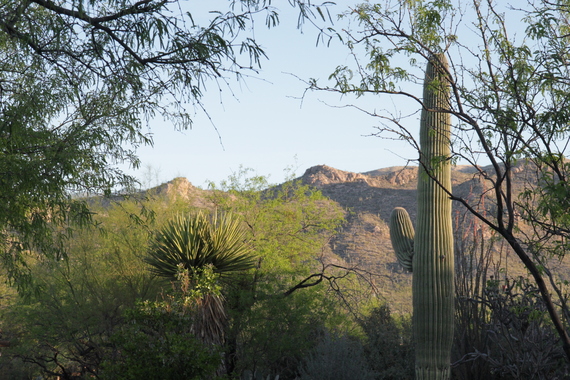 The Rincon Mountains of Tucson, Arizona
The Wild West.
In the old days, synonymous with outlaws and shoot outs; raids and squabbles over cattle, land, gold and the other resources of this vast region. Now the resource being battled over is -- water -- with this precious commodity becoming scarcer every year.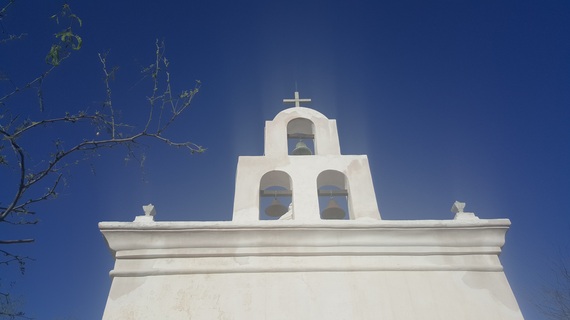 Chapel at San Xavier Mission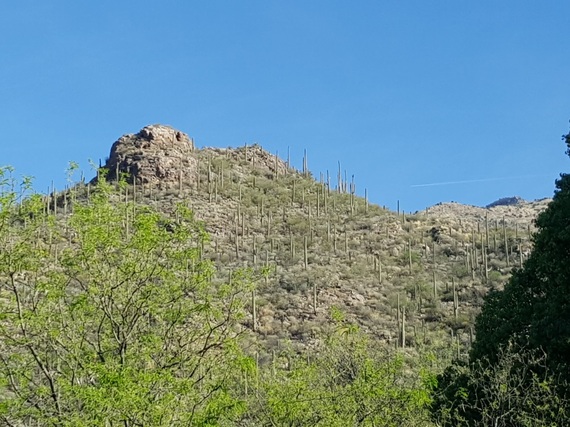 Saguaro Cactus in Catalina Mountains behind Loews Ventana Canyon Resort
The UNESCO designation as a creative city for gastronomy was awarded to Tucson, Arizona in December, 2015 and it is the only city in the U.S. to receive this accolade for cuisine and one of only six to be nominated a creative city. For a drought riddled town in the middle of the Sonoran Desert with intensely hot summers, it may seem an unlikely place to be acknowledged in the category of food.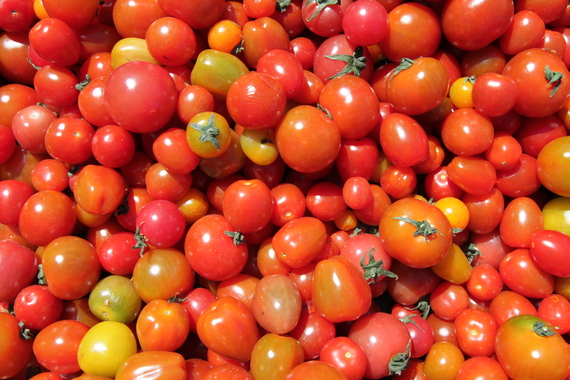 Organic Tomatoes at the Rillito Farmer's Market
But on a recent trip I discovered any pre-conceived views I have of the region are incorrect. Monsoons sweep through this area every July and August and its higher elevation means evenings are quite cool.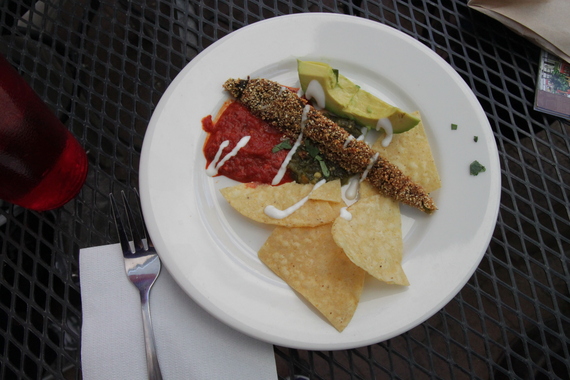 The Chile Relleno re-imagined at La Cocina
Tucson's Native Americans have cultivated beans, squash and corn here for thousands of years alongside foraging for fruit from the indigenous saguaro cactus. Following on from these early crops, Spanish missionaries brought winter wheat and gourds; then each new wave of immigrant brought their own foods which were grown and integrated into local menus.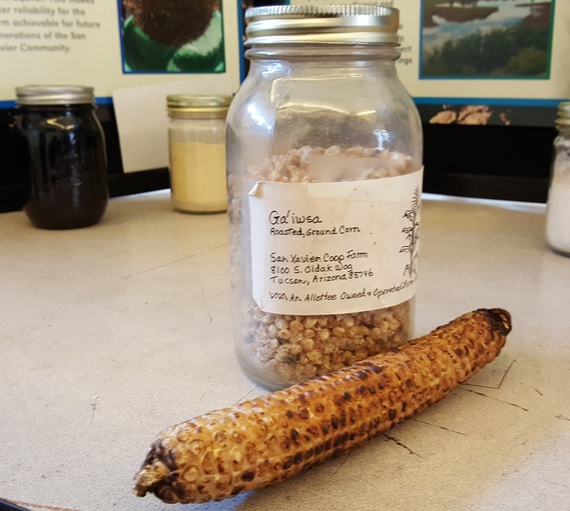 Corn grown on the San Xavier Co-op Farm
Like their ancestors, the Tohono O'odham People are still cultivating traditional foods on their reservation. I visited the San Xavier Co-Op Farm which grows alfalfa as a cash crop alongside tepary beans, corn and traditional yellow watermelons. Water from the Colorado River ensures irrigation is on-going.
I was able to visit Native Seed Search, set up by the University of Arizona, and saw heirloom seeds stored in large cooled vaults. On a tour of their small holding, I tried a berry from the chitlepino bush an ancient precursor of chili. I was certainly astonished at its punch.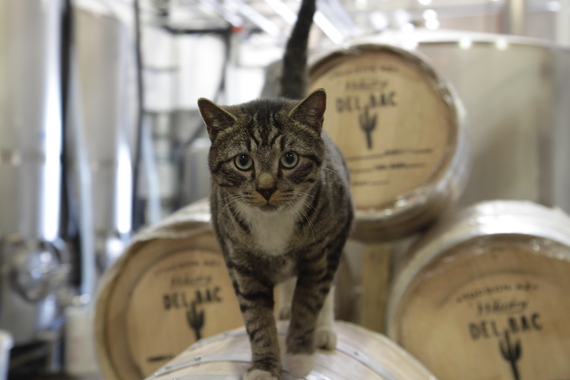 Meow! I organise the barrels of Mesquite Scotch at the Hamilton Distilleries!
So the cultivation and foraging taking place also influenced the UNESCO committee on their choice of Tucson. And the use of Mesquite pods for making flour is an ancient tradition here, too. Now Mesquite bark is used in the making of Scotch (instead of peat) and was an additional consideration in the bid for UNESCO status. Hamilton Brewers create Del Bac and struggle to keep it on the shelves.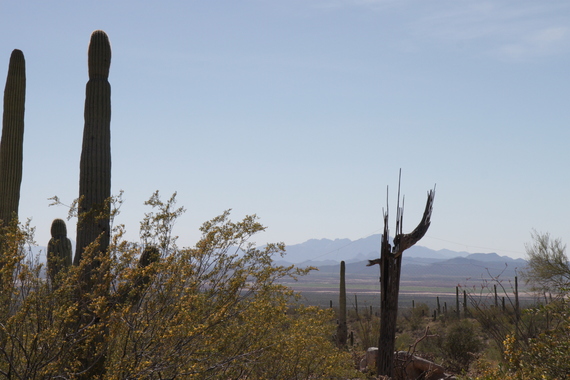 Saguaro Cactus at the Sonoran Desert Museum
Speaking of foraging, even animals, like the Javelina enjoy Prickly Pear Cactus. The wild pigs eat both pads and the fruit of this plant. But for us humans, it is the slow release sugar in this fruit that makes it a healthy option. I had a yummy margarita at the Doghouse Saloon on the Tanque Verde Ranch made from its juice. Not healthy but very good.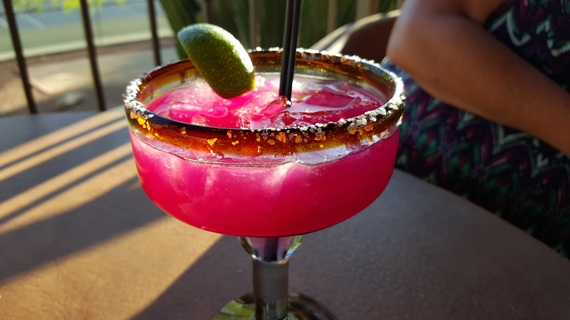 Tanque Verde Ranch Doghouse Saloon's Prickly Pear Cactus
Tucson's Mexican food certainly helped in securing the UNESCO status and is some of the tastiest you will find anywhere. I went on the celebrated 'Best of the Barrio Tour' to find out more. Led by Tom Morgan and Chris DeSimone of Grayline Tours, our first visit was La Estrella. This popular, traditional panaderia has churned out pan dulce and tortillas - still made by hand - for 40 years. El Merendero, on the south side, is famous for its shrimp chicharrones, toritos (little bulls) and succulent carib chiles wrapped in bacon.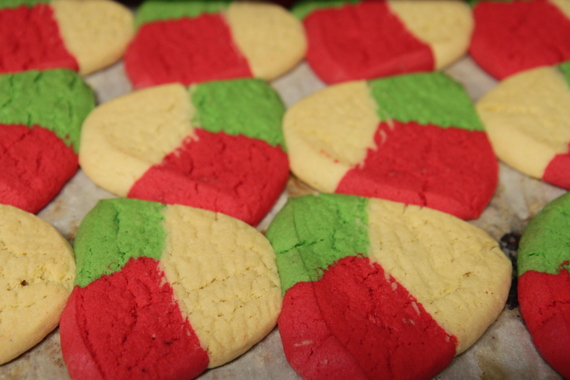 Banderas Cookies - La Estrella Panaderia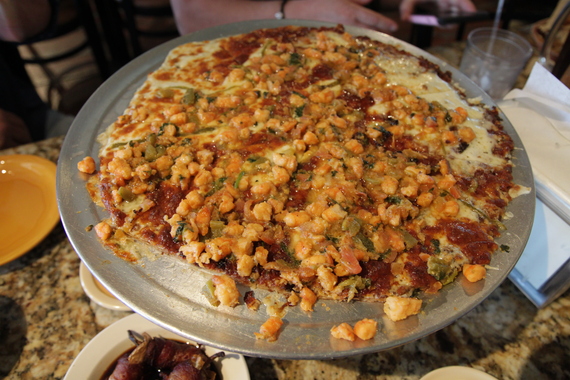 A Cheese Crisp with Camarones at El Merendero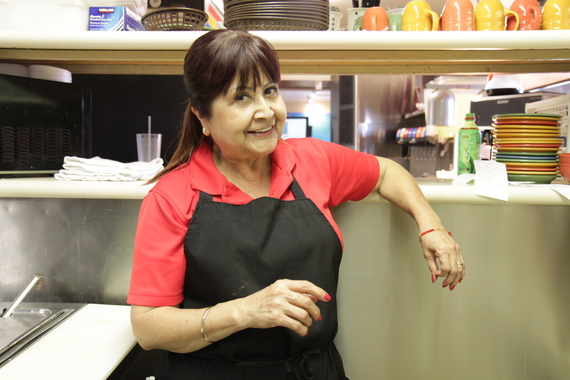 Anna our server - El Merendero
Nearby, El Guero Canelo it is all about Daniel Contreras' creation - the Sonoran Hot Dog. The dog is nestled in a brioche type bun made at the local panaderia and topped with fresh Pico de Gallo.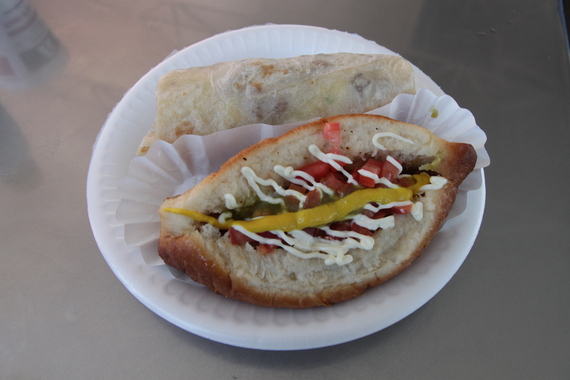 Sonoran Hot Dog
Erica Bostick of Augustin Kitchen
The Taste of Tucson Downtown culinary tour allowed me to try out nouveau cuisine using foraged foods at the town's trendy restaurants. Led by Elysa Crum, culinary fans start their tour at the Augustin Kitchen and then visit Nook, Proper, Hotel Congress and, finally, Maynard's Market and Kitchen at the train depot.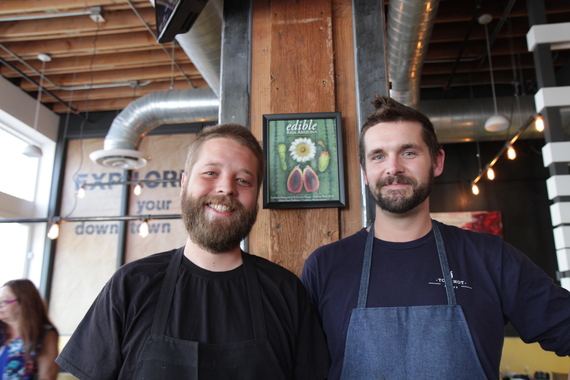 Proper chefs - Kris and Justin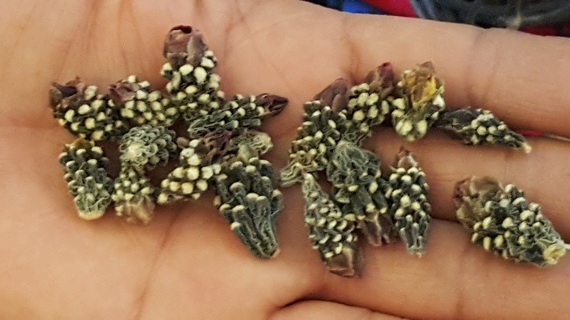 Cholla Buds are now used in Cholla Bud Escabeche and Tepary Bean Salad
Organic food with a clear provenance is available at the ever increasing number of farmer's markets springing up everywhere and an important part of the UNESCO gastronomy bid. I visited the Rillito Market and found gorgeous citrus and tomatoes alongside heirloom cauliflower.
Rillito Market produce
I topped off my culinary experiences with a stay at the Tanque Verde Ranch. Janys at the Nature Centre also takes guests on edible wild plant walks. We discover that the beautiful fruit of the Barrel Cactus has seeds full of protein and that mesquite leaves and bark make an excellent tea for diarrhoea while the pod is excellent for flour. In late September pick the orange Hackberry. When dried, it's just like raisins!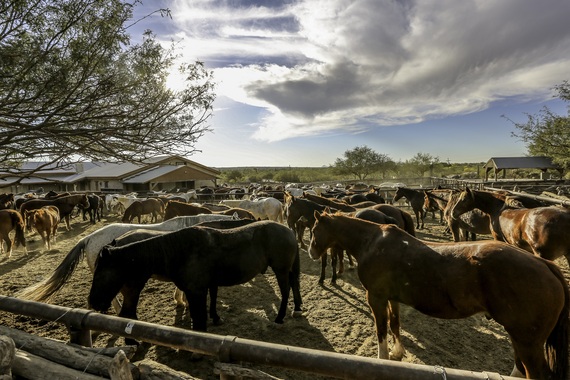 Horses at the Tanque Verde Ranch © Tanque Verde Ranch
Images by Lynn Houghton
The Loews Ventana Canyon Resort has standard guest rooms starting at $199 year round and $129 during the summer months.
Tanque Verde Ranch rates are based on double occupancy: Salas start at $500 per night, Casitas start at $525 per night and Haciendas from $600 per night.