One of the only good things about January, in my book, is that it's a great time of year to plan a holiday, and that's a perfect excuse to write a travel piece about one of my favourite places - New Zealand.
I've been to New Zealand five times now - inspired originally by the stunning scenery of the Lord of the Rings films - and despite all the challenges of the 24-hour journey and the inevitable jet-lag, I don't think there's another country like it on earth, or Middle Earth, for that matter. There are individual cities I love more - like Sydney and Rome - but taken as a whole, I don't think you can find anywhere more beautiful, or more varied to visit. So here is my must-see and must-do list for the Land of the Long White Cloud...
For me, not just the best hotel in New Zealand, but one of the best in the world that I've stayed at, and that's Blanket Bay, near Queenstown on the South Island. It has an utterly stunning setting on Lake Wakatipu, surrounded by mountains and with hardly another human habitation in sight. The hotel is superbly designed and furnished, and blends perfectly with its natural surroundings. On good days the air is so bright that it's almost dreamlike. The food is excellent, and you're made to feel you belong from the moment you arrive. There's no denying that it's expensive, but this is a clear example of getting what you pay for, and in this instance that means impeccable service, and staff who will do everything they can to ensure you have exactly the stay you want - whether that's booking jet-boat safaris, horse-riding, heli-skiing or other adventure trips, or simply letting you relax and enjoy pretending this place is your home. It takes a lot of effort to make a hotel feel so effortlessly elegant, but Blanket Bay never falters.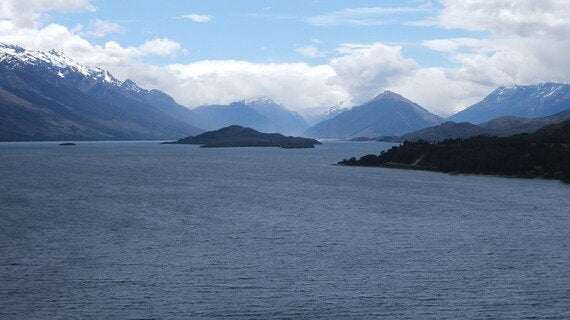 Again, only one contender here, and that's the Tongariro Crossing. One of the world's great one-day walks, or so I'm told. We're on the North Island this time, near Lake Taupo, which is easily reached by New Zealand's excellent network of internal flights. There's a hotel near the Crossing and various self-catering options too, and most can provide you with a packed lunch, and book you on one of the buses that drop hikers off in the morning at one end of the walk, and collect them later on the other side. Assuming the Crossing isn't closed by bad weather, it's an 18.5 km hike of a lifetime, high up across the saddle between Mount Tongariro and Mount Ngauruhoe, and into a landscape that looks like the moon, complete with a red volcano crater and brightly-coloured mineral lakes. It can take anywhere between 7 and 9 hours to do it, depending on your fitness, and it's not a stroll in the park, so you need to be physically agile (and wear the right kit), but hundreds of people do it every day, so it's all about ensuring you do it a pace that's right for you. Breath-taking - sometimes in both senses of the word! - and utterly unforgettable.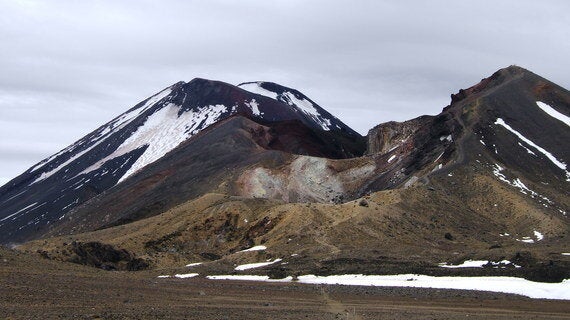 Like Australia, the food in New Zealand is always impressive - fresh ingredients, superb fish and seafood (and lamb, of course!), and some exciting fusion menus combining tastes and flavours from all around the Pacific Rim. We've had some wonderful meals in hotels and restaurants across the country, but one of the best was in a lodge we stayed at in the beautiful Bay of Islands, in the North Island. New Zealand has many of these 'luxury lodges', which can range from the likes of Blanket Bay at one extreme, to what are - in essence - extremely up-market bed and breakfasts at the other. Most are smaller than hotels, and don't have the sort of facilities a big hotel can offer, but what you gain instead is intimacy, and a lot of personal attention. The lodge in the Bay of Islands was a perfect example, and since we last visited in 2009 the owner is now running another similar property close by. Peter Meier used to own a restaurant in Australia's Hunter Valley, and he brings all that passion, experience and skill to his own special blend of 'mediterrasian' cuisine. We haven't visited the new lodge, but I can't believe his standards will have fallen. In fact I can honestly say I've rarely eaten finer food anywhere.
You're spoilt for choice when it comes to wine in New Zealand, and one of the great joys of the country is sampling the local wine in each region you visit. Our particular highlight would be Marlborough, in the north of the South Island. There are dozens of different vineyards and wineries here, all in a very small area, and you can spend several happy days travelling between them and sampling their wines. There are many we already knew from the UK, as well as a good number we'd never seen, and have since sought out. I have too many favourites to list them all, but the most intriguing was one from Cloudy Bay, which is a name that will be familiar to any wine aficionado. They're most celebrated for their Sauvignon Blanc, but at the visitor centre we got to taste an oaked version of this classic, which they call Te Koko. Forget all those descriptions of gooseberry bushes - this is a rich, soft, slightly smoky wine that came as a complete revelation. We'd never tasted anything like it before. It's not for casual quaffing as it's quite expensive, but well worth trying if you visit New Zealand - you'll see it on plenty of restaurant menus.
New Zealand is fabulous driving country - outside the cities the roads are often empty for miles at a time, and for Brits there's the added benefit of driving on the left as well. I could write a whole piece on driving routes, but one really stands out, and that's the Milford Road. This is a two-hour drive in the Fiordland National Park, which takes you from the town of Te Anau up to the world-famous Milford Sound (we stayed at the delightful Fiordland Lodge). You see a lot of pictures of the Sound, but for us it was the getting there that was even more memorable. The scenery gets gradually wilder and more spectacular as you make your way past the Mirror Lakes, to the lupin-covered Eglinton Valley, to the even more dramatic alpine scenery towards the end of the road. Huge shelves of snow hang on the sheer precipices, and dozens of tiny waterfalls cascade down the rock as you wind through the mountains, and come at last to the entrance of the Homer tunnel. After the glare of the snow you're plunged into darkness for a few moments, then come out the other side to a series of dramatic hairpin bends that take you down the other side to the Sound. As you can imagine, the road isn't always passable in bad weather, and you have to carry snow chains in your car in the winter, but on a bright day, with the sun on the snow, this is truly awe-inspiring.
The New Zealand tourism website includes some great recommendations on other places and drives like this, and some very useful information on 'Travel Times and Distances'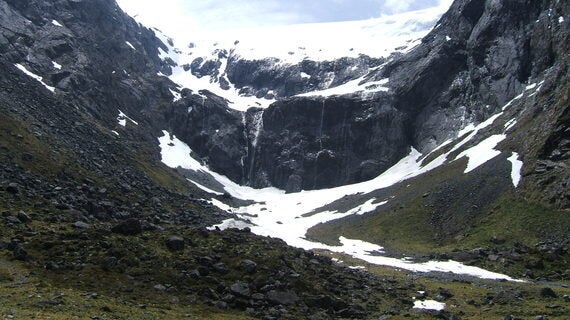 So there you are. Five things about New Zealand that make it such a special place for me, and which will - I'm sure - keep on drawing me 'There and back again'.