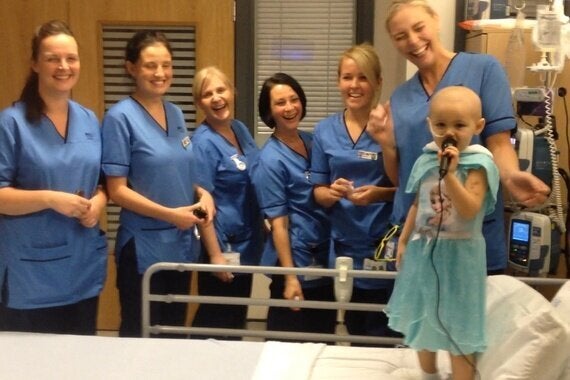 It was in June of this year that we heard the words no parent ever wants to hear.
We'd taken our three-year-old, Millie, to the doctor's because she'd been experiencing tummy pains and sickness. A series of tests revealed that Millie had stage four neuroblastoma -- a rare form of cancer that mostly affects young children.
That was almost six months ago. Since then, Millie has endured intensive courses of chemotherapy, a seven-hour operation and numerous bouts of stem cell collection.
Despite spending nearly five months in hospital, Millie has continued to smile and been an inspiration throughout.
She's been an absolute superstar, from the moment we cut her long hair into a short bob to ease the coming hair loss, to coping with the tiredness and nausea during the long rounds of chemotherapy - every ten days for 80 days in the first round alone.
We've also drawn strength from our community, too. We couldn't have got through those first few weeks without the support of our family and friends who rallied around to offer help and support. From help looking after Millie's two brothers while we were in hospital, to the 'Millie's Champion' football tournament that our local community organised and constant messages of support received from friends, neighbours and well wishers.
We've also learned that focus on the little things brings so much joy. From Millie's first trip outside of the hospital building in July after four weeks on the ward, to a few days at home when she was able to sleep in her own bed and spend some quality time with her brothers.
And last, but certainly not least, we've come to understand how powerful and inspiring the kindness of strangers can be.
Since Millie's diagnosis in June, the Royal Hospital for Sick Children in Glasgow and the nearby Ronald McDonald House have become our second home and the staff and volunteers have been incredible. We captured a video of Millie's nurses singing and performing a dance routine with Millie to 'Let It Go', the song from her favourite Disney film, Frozen. When I posted the video to the 'Millie's Journey' Facebook page I could never have envisaged the response it would get. Hundreds of people have left messages of support and commented on how wonderful it is to see the commitment and passion of the NHS nurses and it's been viewed and shared by hundreds of thousands of complete strangers.
An astonishing testament to the kindness of strangers and the power of the crowd has been the number of those people that have gone on to donate to our JustGiving crowdfunding page which we launched to raise the £100k needed for Millie to get special treatment in the US.
Although Millie will only be eligible to start the treatment in the 120 days after her UK treatment, the knowledge that more than 600 strangers have already donated more than £12,000 gives us so much hope.
It's this show of generosity, the human spirit, the support of our family and warmth of our community, the focus on the little things to find joy, and, above all else, it's Millie's smile that will ensure we get through this.