The government's petition website - www.petition.parliament.uk - won a British Comedy Award last night, taking home the gong for 'Most Hilarious Website'.
The site, which allows members of the public to start their own petitions about a range of different subjects, advises protestors that their petition will be considered for a debate in Parliament once 100,000 signatures are reached. But in reality, they just do what they bloody well like.
Stating the case where over 153,351 signatures were collected for a petition to 'Hold a public inquiry and a referendum over turning all schools into academies', and the Petition Committee 'decided not to debate' it in Parliament, the evening's host, comedian Jonathan Ross, pondered: "What's the sodding point of it then?"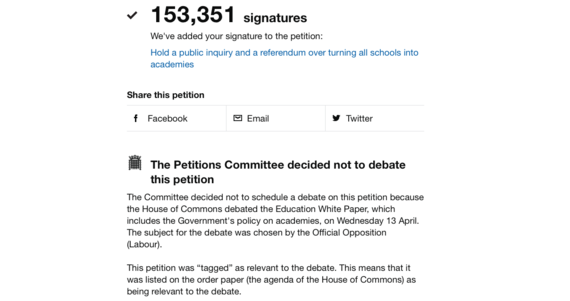 "I'm so pleased Petition.Parliament has finally been honoured with an award. It truly stands alone in its sheer ludicrousness and utter hilarity," said left-wing comedian, Russell Brand.
A petition to 'Give the Meningitis B vaccine to all children in the UK, not just newborn babies', was launched in the wake of the tragic case of two-year old Faye Burdett, who died of the disease after an 11-day fight. It received 823,345 signatures and became the most popular petition in parliamentary history, yet was immediately rejected by the Department of Health who stated the idea was "not cost effective" and heartlessly proclaimed it would be a "waste of NHS money".
"It's a joke," exclaimed regular petition activist Phil Itin. "Maybe if the Tories stopped squirrelling all their money away in offshore tax avoidance schemes, the NHS would have plenty to run on and the lives of many children would be saved," he said.
Mr Itin's most recent successful petition received 102,733 signatures and was entitled 'Force the Petition.Parliament Petitions Committee to debate all petitions over 100,000 signatures'. Sadly, the Petitions Committee decided not to debate it.
This post first appeared on Maddie Sinclair's website The Indeparent - a new spoof news platform for parents. For more satirical news for parents, follow The Indeparent on Facebook and Twitter.