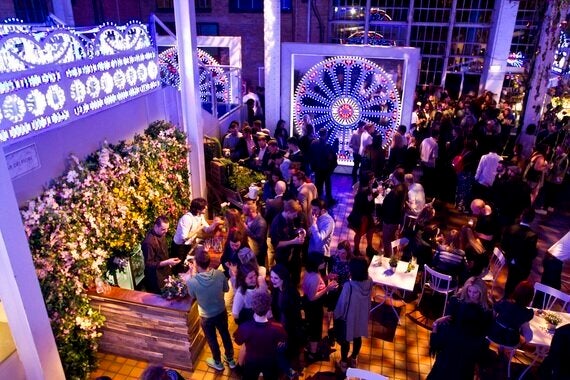 To all my fellow Londoners who are draining their phone battery at work today by opening and refreshing their weather app, I can safely (well, as safely as you can cross the road at Oxford Circus) say that the sun has got his hat on and he is (hopefully) coming out to stay this weekend.
For those of you that aren't Easties, or those that are travelling in from afar, I feel it my duty to pass on my new found knowledge and ensure that you spend at least one night of your weekend at the European oasis via East London wonderland that is The House of Peroni.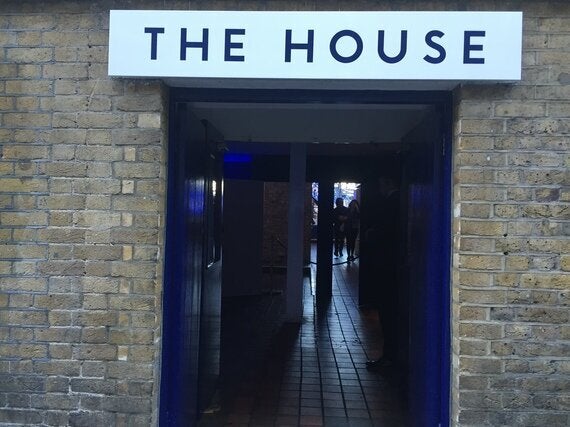 Situated at 152 Brick Lane, it's easy to miss. At first glance, it appears to be a small doorway, mysteriously branded 'The House'. As you step inside you're greeted by front of house who point you in the direction of a huge airy central room with an echoey warehouse vibe. Four unique bars play host to several swift handed mixologists, fast paced and nothing but eager to give you the low down on the vast array of unusual cocktails they're creating. Flowers drape from the ceilings and climb the walls. The idyllic, effortlessly cool venue could be compared to Alice's wonderland, if Alice drank beer, that is.
If you've never experienced inhaling vaporised herbs whilst drinking a cocktail, I strongly suggest you get yourself down there and ask for a Campo Dei Fiori immediately (probably wait 'till 5 though because I don't want you to get stuck outside a closed bar...)
I'll never understand why personally creating something you consume can make it taste dramatically more delicious, but it really does. Hand pick your choice of herbs from the urban herb garden and watch as the vapour traps inside the glass, forming a smoke like swirl and capturing a fragrant herbal aroma.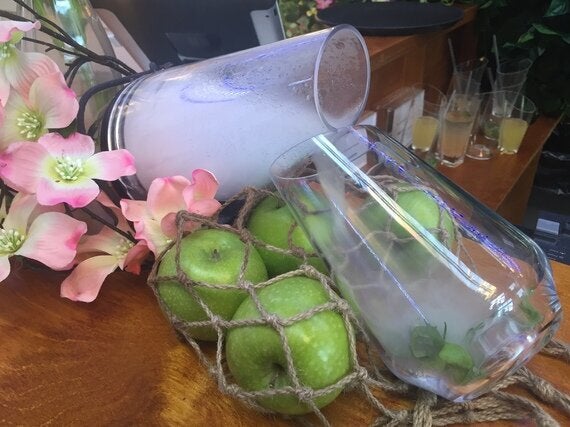 Big fluorescent wheels of lights decorate the space, providing a main point of focus for drinkers and diners alike. The food is brought to you by Michelin-starred chef Accursio Craparo, who's six course tasting menu is on offer to guests every night. The food and drinks are inspired by a typical Italian piazza, and The House of Peroni effortlessly recreates this essence of a breath taking, chic, European vibe.
The courtyard and outside bar provide an perfect setting for an after work drink or even the beginning of an evening out. On a balmy summers evening you can watch the sun set under the partial canopy of flowers whilst tasting one of the cocktails, created by Simon Carporale. I went for a mixologist's recommendation (Peroni Negroni) which at first I found quite bizarre. My drink came with an 'aromatic cloud' of mahogany infused air that I was supposed to pierce and inhale before drinking, to recreate the nostalgic scent of the Italian wood used in old 'botteghe' bars. It's things like this that make The House of Peroni the ultimate experience, that little bit of attention to detail and devotion to customer experience, that makes it truly special.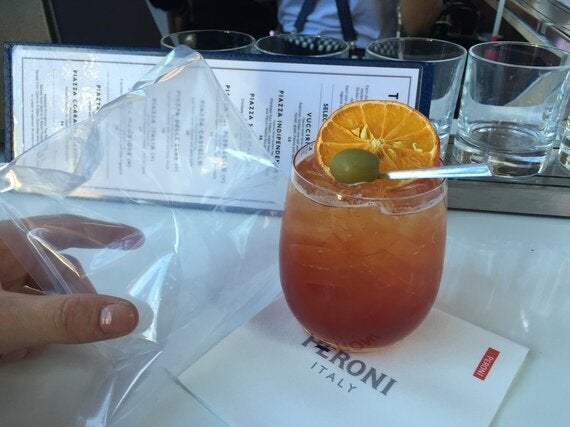 Unfortunately (and had I known this, I would have gone every weekend for the past month) The House closes on Wednesday 10th July. I really, truly recommend experiencing it before it leaves London - so get down there this Friday, Saturday and Sunday for the final weekend of The Residency. This Friday (5th) there are going to be two pop up street market food stalls: 'Manga e Manga' which serves up picky food like mini burgers and chicken skewers, and 'Pasta Basta' where you can chose your pasta and then choose from a range of different sauces.
The House is open from 12pm on Saturday and Sunday, and there will be a DJ from 8 on Saturday. If you can't make the weekend then try and go during the week - you've got until Wednesday. You'll feel like you've stepped out of London and into an bustling Italian piazza, where work is out the window and all that matters is which cocktail to chose next. I found out yesterday evening that to celebrate the new 750ml alto bottle of Peroni, they are giving away a free Vucciria tasting dish to everyone who gets a bottle. The food is reasonably priced and the cocktails range from around £8-12, but they're definitely worth trying. Unless you'd rather go with a bottle of Peroni (they come in four sizes!)
I hope as many of you can get down there and enjoy my new favourite London spot as much as I did, and (fingers crossed) relax and enjoy the beginning of British summer.