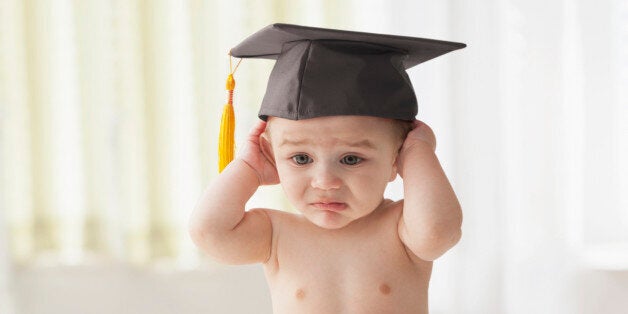 Getting pregnant at 19 - right in the middle of university - was not what I had planned. I was just about to start the second year of my theatre degree when a positive pregnancy test turned everything upside down - and I thought, "This will be the hardest thing we'll ever go through".
Looking back, I can see why. My boyfriend Daf and I were living together in one room in a shared student house. The room itself was small, we shared a bathroom and a kitchen with others, and it was almost impossible to find somewhere else we could move into before the baby was due. We were both weighed down with essays and assignments; he was working part-time as a pizza delivery driver, and I was getting bigger and bigger.
During that time, our friends kept us sane. In hindsight, being the first ones of our friendship group to have children could have been a lonely experience. Instead, our friends declared themselves surrogate aunties and uncles to our unborn child, and treated him or her as their little mascot. Without them, I think Daf would fallen apart due to stress, and I would have been sinking deeper and deeper into a dark pit of isolation.
Every time a new challenge came along, I told myself, "this is as tough as it's going to get". When I performed in the university Christmas show at five months pregnant (as the voice of the man-eating plant in Little Shop of Horrors, thankfully avoiding any vigorous dance routines), I didn't think it could possibly get more stressful.
When I was contending with hospital appointments alongside practical assessments and rehearsals, I told myself, "at least this is as bad as it could possibly be".
When I was giving birth on the last day of my second year; when I was submitting essays two weeks after giving birth; when Daf had to quit his job after the combination of his stress and my postnatal depression became too much to bear - each time, we told ourselves that we'd reached the top of the hill. It was smooth sailing from here on in.
Of course, we were being optimistic. Third year hit me like a brick wall to the face. Our daughter went into nursery at five months old and we returned to class, missing her far more than she missed us! Life became a blur of essays and lectures and dissertation drafts - but it was a good blur. It was a manageable blur. Our lecturers were understanding and supportive; our friends were amazing - true to their word, they were the best surrogate aunts and uncles a baby could wish for - and we just knuckled down and lived the two separate halves of our lives. By day we were conscientious students; by night we were fledgling parents.
We became ever-so-slightly smug. Somewhat foolishly, we let ourselves believe that we were right. Balancing university and pregnancy had been the hardest part; everything now was just an easy routine. It was reinforced when I graduated with a First Class degree, and Daf graduates this year with a 2:1.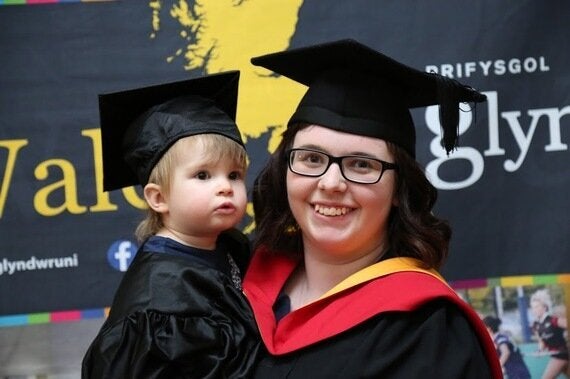 We'd coped; we'd overcome every bump in the road. There was nothing life could throw at us that we weren't prepared for.
Except; it transpired, adult life.
University is a bubble; a bridge between childhood and adult life. You're given money just for being there, thanks to student finance, and things like taxes and bills don't seem relevant or scary. It's like having someone there, holding your hand through it all.
As an adult, you're on your own. Paying taxes, making phone calls, dealing with wages and pensions, working various low paid jobs just to try and get a foot in the door - it's life, and it's a world away from university.
For us, we had the added pressure on an extra person to house and clothe and feed. She relies on us entirely. We can go a little bit hungrier - she can't. We'll never let that happen. Still, I miss that protective bubble of university. I miss the guidance of lecturers and student services. I miss the subsidised nursery fees so both of us, rather than just one of us, could work. I miss that circle of friends, who are now spread across the world doing their own thing.
What seemed like the most difficult thing we'd ever do is now a distant memory; an unspoken longing for an easier time.
We adapted to balancing pregnancy and university. We coped with balancing parenting and studying. I know we'll adjust to adult life. It might just take us a little longer and a little more stress.
Despite this, would I change a thing about our situation?
This summer The Huffington Post UK is spearheading an initiative helping families thrive, with a focus on parent wellbeing, the challenges facing stay-at-home and working parents, friendships and navigating the landscape of modern parenting beyond the 2.4. To kickstart the campaign, Jamie Oliver guest edited the site, bringing a focus on feeding healthy families.
We'll be sharing stories and blogs with the hashtag #ThrivingFamilies and we'd like you to do the same. If you'd like to use our blogging platform to share your story, email ukblogteam@huffingtonpost.com to get involved.