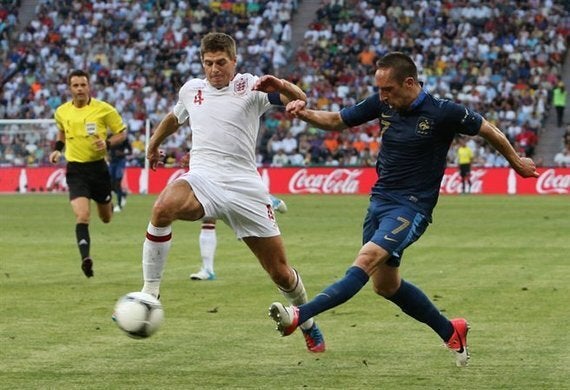 Greg Dyke's cut-throat mime at the 2014 World Cup draw said it all: England's chances of glory in Brazil this year are almost non-existent. The health of the national team has suffered a gradual decline over the last two decades, and it doesn't look like things will improve in the near future. But why is the country that gave the game to the world now facing a future in the third tier of international football? And can anything be done to reverse this trend?
The Premier League has never had it so good. The world's favourite league is awash with cash from lucrative TV deals, increasing commercial revenues and inflated transfer fees. Meanwhile, local clubs are folding at an unprecedented rate, community facilities are rotting and a whole generation is missing out on the joys of playing football regularly.
The huge gap between elite and grassroots football has never been so large. The plight of local clubs was brought to national attention in January when the Save Grassroots Football campaign helped to organise a weekend of demonstrations and boycotts of local league matches. There was also an e-petition calling for government intervention - which failed to acquire the 100,000 votes needed to trigger a debate in the House of Commons.
Despite receiving some valuable publicity, it seems the pleas for more funding from the FA and the government have fallen on deaf ears. The Premier League originally promised to set aside five percent of its broadcasting income - currently around £5.5 billion - for the grassroots game, but that funding has now fallen to less than one percent. With a chronic shortage of cash and steeply falling participation at the local level, is it really a surprise that the England team faces an uncertain future?
Peter Hart works with thousands of grassroots footballers in his capacity as managing director The Soccer Store, and he has witnessed the fall in participation at local level up and down the country.
"We are seeing the number of youngsters signing up for their local teams drop year after year," said Hart. "Pitches are threadbare, club facilities are falling apart and local authorities simply aren't doing enough to encourage participation. Unless serious investment and a coherent strategy are put in place by the FA, things are only going to get worse."
The FA's Elite Player Performance Plan (EPPP) was heralded as the saviour of youth development in England, but the reality is very different. In order to achieve 'Category One' status and enjoy the huge FA subsidies that it brings, clubs need to invest in their facilities. This chicken-and-egg scenario has the potential to do more harm than good, as the rich clubs with money to invest will be able to secure extra funding that they don't really need.
However, the biggest kick in the teeth given to lower-league clubs comes in the shape of a redesigned player compensation scheme. Before the EPPP was implemented, clubs which lost their young players to bigger rivals could have the final transfer fee set by a tribunal. Unfortunately for struggling local clubs, this new system has put in place a fixed schedule of compensation. Clubs that have invested in the development of youth players are now losing them for a fraction of the old tribunal fees - a state of affairs that has led Wycombe Wanderers and Yeovil Town to close their academies altogether. More are likely to follow.
Anyone looking for an example to follow should look no further than the Southampton academy. Instead of investing heavily in foreign players for short-term benefits, the ethos at Southampton has been on youth development. A huge investment in playing facilities and scouting networks has allowed the club to produce a string of top talent. Theo Walcott, Gareth Bale, Adam Lallana, Luke Shaw, Rickie Lambert, James Ward-Prose, Jay Rodriguez - top British talent with a bright future.
Manchester City has also made a huge commitment to developing local talent with their £200 million, state-of-the-art training and academy development. The club's vision is to field a team of 11 Englishmen within 15 years, and unlike the FA and many of their Premier League rivals, it is backing up its statements with action.
Sport England has just cut its funding of grassroots football, citing the lack of progress made by the FA in encouraging higher levels of participation as the reason. Only the FA can make the kind of wholesale changes that are required to keep the England team at the top table of international football, but that doesn't look like happening anytime soon.
Photo courtesy of Wikipedia
Popular in the Community