Booking a safari can be a daunting process. A quick scan of any comprehensive website will reveal thousands of options. Safari Africa comprises of about seven countries, each with several world-class game viewing areas. Some of these areas have just three lodges but others have well over one hundred. Which lodge is "best" is a near-impossible to question to answer. Different areas come into season at different times of year and factors like a change of manager can make all the difference, both positive and negative. That said, we are the experts so if anyone has the knowledge to choose the "best", it's us. With that in mind, here are our top five safari lodges and camps in Africa...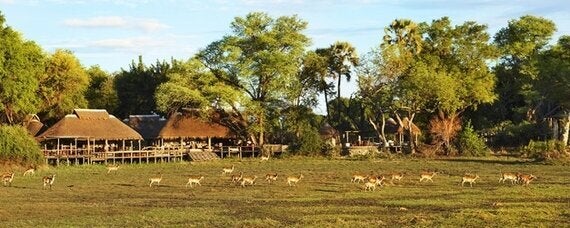 Although there are tens of fantastic lodges vying to be on list, there is one clear winner: Mombo. The camp, and sister camp Little Mombo, are located in the heart of Botswana's Okavango Delta in the Moremi Game Reserve, widely acknowledge as the continent's finest game viewing area. It has one of Africa's highest concentrations of predators, made famous amongst animal lovers in the United States by National Geographic's Eye of the Leopard documentary. The downside is that it also happens to be Africa's most expensive safari lodge at almost $2,500 per person per night in high season. If you want the best, you have to pay for it!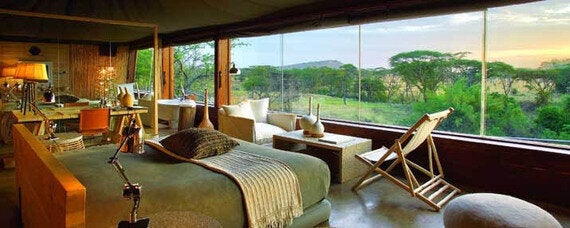 Africa's most luxurious lodges are either run by the afore-mentioned Wilderness or Singita, who operate in Botswana, Zimbabwe and Tanzania. Faru Faru sits in their private reserve in the west of the Serengeti and should get the migration in June. The lodge itself has nine beautiful and ultra-luxurious rooms with huge glass windows looking out over the Grumeti River. Even without the migration, the resident game here is good. The food and service are better than many of London's top restaurants and the guides tend to be the best in the country, poached from other top lodges. Being a private reserve you can do whatever you want. Night drives and walking are the standard alternatives to day time game drives but Singita have taken things several steps further, also offering archery and horse riding.
3. Hoanib Skeleton Coast Camp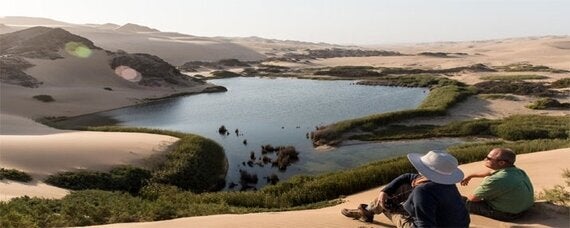 Many camps in Namibia are able to offer the chance to explore the amazing landscape but very few can combine this with good game viewing apart from those in busy Etosha. Enter Hoanib, a new (Wilderness!) camp located tens of miles from the nearest road in the northern corner of the Palmwag concession. This intimate camp, with beautiful tented rooms, is well located for viewing the rare desert-adapted elephant, lion and giraffe and will fly you to the Skeleton Coast for an excellent day trip. It has everything - brilliant camp, interesting game viewing, breathtaking landscape and the best bit is you don't have to share it with another soul.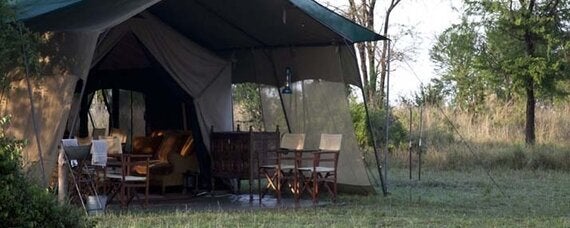 Alex Walker's Serian is a mobile tented camp, meaning it moves twice a year as it tracks the great migration around the Serengeti in Northern Tanzania. It's an exciting and immersive safari experience the likes of which a permanent lodge cannot replicate. With two excellent locations right in the heart of the action, Alex Walker (a bit of a safari legend) sets the game-viewing standards which other mobile tented camps can only aspire to. Unlike any other mobile tented camp, guests are guaranteed a private vehicle for their group and each vehicle comes with a driver AND a spotter, where other camps will provide one man performing both roles. Although the emphasis remains firmly on a world class safari experience, the camp retains the comfort and high standards of service expected from a safari lodge.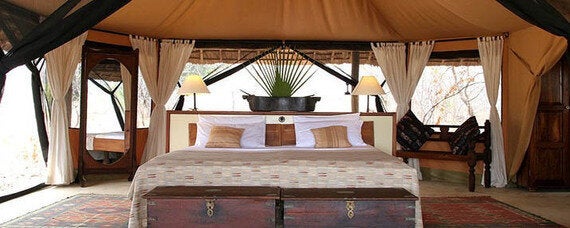 The experienced safari hands amongst you might raise an eyebrow to the inclusion of Siwandu onto this list but we feel it's fully justified. Located in Selous, Africa's oldest and largest game reserve in south-eastern Tanzania, the lodge is a fantastic all-rounder at an unbeatable price. The high season rate of almost $1,000 per person per night is to be expected but it's the low season rate of $677 per person per night, available for the first few rooms booked on any night of the year, that sees it onto this list. The lodge has 13 beautifully decorated tented rooms divided into north and south camps to keep things intimate. It is right in the heart of the main game viewing area in Selous with animals around the camp throughout the day as well as a private lake for relaxing evenings on the water. It's the best all-rounder in Selous, one of the most romantic location in Tanzania and half the price of the lodges on this list.
So there we have it - the five best camps and lodges in Africa. In reality there are hundreds of incredible places to stay and they could all make this list. Whether you want a remote wilderness experience, five star luxury or the best guiding, there's at least ten top lodges to choose from. If in doubt - Mombo.