The past decade has seen a rapid rise in the popularity of fitness holidays, boot camps and yoga retreats. Whether it's learning to kite surf in Tarifa, hiking in the Alps or doing asanas in the Himalayas, there's almost certainly a holiday out there for you, that's both enjoyable and life enhancing. However, if signing up to a week's bootcamp with raw food is your idea of hell, then there is an alternative.....the D.I.Y. Fitness Break!
Mission: Find a hotel in the UK or abroad, with great leisure facilities and an inspiring location!
Last autumn I had the good fortune to spend a long and virtuous weekend in Barcelona, a culturally blessed city perched on the edge of the turquoise Mediterranean. Barcelona boasts miles of pristine white sandy beaches, promenades, parks, galleries and restaurants, providing a magnificent backdrop to an array of healthy activities. I decided to stay at the amazing W Hotel, an iconic sail-shaped tower of shimmering glass, that rises strikingly from the waterfront in Spain's very own "Copacabana".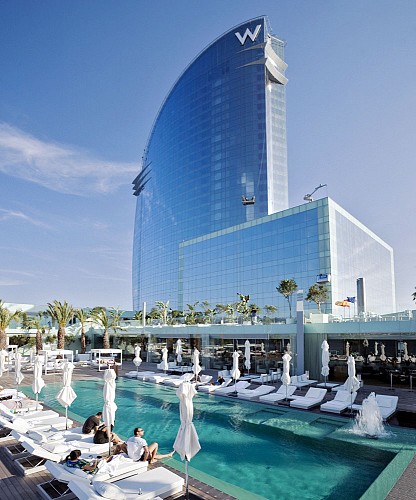 Day 1
After checking in, I made my way to the 10th floor to my aptly named "Fabulous" room. A stylish bedroom, with a black slate wet room, and unparalleled views from the panoramic floor to ceiling windows. Such was the WOW factor, I found it hard to drag myself downstairs to try out the hotel's myriad of facilities.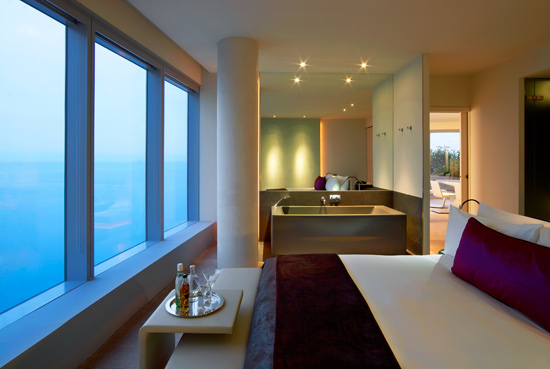 My first stop was the 24-hour SWEAT fitness centre, a state-of-the-art training facility with spectacular vistas over Barcelona's shoreline. Unlike many health clubs, the array of cardio equipment is well spaced out, giving the space a light, airy feel. For those wanting a bigger pump, there's a comprehensive range of Technogym resistance machines as well as more functional equipment like free weights, balance balls and skipping ropes. If you lack motivation, or want to take your training to the next level, the W's Whatever/Whenever service will team you up with a personal trainer.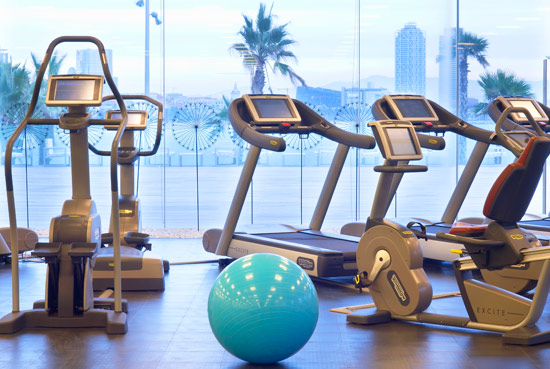 After working up a good sweat, where better to soothe those aches and pains, than the adjacent BLISS spa, which houses an über cool jacuzzi, steam room and sauna. Treatments wise, I decided to go for a deep tissue massage, designed to sooth sore muscles and stubborn knots. The therapist judged my massage perfectly, just the right amount of pressure without sending my muscles into agonising spasm. If intense massages aren't your thing, there's also a wide range of relaxing body treatments, facials, manicures and pedicures. Between treatments you can rest in the relaxation lounge with a fragrant herbal tea.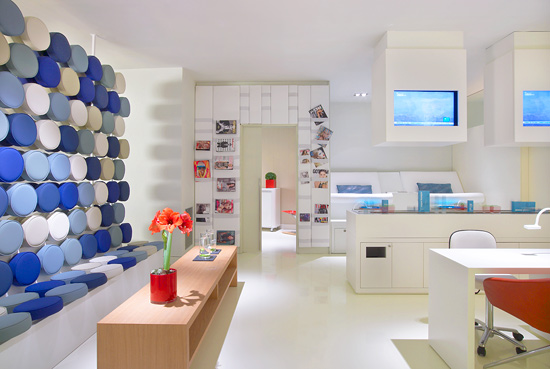 Day 2
Feeling well rested after a good night's sleep, I ventured down to the WAVE restaurant for breakfast. Trying not to undo my previous days work, I decided after much internal battling, to forgo the sumptuous pastries on offer, and instead opted for some protein rich serrano ham and fresh fruit. A couple of strong coffees later, I was ready for my next physical challenge!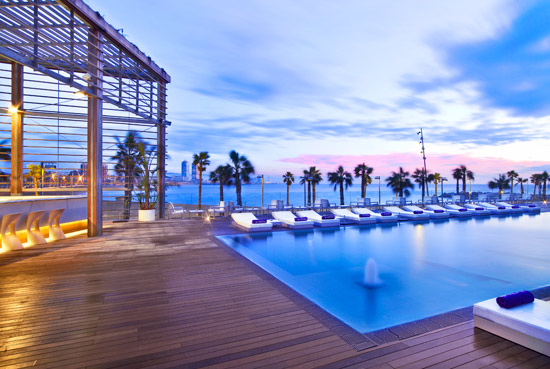 A little while later, breakfast digested, I was jogging along the wide promenade that runs the entire length of the beach. Can there be a better place in the world to go for a run? Sculpture, art and architecture pepper the coastline, and this is only half the story. A rich tapestry of colourful characters line the entire route - young and old. Some are walking, whilst others are running in multi-coloured lycra. Groups of retired men play pétanque in the sand, whilst teenagers whistle past on rollerskates and skateboards. Fourty minutes and several kilometres later, I made it back to the hotel, taking a much needed stretch and feeling a great sense of satisfaction.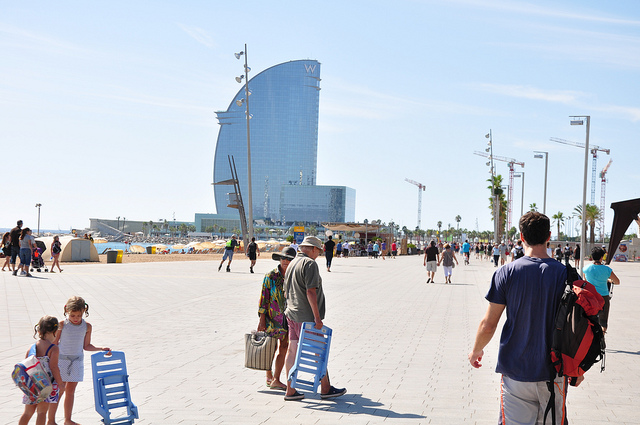 After a quick trip to my room, and armed with swimming shorts, I made my way down to the W's own stretch of private beach for some well deserved R&R. The complimentary sunbeds are the perfect place to while away the hours and read a book. I spent most of the afternoon there, occasionally venturing into the water to cool off and swim. For lunch, I sampled a delicious paella, prepared in one of the open air restaurants that front onto the beach. Feeling full, I later returned to my room for a well earned siesta.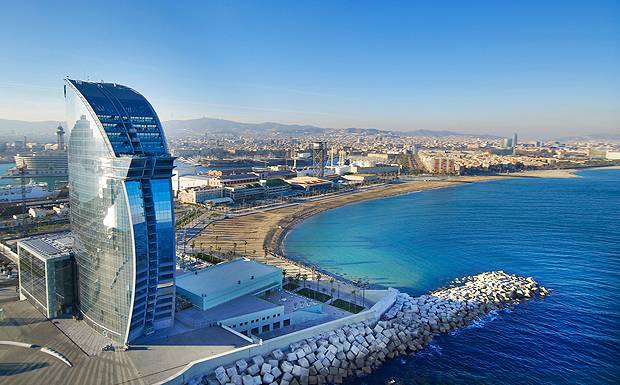 The W boasts several excellent restaurants including BRAVO by Michelin-star chef Carles Abellán, and a 24th floor nightclub called ECLIPSE, with unrivalled views of Barcelona. If like me you like to explore, I recommend venturing into Barcelona for some beautifully prepared tapas. I chose to walk the 20 minutes into the city centre, so I could indulge in some guilt-free tapas and wine! However, if your legs aren't up to it after a long day of activities, there's a dedicated taxi rank immediately outside the hotel.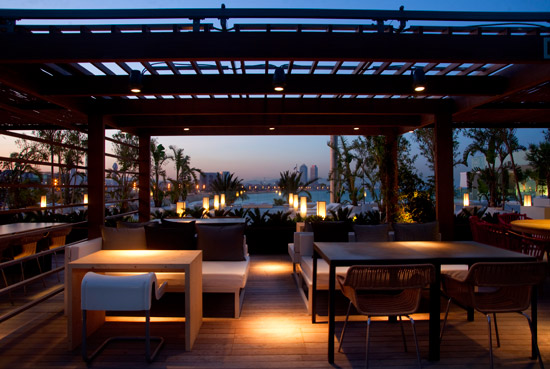 Maitea is a great Basque tapas bar, famed for its quality, variety and value. Various meats, cheeses, seafood and tapenades are layered on pieces of bread and speared with a toothpick - hence the name pintxo, which means spike. Simply order a drink and grab a plate from the bar. Every so often, one of the friendly bar staff will offer you a hot pintxo - I loved the dates wrapped in bacon. Ensure you keep all the toothpicks as these will be counted at the end of your session, with each pintxo costing €1.50.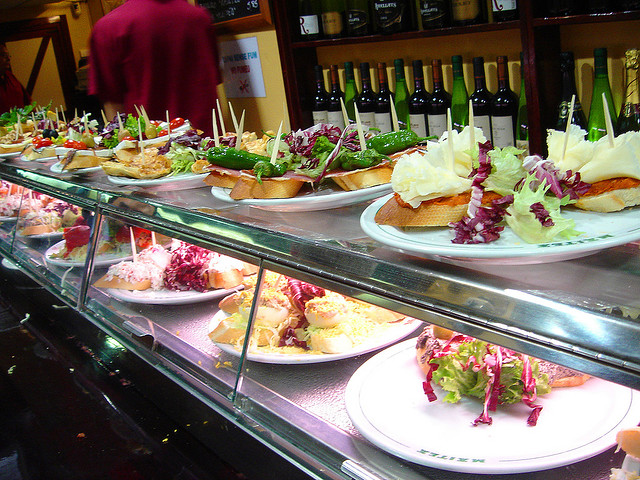 Day 3
My final day and time to venture a little further from the hotel to sample some of Barcelona's other delights. First stop, the Parc de la Ciutadella, an idyllic and green oasis crisscrossed with shaded walkways, ornamental gardens and fountains. At its heart lies a charming boating lake, alive with ducks and moorhens. For just €6.00 you can hire a rowing boat and burn off some extra calories! The park also houses Barcelona Zoo and the Natural History Museum.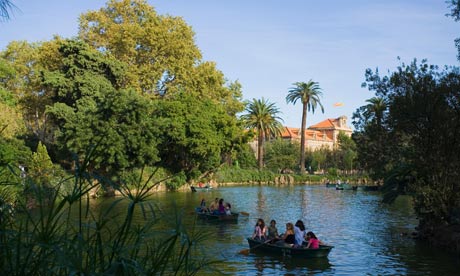 After enjoying a light lunch in the shade of the Old City, I decided to hire a mountain bike for the afternoon. Available at several locations in the city, bikes can also be delivered to your hotel. I chose to make my own way around the city, taking in the sights, but the rental company also offers guided cycle tours. Barcelona is overflowing with historic Gaudí landmarks and being on two wheels allows you to cover so much more.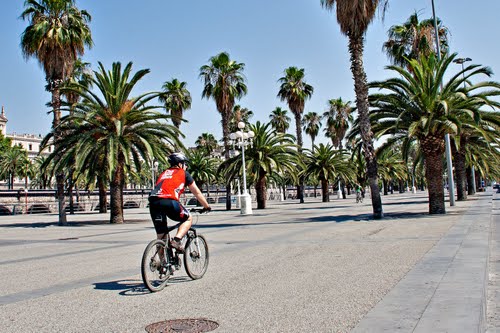 Conclusion
Barcelona is a unique city that offers the best of both worlds - city break and beach holiday. If health and fitness are your priorities, there are a host of enjoyable and energising experiences to be had, many of which are free. As for where to stay, the W Hotel is a modern masterpiece that I can't recommend highly enough! Rooms are from €245.00 per night.
And some things I didn't have time for:
Table Tennis
The Basque people are keen aficionados of el ping-pong, and you'll find public tables in most gardens and squars around the city. If you don't have your own, cheap paddles and balls are readily available.
Wind Surfing
Catalunya is not the best location for experts, but the gentle waters of the Med are ideal for everyone else. The Base Nàutica runs a range of courses, or you can hire equipment from €23.00 an hour if you'd prefer to go it alone. The centre also hires out kayaks.
Rock Climbing
Learn to climb at the Climbat La Foixarda indoor climbing wall in central Barcelona. Perfect for beginners, you will learn different techniques and climbing strategies.
Follow Marc Marchant on Facebook, for daily health and fitness updates and videos.