From start to finish The Tour of Britain has felt like one massive celebration of British sport and cycling. And it got even better on the last stage in Guildford with Jonathan Tiernan-Locke taking the overall win and Mark Cavendish winning the stage.
There was barely room to move on Guildford High Street as fans lined the road. People made use of every available vantage point, leaning out of windows, and standing on bins to get the best possible view of their heroes.
They were not disappointed. At the finish there was a Mexican wave of sound as Mark Cavendish sprinted towards the line. The roar as he crossed it was deafening. The win is likely to be Cavendish's last as world champion and he looked absolutely delighted to take victory.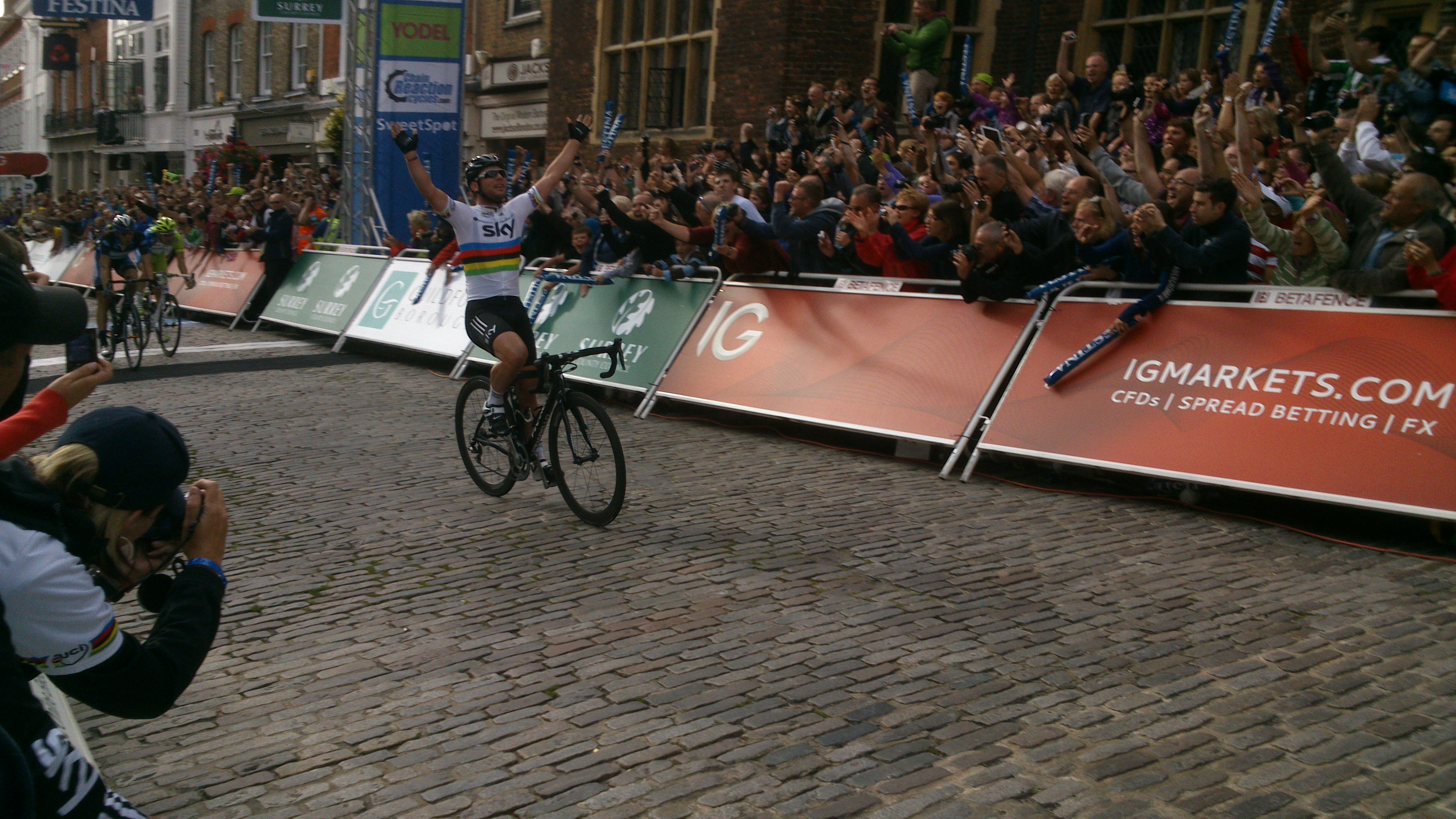 Cavendish celebrates after crossing the line
Meanwhile Jonathan Tiernan-Locke rode an excellent stage to ensure he kept the overall leaders jersey. The 27 year old rider from Devon is said to be close to joining Team Sky for next season. And Dave Brailsford , head of Team Sky and British Cycling, was certainly pleased with the result. After the stage he said, "I think it's terrific, With my British Cycling hat on this is the best result we could have. Sure, it'd be nice for Wiggo to rock up and win the Tour of Britain, but it's better for Tiernan-Locke to do it with Endura who have raced fantastically well...I just think it's such a healthy thing for the first British rider to win the Tour of Britain to come from a British team."
Following his win Tiernan-Locke said it was a fairly straight forward stage but he was 'just glad he didn't throw it away'. He admitted that he had felt under added pressure having been widely tipped before the race as a possible winner.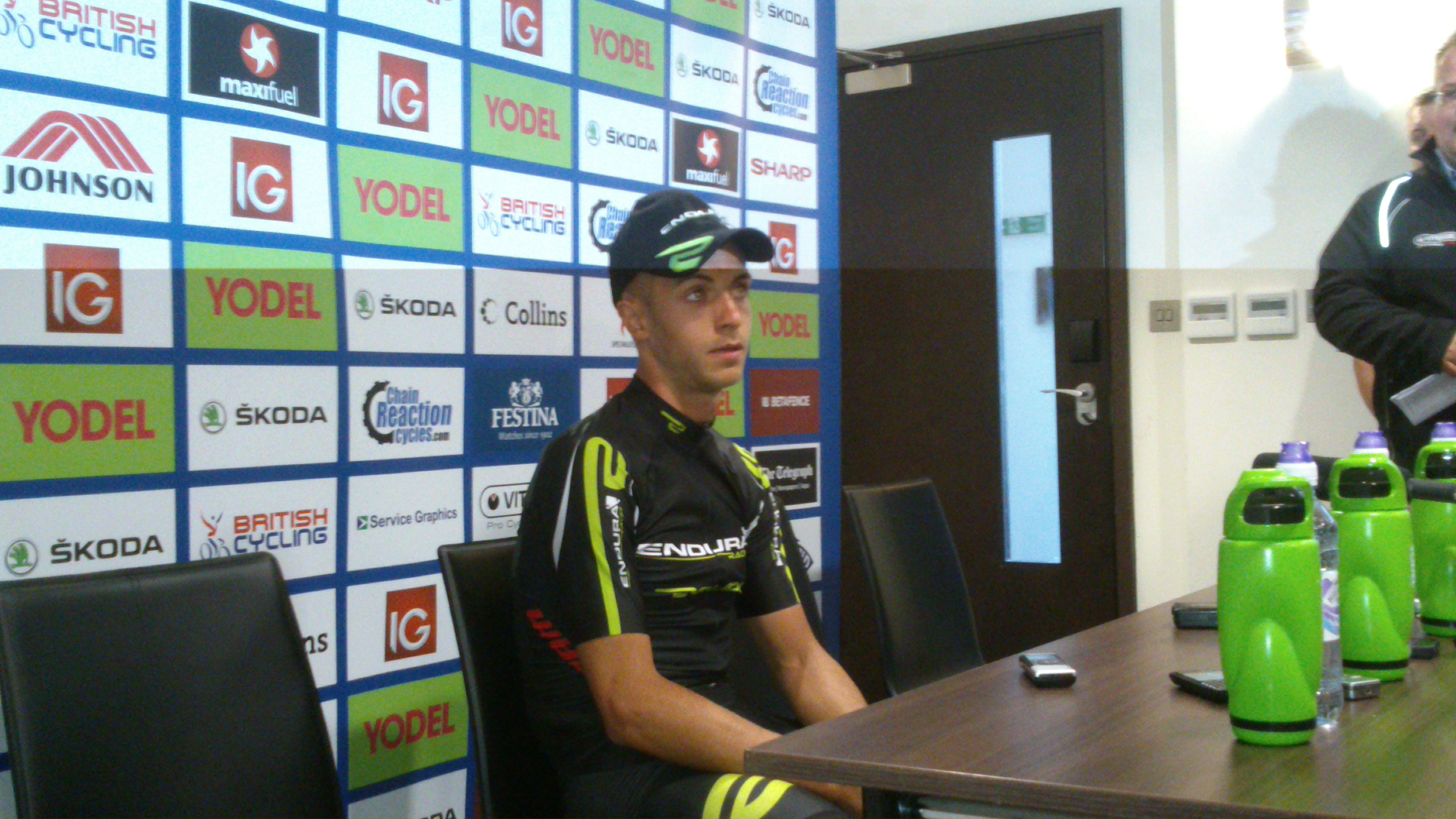 Jonathan Tiernan-Locke of Endura Racing
His only major scare was when riders from American team NetApp led out their leader Bartosz Huzarski for an attack on the final categorised climb. The NetApp man was two mins off Tiernan-Locke but the British rider did not want to give him any freedom so went with him, neutralising the danger.
Tiernan-Locke said the win was the highlight of his career so far. When asked about his future he said he was close to coming to an agreement with someone and that an announcement could come in a few days.
There was more good news for British Cycling with Kristian House of Rapha Condor winning the King of the Mountains classification and Peter Williams of Node 4 - Giordana taking the sprints jersey.
After the race Kristian House said his King of the Mountains victory ranked above his previous top ten finishes in the Tour of Britain. House was modest enough to say he knew he was not the best climber in the field and had instead planned to get in breaks and take points that way.
There were no less than six British teams riding in the race. Yanto Barker rode for Team UK Youth, finishing 21st overall. One of the team's more experienced riders, Yanto said.
"It's been excellent, today has been one of the most impressive days with the crowd and support. Bar a world championships, of which I've done five, this was up there with anything I've experienced".
It has been a ground breaking year for British cycling, and the Tour of Britain has given the public a chance to see their new passion up close. You could see all the riders enjoyed the atmosphere
Organisers will surely be hoping this can lead to the continued growth of the race which this year attracted big names like Ivan Basso, Samuel Sanchez as well as of course Bradley Wiggins.