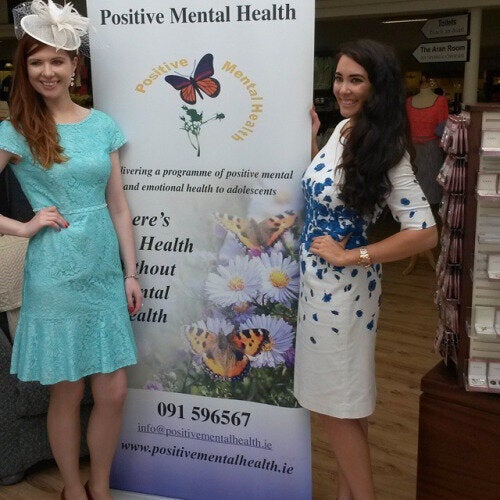 Photo of Roza Models Teresa Casserly (PMH Volunteer) and Katherine Gannon at a fashion show in aid of Positive Mental Health at Standún (Photographer: Declan Furey)
"At the root of this dilemma is the way we view mental health in this country. When it comes to mental health conditions, we often treat them differently from other diseases like cancer, diabetes or asthma. And that makes no sense. Whether an illness affects your heart, your leg or your brain, it's still an illness, and there should be no distinction."
The Positive Mental Health Foundation was set up in June 2005 by Violet Gavin, a retired career guidance teacher, counsellor and mother of ten children, who recognised the need to educate and train young people in development of positive mental health skills.
The purpose of the programme delivered by Positive Mental Health is to provide secondary school students with appropriate supports that prepare them in their movement towards self-sufficiency and successful achievement of their goals.
This particular programme adopts a competence perspective which is concerned primarily with building strengths and feelings of competency and efficiency amongst the students.
The aim of the programme is a preventative one in that, as students become more capable, their psychological well-being improves. It is also envisioned that increased knowledge of issues around mental health within their immediate domains will result in improved attitudes to mental illness and a willingness to seek help. Violet tells us about her organisation and the impact of her work.
How did you become involved with Positive Mental Health?
The spiralling rate of suicide among young people between ten and fifteen years old, coupled with a personal tragedy in the Chairpersons life inspired the idea. It was thought that a positive spin on mental health issues (which was an area of fear and stigma) would suit the development of the programme.
How does the organization financially support itself?
We receive a pittance from the Irish Government (Lottery funding through the local Health Executive) but that has been decreasing. Business people, family, friends, benefactors, and events (big and small) which are held throughout the year and are now our sole support.
Why is Positive Mental Health so important?
"There is no health without mental health" is the catchword of Positive Mental Health.
In Ireland, the papers, periodicals and health promotion materials place much emphasis on physical health. The idea of our own programme in schools is to use prevention, intervention and inclusion in the delivery of the eight modules over a number of weeks dealing with issues of mental/emotional health.
What are the greatest challenges student's face today?
A sense of identity, a sense of belonging, strong family ties and good adults to confide in and trust (not 400 "likes" on social media, many of whom they will never meet.) They need a spiritual anchor for the dark days. Self-respect and being able to say "no" and resist the urge to indulge in activities at too immature an age e.g. sexual experience, drink, internet, gaming etc.
How can students develop a positive self-image?
We have a module entitled "Self- Esteem and Peer Pressure" which includes the use of scenarios to promote building of self-esteem and self-worth. Brands, bullying about clothes, tattoos, piercing are all discussed in this module.
What's the best advice for student's overcoming issues such as bullying?
We have a "10 Commandments of bullying" leaflet which we develop with students and stress the cogency of breaking the silence and confiding in One Good Adult.
What tips can you give students to achieve a healthy lifestyle?
Balance, sleep, sport/exercise, healthy friendships, One hour at a time on social media, study with breaks every 35 minutes, living in the now, coping with success and failure with calm, acceptance and the knowledge that results are a point on the map, albeit and an important point.
Popular in the Community