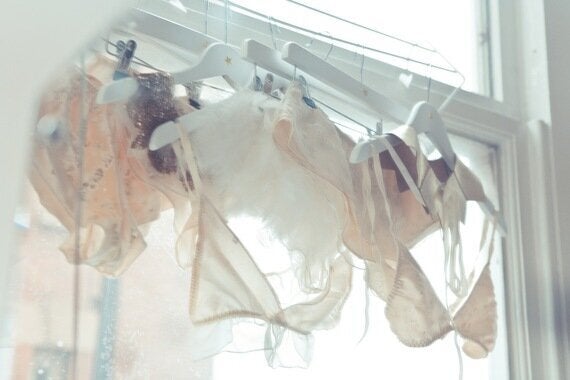 I encountered Flimsymoon by pure chance. A few months back, during my daily dose of browsing the Twitter-sphere, I stumbled upon Ragini Nag Rao's profile - a fellow blogger and one who has become a dear friend. And on her page was a little message from user "Flimsymoon." The name itself intrigued me. It was beautiful, metaphorical and whimsy. But upon clicking onto the profile, I instantly entered an emotional whirlwind: a journey from intrigue to fascination and ultimately to enamored admiration.
Flimsymoon - a collection of lingerie - was quite frankly unique to anything I'd ever seen. Balancing femininity, the erotic and the playful, its knickers, bras and accessories tapped into a perception of beauty that I've always been drawn to, but never quite been able to express. Before my eyes were pure silks, meticulous hand embroidery, velvet elastics and bow fastenings that, for me, called to mind Renoir. I could imagine the woman of "Dance in the Country" wearing this romantic, innocent lingerie, underneath her flirty smile and childlike dress. I could see myself strutting around the house in nothing but the Undine knickers and sequined collar, paired with my glittery Steve Madden marble flats. The collection was, and is, something otherworldly; capable of enchanting one at first sight. And so the journalist in me contacted designer and creator Freyia Lillian immediately - the 24-year-old Scarborough native and Manchester Metropolitan graduate whose mermaid-esque duck egg hair (accompanied by a love for The Little Mermaid and other animal bride tales), wide eyes and partiality to sparkly things make her just as charming as her work.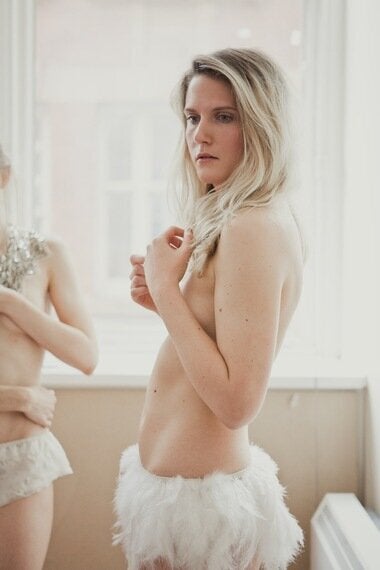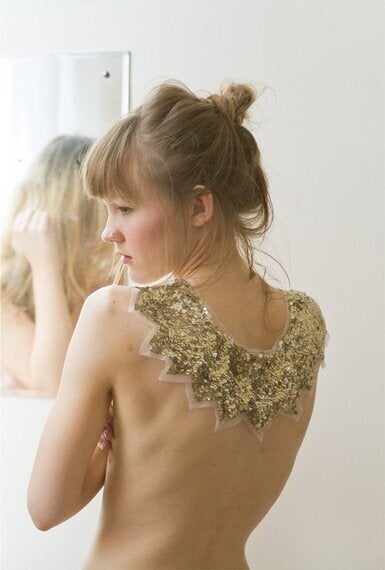 From a young age, Freyia loved to draw ladies with "interesting clothes on in interesting situations." But she was also enraptured by narratives in storytelling, poetry and the novel. I think the latter is what drew me to her collection from the beginning. Every item - from the swan-like Odette knickers to the delicate Giselle bra seem to take you through a fairytale. When Freyia explained that romantic ballet heroines inspired this collection, everything suddenly fell into place. "I'm fascinated by the notion of a sexuality that is quite overt in some ways, but not overt in the sense of being totally naked," she said. "See-through fabrics and carefully-placed things, for instance, and the idea of interacting with the lingerie, are really important to me." In looking at her designs, you can see that this isn't the kind of lingerie you simply put on and forget about through the day. It's meant to be something you experience, play with and wear just as much for yourself as for a partner. It's meant to awaken that innocent, childlike quality within, whilst still preserving and juxtaposing the more grown-up, womanly side.
There is also a vulnerability that radiates in every item - and it, too, is something I couldn't have put into words. "I'm really interested in perceiving vulnerability as a strength, not a weakness," Freyia commented. "It enables you to be open to experiences and emotions, and it means you can be empathetic to other people." As someone who has always been criticized for being too sensitive, and too emotional, this is something I could relate to deeply - and Freyia, too, is quite a sensitive, emotional soul.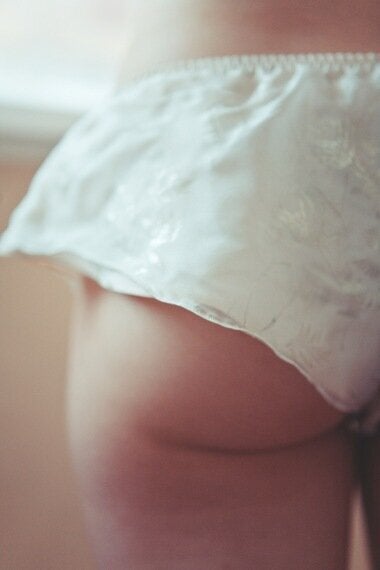 Because it is impossible to discuss lingerie without delving into constructs of femininity and beauty, we also chatted about portrayals of femininity prevalent currently within our culture. One that seems to recur as of late is the S&M, dominatrix-inspired persona - think Rihanna or Lady Gaga. And whilst there is nothing wrong with this representation of femininity and strength, Freyia and I both agreed that this anti-flirty/anti-girly aesthetic is sometimes a bit too obvious. "You can empower yourself with soft, subtle, more vulnerable ideas," she said. "My personal perception of what is sexy is a bit more mysterious - leaving something to the imagination and kind of toying with those ideas, so it's more playful and flirty. I guess that sort of ethereal, otherworldly femininity is something I'm attracted to."
Something that, undoubtedly, also plays into designing a collection of lingerie are notions of romance and sex. And Freyia finds herself thinking often of gender politics, the political side of what it means to be feminine or not be feminine and relationships between men and women from psychological, historical and biological standpoints. Jokingly (except not actually that jokingly), she pointed out, "I'm really fascinated by conception! The Great Sperm Race is one of my favorite documentaries. It's hilarious. And amazing." Her other - less bio-focused inspirations - include couture lingerie brand Strumpet and Pink, Lulu Magazine, Kirsten Dunst, 1930's lingerie, Sofia Coppola, Lily Cole and Rodarte (their flirty, more fairytale-like stuff, of course).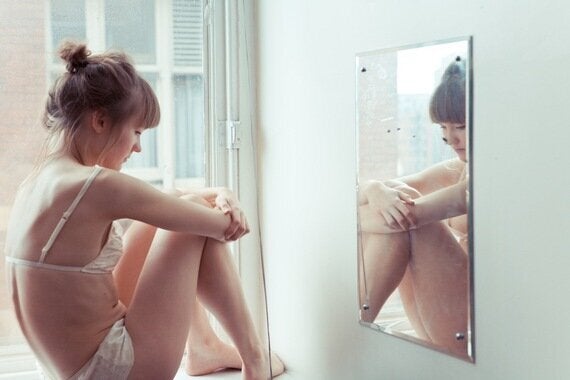 What I found even more impressing about Freyia and Kiss Me Under Flimsymoon (the collection's full name), is her willingness to challenge, paired with a desire to change, the way the fashion industry and the media present and perceive femininity and beauty. When you look at Freyia, you see a stunning, petite, magical-like being in front of you. But like most women, she has struggled with body image - something she suggests might have to do with being a creative person who was quite aware of her body from a young age. "Being interested in fashion growing up, I knew that I was not the 'ideal' image in the industry," she said. "But what I would want to see as a future for presentation of femininity would be referencing to all those different, beautiful archetypes of beauty." References that change from era to era, from nation to nation, from person to person. And when it comes to her own work, she hopes to someday incorporate an extended range of sizes to promote the body positivity and size inclusivity she believes in.
As for the future of Flimsymoon, Freyia's goal is to position herself in a high-end part of the market. "I'm using all natural fabrics. It's all screen-printed, hand-printed and hand embroidered," she notes. "And none of those prints or embroideries would translate to machine or digital print." And the thing is - it wouldn't work. The beauty of Flimsymoon is in the subtle yet elegant detail. To think of the designs being digitally processed would be a betrayal unto their essence. It sounds dramatic; but it's truly not. There is a love, an innocence, a sense of magic and a wonderment to this collection. To imagine it someday being part of independent boutiques, or housed on a simple yet gorgeous online shop, and carried in everything from an 8 to a 28, is truly a dream. And one I will be hoping and pining for myself.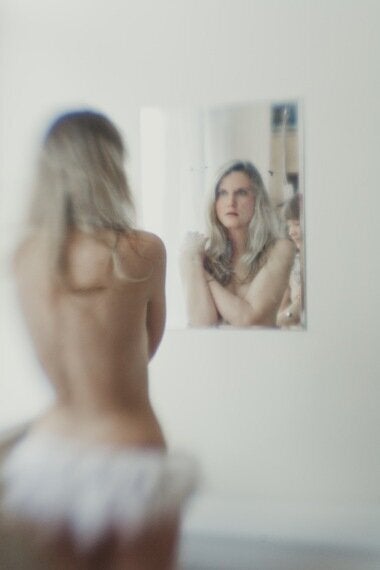 Freyia launched her campaign on the 30th of August, and in the next three weeks she is fundraising via Kickstarter to produce the final pieces of her first size range. If you'd like to join the Flimsymoon-cause, please visit her Kickstarter campaign here. As noted in the campaign profile, "This is your chance to weave your thread into the fabric of the Flimsymoon story. Your kind donations, whether big or small, will all add up to make our dreams possible, and bring our fairytale products a step closer to the shelves."