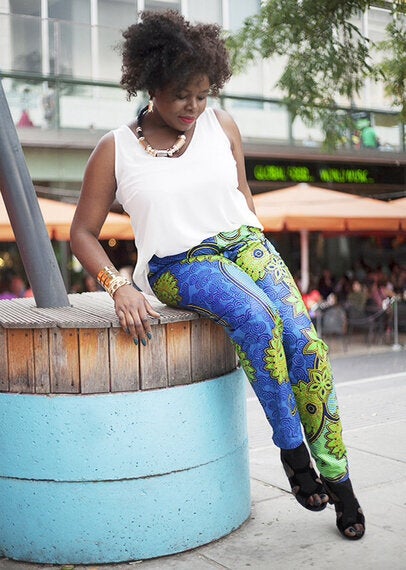 Oftentimes, it can seem like the majority of the world is striving to achieve some kind of Western version of normality - and, more specifically, some kind of American version of normality. From fashion designers to film producers, it can start to feel like the entirety of the earth becomes permeated by America.
Having grown up in a state of flux between North and South America, and later moving around a bit through Europe, I have seen firsthand how numerous nations attempt to emulate the U.S. How their films try to match the whole Hollywood-Blockbuster-thing and their clothes try to replicate the looks of everyone from Kate Moss to Miley Cyrus. It's a shame, because so much of other cultures can be lost in this attempt to Americanize everything. So much of other people and other lifestyles and other ways of existence get tossed aside, to make room for yet another pair of Converse or another H&M-ish dress.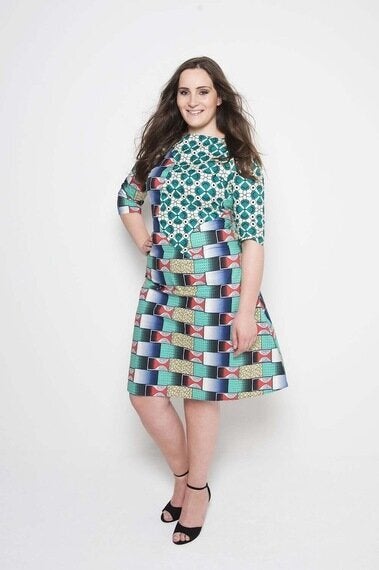 I suppose it is for these reasons that I was so drawn to Nigerian-born fashion designer and plus-size model Linda Idegwu. Her brand Dear Curves launched in January 2012 and has, in the short space of two years, become renowned for creating "contemporary, minimalistic fashion" for women sizes 14-26 (U.K.), as described by Dear Curves' in-house head of public relations, Bummi Dele. I had the pleasure of speaking to Dele regarding Idegwu's inspiration behind these clothes that so effortlessly bring African fashion to the Western sphere.
For five years, Idegwu (now London-based) has been expressing her creativity through the medium she knows best: "fashion ideology and 'her' interpretation of it." Dele notes that the lack of variety and poor availability of clothing for fuller-figured women played a crucial role in Idegwu's decision to launch a collection, but it's obvious that her own roots - and perhaps her awareness of how small a part said roots seem to play in the First World - have shaped her designs on an intrinsic level.
There's something passionate about the Dear Curves designs: some kind of energy; some kind of rhythm and rhyme. Although minimalistic and chic, the vibrant patterns and exaggerated silhouettes of the clothes make a statement. They yearn to be seen. They seek confident, strong plus-size women who are unashamed of their bodies.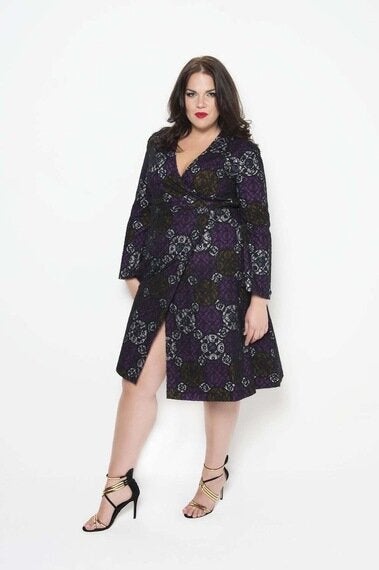 According to Dele, "the most prominent element associated with African fashion and prevalent in Dear Curves is [the] staple fabric choice 'Ankara.' The Ankara fabric is colourful, beautiful and durable." Traditional African cuts and fit combined with the incorporation of Western fabrics like chiffon, silk and lycra create a blending of cultures that is no less than mesmerizing.
A visit to Dear Curves' "About" page will tell you that a part of the brand's inspiration is African women themselves, "most of whom are naturally curvy and strikingly beautiful." Western ideologies of beauty (ideologies that have become ingrained in our everyday lives) rely on the image of the slender and statuesque beauty. So much so that for young women, this becomes the sole image to strive for. That Idegwu and Dear Curves as a whole bring to the forefront the idea that "beauty" is such a subjective thing - and that notions of beauty do vary from nation to nation, and culture to culture - is hugely important.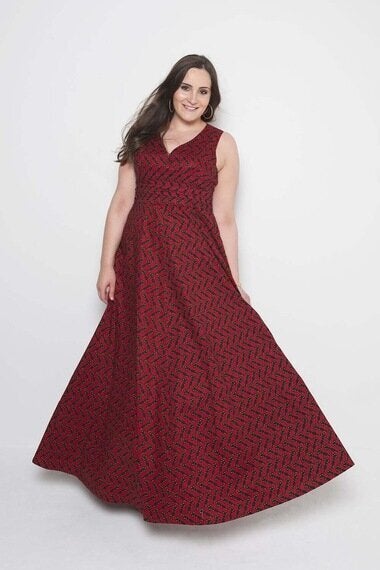 "In certain parts of Africa, as well as other cultures, being plus-size is still seen as a sign of wealth, social status and symbol," notes Dele. "Women are encouraged to embrace their curves; it is a way of life. The difference in perception in the African and Western culture is staggering, as women who are plus-size in the Western world are often and wrongly associated with laziness and greed."
What I find so fascinating about perceptions of beauty as they apply to weight around the world is the sheer opposing forces that permeate said ideologies. Plus-size women are often associated with either wealth and grandeur, or with poverty and sloth. There's so rarely an in-between. The point is not to decipher what country, or what culture, best perceives fuller-figured women, but rather to acknowledge that differences do exist - that not every country, or culture, views being plus-size as a negative trait. Because for young women growing up plus-size in the Western world, the idea that anyone could see them as beautiful begins to feel so unlikely.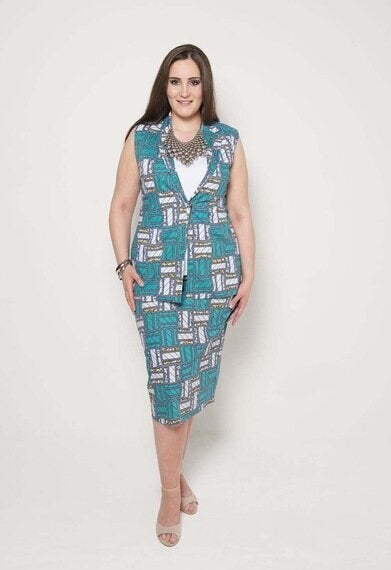 "We want to see more curvy models on the runway, proactive efforts by the fashion industry to stop the size range segregation, eradication of the terms 'plus-size,' or 'curvy models,'" says Dele. Size-inclusivity is a noble goal - it's a goal I hope to see fulfilled in my lifetime, but often fear I will not have the privilege to. Brands like Dear Curves make one hopeful, though. Judging by the range of publications that have covered Idegwu and her interpretation of beauty and fashion and of the necessity to remember that fascinating cultures and ways of life exist outside the Americanized world (amongst them Vogue Italia, Elle, Marie Claire, Stylist Mag, La Stampa and Volup2), it is obvious that people are responding. People want change.
The new range launches this month. Don't miss it.
Related