Today marks the first anniversary of the devastating earthquake that struck Nepal. At 11.56 Nepal Standard Time on Saturday 25 April 2015, the earth shook at 7.8-magnitude, taking with it more than 8,000 lives and injuring at least 21,000 people in the seconds, hours and weeks that followed.
Women continue to be among the most affected by the worst natural disaster to hit Nepal in 81 years. Women have lost their homes, families and livelihoods, and have received little support from the Nepali government. Intersecting inequalities meant that women faced additional barriers and were less able to access the emergency relief provided. Single women in particular are still struggling to access the support they need, fighting barriers and social stigma in order to gain equal rights.
Womankind Worldwide is supporting grassroots women's rights organisations in Nepal to help rebuild the lives of women. Progress is slow, with many setbacks along the way, but these local organisations are a lifeline to thousands of women who have lost everything.
I recently visited Nepal where I met one of the groups for single women set up by our partner, Women for Human Rights (WHR), in one of the earthquake-affected villages in Nuwakot District. WHR uses the term single women instead of widow as the word for widow in Nepali, Bidhwa, carries negativity and disdain. Single women are considered to be bad omens, to be blamed for their husbands' deaths. And since the earthquake and its aftershocks, the number of single women in Nepal has increased significantly. The single women groups encourage women to step outside the confines of their home and work together to boost their confidence amplify their voices. Today, WHR works in 73 districts and has over 100,000 single women members; since the earthquake, their work is more important than ever.
As we sat in a circle in a small mountain village in Nuwakot, women shared their experiences after the earthquake last year. It was terrifying for them. Their houses collapsed. The aftershocks kept coming. They lost everything. The government never showed up to help. Because they are widows, they are ostracised and discriminated against by their communities. Most of them have no one, except for each other; except for this group where they can meet once a month, to cry or rejoice together; except for a shelter built by WHR - so far just a concrete floor, pillars and a metal roof to meet under. A roof to call their own.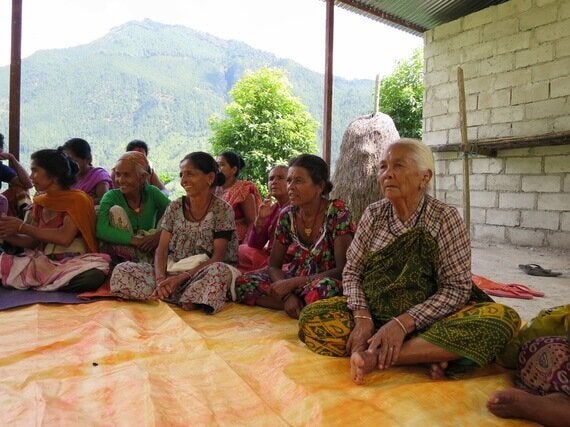 Since the earthquake, women have faced an increased risk of sexual violence and trafficking. Women were sleeping in unsafe tents in makeshift government camps or out in the open, too scared to return home or without homes to return to. Sexual violence, like all forms of violence against women and girls, is rooted in gender inequality. Whilst long-term prevention requires the challenging of gender inequality, short-term steps that can be taken to prevent violence in humanitarian settings, including sufficient lighting, locks on bathroom doors, and access to water being close by.
Women struggled to rebuild their homes and access the influx of international aid in the weeks and months following the earthquake. WHR Director, Lily Thapa, explains that single women were the last ones to have their rubble cleared because there was no one to help them. Single, disabled, elderly and Dalit women faced widespread discrimination in the distribution of food, relief materials and compensation from the state. Worse still, because their property is not registered in their name, male relatives received and controlled the resources that were available to them.
Despite this, women and women's rights organisations were at the heart of emergency relief efforts, embedded in local communities addressing the most urgent needs. WHR staff and volunteers were amongst the first responders to the earthquake and its aftershocks in Nepal, and they continue to play an important role in reconstruction work and recovery. They immediately mobilised and fundraised to provide emergency housing, food, clean water and medical attention to very remote communities. Single women who had themselves lost everything in the rubble took turns to distribute the relief to other single women, elderly women and people from other marginalised groups. Women led the way despite the lack of women on the official disaster management committee; as reported by the Kathmandu Post, of a total of 95 members in the Central Reconstruction Advisory, only two are women.
Ahead of the World Humanitarian Summit in Turkey next month, we must remember the women who continue to suffer disproportionately from the effects of the earthquake. But we must also recognise and see women as the actors and agents that they are. If we've learned one thing from the Nepal disaster, it's that women must be higher up the agenda for humanitarian response. We must place women's voices, needs and rights at the centre of humanitarian response and post-crisis recovery.
In recognition of this, in a joint position paper published earlier this year, twenty international development and women's rights organisations have pledged for women's leadership, gender equality and gender-based violence to be at the heart of the World Humanitarian Summit's discussions and outcomes. The Summit must address the gendered impacts of crises and the role of women in disaster preparedness and reconstruction. Half of the world's population should not be left behind.
Thank you to Sangita Thebe Limbu for supporting the research for this blogpost. For more information about women's rights in Nepal and the organisations supporting women since the earthquake, visit the Womankind website.
(Image info: A Single Women's Group meeting in the shelter built by WHR following the Earthquake)