As a Personal Stylist, I often look to unique international designers for clients who might be a little bored with their current shopping experience - and what better way than to experience the glamour of Hollywood's LA Fashion Week!
Whist no one would argue London's one of the best shopping destinations in the world, it can sometimes feel like our options are limited, and everywhere you look the same brands. If jet-setting to LA to update your wardrobe is not an option though, finding a stylist to be your eyes at the FROW ensures you'll be first to discover upcoming trends.
First stop, Fashion Week Los Angeles (FWLA) at Union Station. The notorious LA traffic had us arrive with only moments to spare before show! Thanks to a friend who prior plucked me from a shopping spree at BCBG Max Azria (flashbacks to getting changed in a car, new faux stingray clutch now in tow!).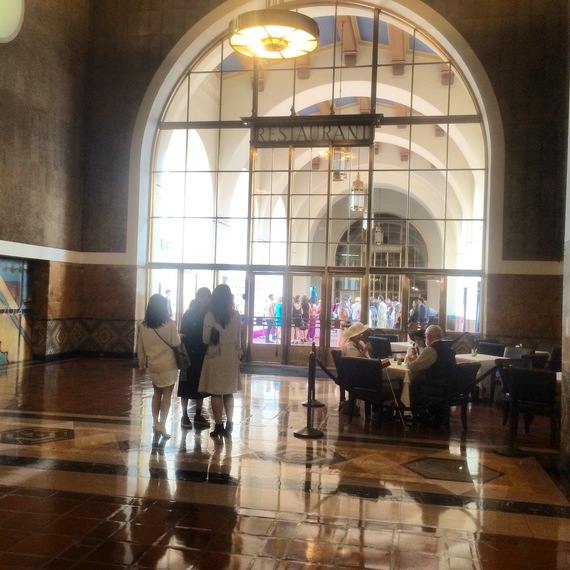 Fashion Week LA broadcast live at Union Station: grand historical fashion week location (image Stylist's own)
Enter Union Station - a grand space of art deco interiors. Guests enjoyed having their photos taken in the garden with opportunity to catch the LA sun between shows. In spite of press-only access to the show space, the shows were broadcast live on movie screen to commuters who passing through, giving a sense of community spirit.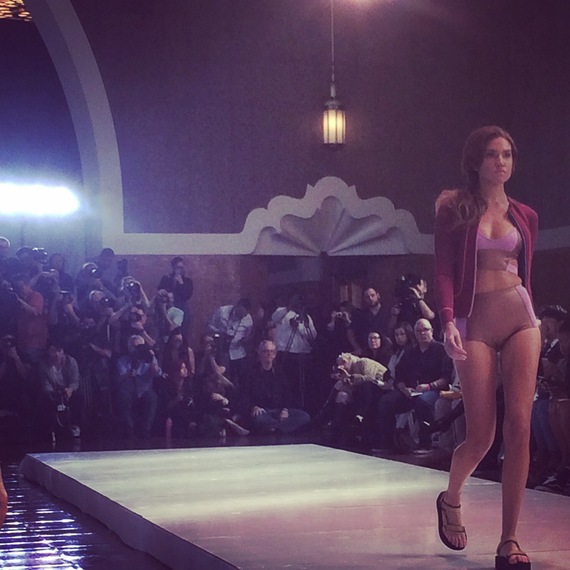 Surfer girl: combining neutrals rather than bright colours lent sophistication to the looks at Cynthia Rowley (image Stylist's own)
True to LA's active lifestyle, I saw a crossover between fashion and activewear. Cynthia Rowley's sporty, surfer girls brought the glamour of Malibu beach to life.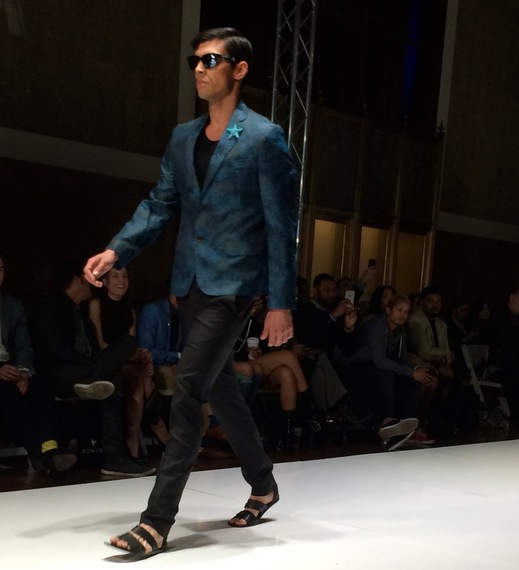 Spring menswear trend: starfish motif at Moods of Norway (image Stylist's own)
Over to menswear and it was refreshing to see Moods of Norway's pop of colour in their collection, very much fitting a London aesthetic. They introduced dressy day-to-evening pieces to LA's laid back casual vibe, having opened their flagship store in Beverley Hills. If anyone was wondering whose flashy pink limousine was parked outside - it was Moods of Norway. Typical of their tongue-in cheek, oddball Scandinavian sense of humour, as is their pink tractor logo.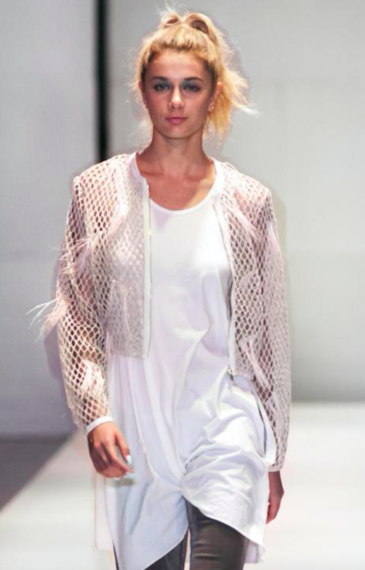 Sporty trend: net jacket with feathers by Robin's Jean (image Jung S. Kim)
Back to LA urban style, I loved the feather effects used in Robin's Jean. The collections have influences from Native American culture and symbolic of freedom. The French designer brings his passion for denim to the brand.
Aside from the shows, an interesting aspect of Fashion Week Los Angeles were the panel discussions, especially one on cosmetics. As a Personal Stylist clients often ask me for make-up, as well as fashion advice, so I was interested to hear about an App called Think Dirty, Shop Clean spoke of by a husband and wife duo Plume. This App allows you to scan the barcode of your skincare and make-up brands to see their ratings for carcinogens, and harmful effects to reproductive system. Not great news was that the well-known brands I tried in the App were harmful to a high degree. Thankfully the App recommends non-harmful alternatives and links you straight to where they can be bought online.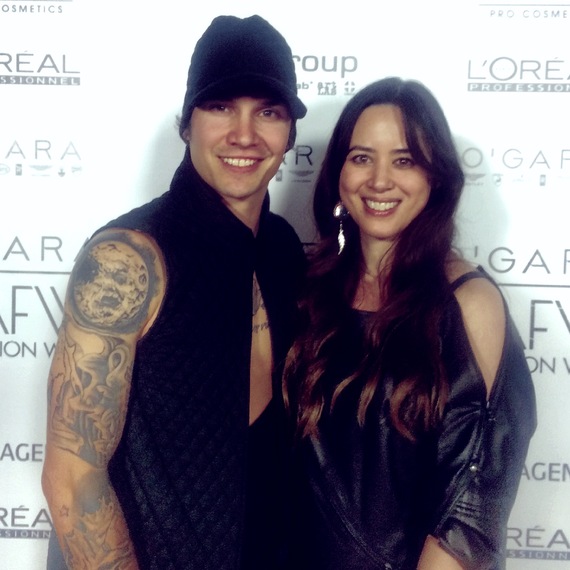 On the red carpet at Los Angeles Fashion Week wearing BCBG Max Azria (right). LA model Anthony LaFlam (left). (Image Derrick Huchinson)
Next stop Hollywood Sunset Boulevard at new Columbia Square, home of Los Angeles Fashion Week (LAFW).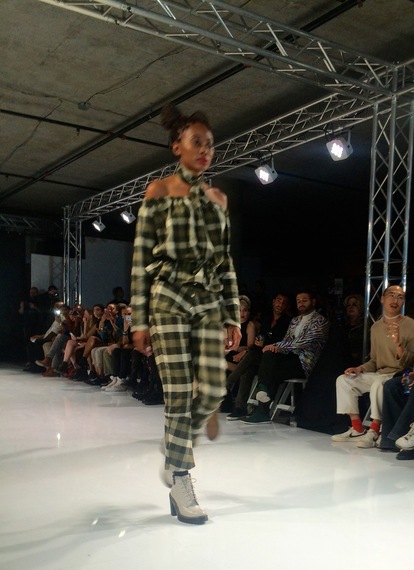 Coolest on show: Phlemuns FW16 (Image Stylist's own)
Inspired by the styling of early 90s pop group Dee Lite, the Phlemuns show was my favourite, the designer creating flattering proportions. Amongst trends spotted were bandanas, here tied in a simple knot around the neck (what's not to love?). Word at fashion week was Pleumuns has a strong music following too.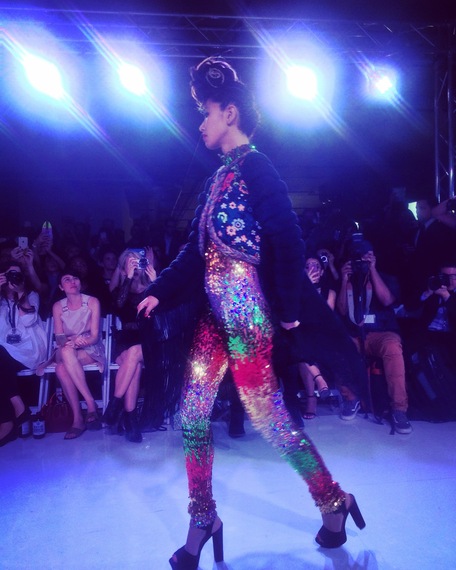 Biggest showstopper: George Styler SS16 (Image Stylist's own)
Serbian born, London-based designer George Styler brought an interesting mix of ethnic inspirations and art, showing floral and animal motifs - as featured in Vogue Italia.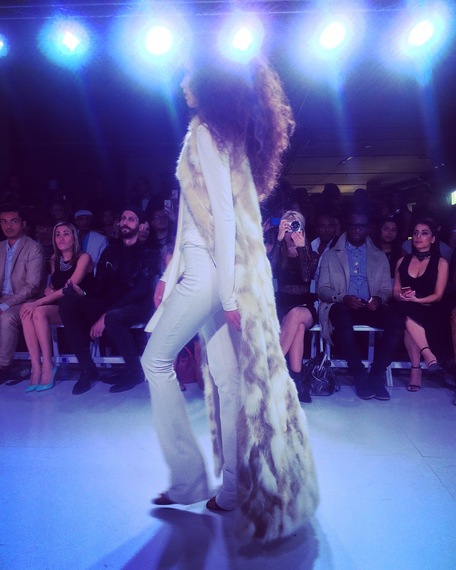 Luxurious faux fur at Dena Burton (image Stylist's own)
Another standout collection for me was Dena Burton and her luxurious faux furs. The designer spoke of using cruelty free materials, in keeping with LA's love of animals. Being a supporter of cruelty-free fashion I am always on the lookout for exceptional quality faux fur and was very impressed by the range of styles. A collection for the modern jet-setter woman.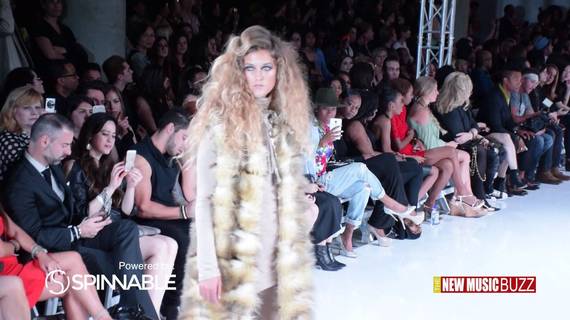 Dena Burton FW16, hair by L'Oreal Pro & Artlab salon(Image LA Local Buzz)
For more images from LA fashion week, please visit my Instagram @marika_page_fashion_stylist and information on my personal styling www.marikapage.com