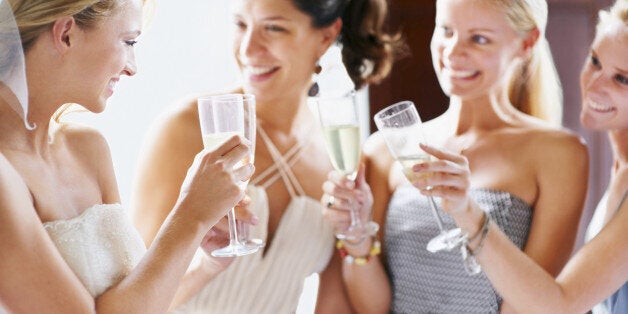 Even though I have worked in the media industry for over 15 years, I totally understand how confusing it is to women when they are presented with the trends for fall, in other words autumn the following year when they have not even experienced the season this year! However, if you didn't have bridal designers presenting their fall 2015 shows, you wouldn't know what it is going to be fashionable for next year and beyond. Here are my top five bridal Fall 2015 trends.
I am delighted to report that lace continues to be a key trend for Fall 2015. Claire Pettibone's Fall 2015 catwalk show, called 'Gothic Angel,' was all about the gothic cathedral, i.e. Notre Dame, Westminster Abbey, and how you can translate the ornate facades into French lace and silk embroidery. Some of the gowns, without question, were works of art.
Having had fresh flowers in my hair myself when I was a bride, I have always been a fan of hairstyles involving flowers. Whether you go for faux or fresh flowers, it will definitely create a romantic and feminine look. Flowers can look as girly, boho, or elegant as you want. If you want a boho look, why not consider adding daisies? If for example you want a very elegant floral style, orchids are a good choice. The models backstage at Reem Acra show, not only have flowers in their hair, but tiaras too, demonstrating that the key trend when it comes to bridal hair for fall 2015 and beyond is accessorize, accessorize, accessorize!
Gold has been a popular colour in bridal for a while, particular when it comes to stationery, table decor and bridesmaid's dresses. Amsale demonstrated in their Fall 2015 show that gold can also look fabulous on brides too. Often a strong white colour is not that flattering, so a softer colour like gold, could be the answer.
4. The fashion forward crop top
This is definitely not a trend suitable for the shy and retiring type. On the contrary, you will need to be someone who is very body confident. Although this is not my favourite trend (I prefer seeing less rather than more!), I can see it working more for brides planning a destination wedding. The cropped top was a big feature of the Reem Acra Fall 2015 collection.
5. Soft & romantic colours
Colour used to be a word that was not even contemplated when it came to wedding dresses years ago. Although next year's trend is far from radical, it is a definite move away from white to beautiful romantic shades such as soft mint, lavender and peach, as demonstrated at the Monique Lhuillier Fall 2015 show.
Related