I was deeply saddened to hear of the passing of the immeasurably talented Oscar de la Renta, he is a huge loss to the fashion and bridal world.
I cannot quite believe that Amal Alamuddin's dress was the last bridal gown he personally designed for a high profile figure. In my opinion, Amal's dress was nothing short of a triumph. It was everything a wedding dress should be and more. It was undeniably feminine and classic, yet was very contemporary at the same time. She said of him at the time, "He's such an elegant designer and such an elegant man.'Her dress featured two layers of tulle and French lace, hand embroidered with pearls and diamantes. It also featured an incredible circular train and cathedral-length embroidered veil with a fitted bodice and off-the shoulder neckline.
Although it was widely reported that Amal was set to opt (like the Duchess of Cambridge) did for an Alexander McQueen wedding dress, she chose to wear Oscar instead. And she definitely made the right decision...
The 82 year old designer was renowned for dressing film stars, royalty and First Ladies (including Jacqueline Kennedy and Hilary Clinton), for many years. He was from the Dominican Republic and left there at the age of 18 to study in Spain. Whilst studying painting, he quickly became interested in the world of fashion and began sketching for leading fashion houses. This led him to take an apprenticeship with Cristobal Balenciaga, whom he considered to be a mentor. He later left Spain to become a couture assistant at Lanvin in Paris.
In 1963, he asked the advice of Diana Vreeland, the then Editor-in-Chief of Vogue, on how to get into ready-to-wear. She suggested that he go to work for Elizabeth Arden, which he did. In 1965, he moved to work for Jane Derby, who was a very well-known fashion designer from the 1930s to the 1960s. It was there that he launched his own label.
From 1993 to 2002, he was responsible for designing the haute-couture range for the house of Balmain, and in 2006, he started to design bridal wear.
Several weeks ago, it was announced that Peter Copping would become creative director at Oscar de la Renta, and will begin his new role on the 3rd November. He was formerly artistic director at Nina Ricci. Obviously, with the passing of Oscar de la Renta, Peter will undoubtedly try his utmost to ensure that the legend of Oscar lives on in his designs.
Oscar de la Renta was held in enormously high regard by the celebrities and key figures he dressed. Supermodel Naomi Campbell described him as the 'gentleman of fashion,' whilst Cindy Crawford said that his 'vision and talent will be missed.' Actress Jennifer Garner said that 'he wasn't afraid to pull back and let the woman be the star of the look. I was just lucky to get to wear his designs and to get to know him a little bit, just the tiniest bit-as a person.'
Hilary Clinton and her family said of Oscar, 'His singular talent and exquisite taste elevated American fashion, and his warmth and friendship will be missed by our family and all whose lives he touched in his extraordinary journey.'
And what about Oscar de la Renta's legacy on the bridal industry?
I personally have always been an enormous fan of his work. Who wouldn't want to wear an Oscar de la Renta wedding dress or any of his designs?
His designs are so, so beautiful, and stand the test of time. They are also unashamedly feminine. It was hard not to fall in love with all of them when seeing them for the first time.
Here are some of my favourite bridal dresses from Oscar de la Renta over the years.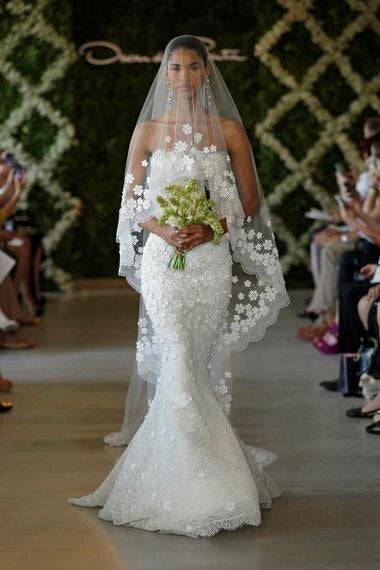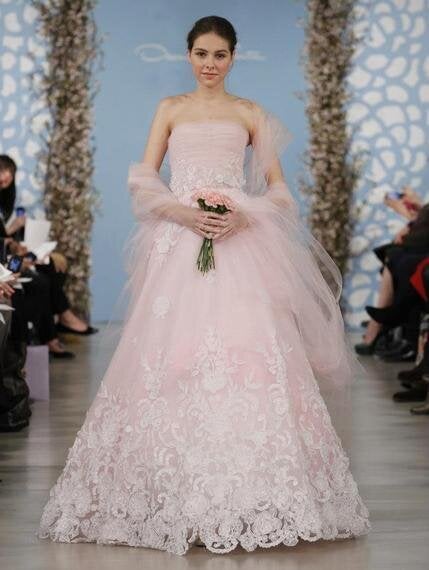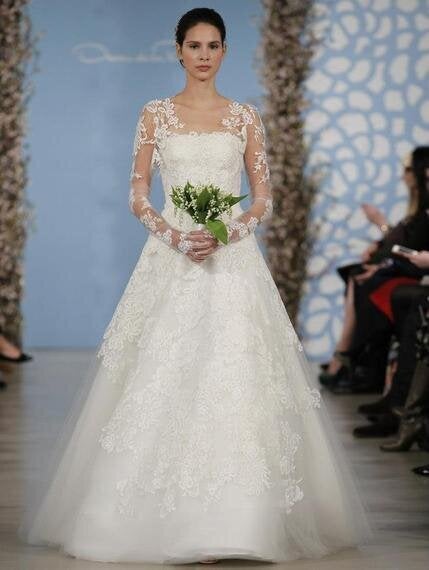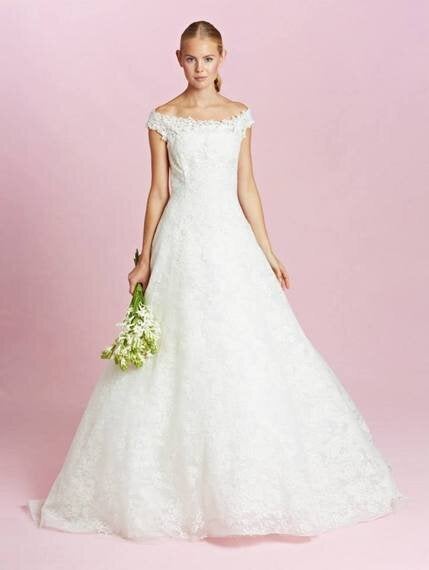 As for how the rest of the bridal industry felt about Oscar, here are are the thoughts of a select few.
'What sad news to wake up to - the loss of another great, Oscar De La Renta. I've been a lifetime admirer of his work: he was a fashion pioneer and a true gentleman. His gowns are the epitome of romance and elegance. Rest in Peace'
'Oscar de la Renta always mixed elegance with romance and more importantly his sense of fun through his designs. I have often witnessed brides fighting with themselves when choosing their wedding dress. Do they keep their look timeless? Or do they go for the current modern mood of fashion? By choosing an Oscar gown, they ticked all those boxes. Contemporary class with ageless grace.Over the years, I can recall many wonderful experiences with my brides who have chosen Oscar de la Renta wedding dresses. I remember one time when I was shopping with Rochelle Humes (from The Saturdays) for her wedding party dress. she wanted to go short in the evening. I told her - short and chic, and there was only one place to go. Oscar. Oscar's store on London's Mount Street hadn't opened yet - so the Director of Bridal shipped a particular dress we had in mind from New York to my London office. Rochelle met me in secret in a suite at The Dorchester where she instantly fell in love with the dress.
Through the years of being so warmly welcomed into their offices in New York and having a great working relationship with the team. I wanted to say thank you. When I heard Oscar was opening his first London store on Mount Street I instantly emailed Erika Bearman (Director of Communications and fondly known as Oscar PR Girl) to say I would love to throw a welcoming party for them when the boutique opened. We successfully did this in March 2013.
I have no doubt the legend of Oscar de la Renta will continue to be a firm favourite with future Niemierko Brides.'
Mark Niemierko, Celebrity Event and Wedding Planner
'I particularly loved the way he used embellished lace and the way he layered fabrics. He was probably the first designer to use colour, in particular pale blue or green under lace and this was the inspiration for the cake I designed about four years ago. I love, love, texture and he was the master at using heavily texturised fabrics in a classy and elegant way.
He was also one of the first designers to pin live from the catwalk onto pinterest, capturing detail upon detail of his wonderful creations. He will be sorely missed.
Elizabeth Solaru of Elizabeth's Cake Emporium
'I was so saddened to hear the news this morning that designer Oscar del la Renta has passed away. The world has lost one of the most inspirational designers of our time, who even to the very end, had a huge influence on the fashion and bridal industry.'
Here are some of my favourite quotes from Oscar de la Renta.
'I don't really know how to do casual clothes' (A man after my heart!)
'There is no sound more feminine than a woman in a taffeta dress.'
'You have to walk like you have three men behind you.'
Oscar you will be truly missed.