How would you feel about taking a holiday in West Africa right now? Given the news coverage of the Ebola outbreak over the past few months, most people would say "No thanks". But having just returned from The Gambia with my wife and daughter, I'd heartily recommend it.
You might imagine the whole region is a danger zone, but that's not the case. Some countries, including The Gambia, have dodged the bullet entirely: not a single case has been reported there. But despite that country's vigilance, closing its air borders with Guinea, Sierra Leone, Liberia and Mali, the tourists have stayed away.
This has put a huge strain on the country's fledgling tourism industry - and caused holiday prices to crash. At the time of writing you could book a week's B&B in February at the three-star Kombo Beach Hotel in Kotu with flights from London, down from £788 to £349, a reduction of 55%.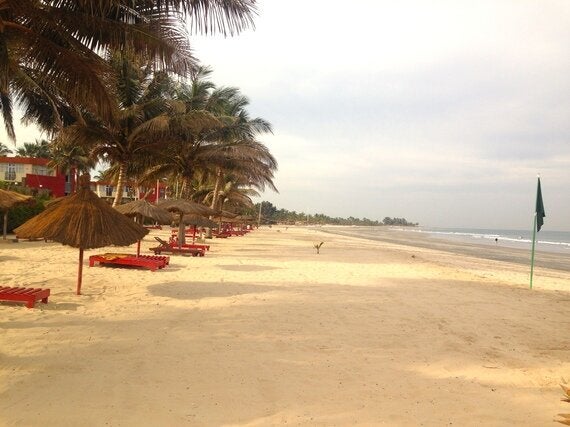 Kotu beach, outside the Kombo Beach Hotel
It's an enticing prospect. A six-hour direct flight takes you to winter temperatures of 30ºC, long days of unbroken sunshine, delicious food and friendly people. And there's no time difference. It's one of the best-value winter sun destinations, and it's now cheaper than ever.
Is it risky? No travel is without risks, but the Foreign Office has given The Gambia the all-clear. Is it bad taste to sunbathe in a region that has seen so much death and misery? Ask that question to the taxi drivers who stand idly by their vehicles waiting for the tourists to arrive, or the hotel staff that have been laid off. You can guess the answer.
We stayed for a week at the Kombo Beach, which has 250 rooms set in tropical gardens alongside a gorgeous stretch of sand. Although some parts of the hotel looked a little tatty around the edges, our room was comfortable, the facilities were good, the food was excellent and the staff were friendly and hard-working.
Actually, the most over-used word "friendly" doesn't begin to do justice to the people we encountered in The Gambia. They smiled and joked, chatted happily and high-fived the kids, and gave every impression of really caring that we were having a good time.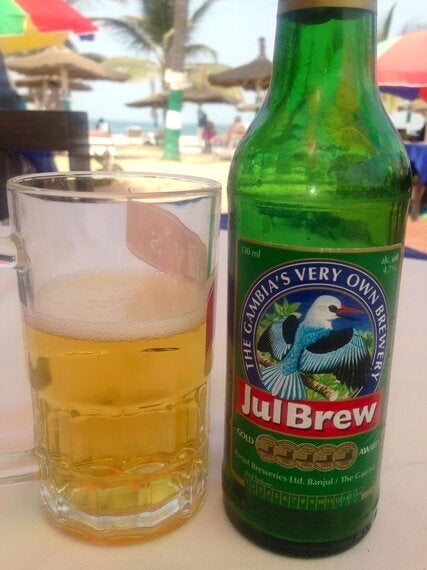 The local beer, Julbrew, costs less than £1
Prices on the ground are very cheap by European standards. A main course at the hotel beach restaurant - perhaps freshly caught fish or skewered prawns - cost about £3.50. A 45-minute back massage in the spa cost £12 while an hour-long tennis lesson with the resident pro was less than £4.50.
Outside the hotel, half a dozen restaurants battled for the attentions of the scant remaining tourists. A couple more had closed for the season. The food was outstanding: butterfish at Captain's Table, Spanish-style garlic prawns at Sailor's Beach Bar and fried chicken at Ali Baba (with live kora music).
You would be forgiven for spending your entire holiday lazing in the sun, eating great food, listening to infectious African music and drinking ice-cold bottles of Julbrew beer. But there are things to see and do.
The Gambia is Africa's smallest country, a thin sliver of land on either side of the Gambia River, bordered on three sides by French-speaking Senegal. It isn't home to any big game, but it is one of the world's foremost birdwatching destinations. And there are a lot of monkeys.
The Bijilo Forest Park is a short drive from Kotu and within walking distance of the main tourist strip of Kololi. It is a protected palm forest inhabited by hundreds of green velvet monkeys, cute sharp-eyed creatures who will follow you around in the hope of being fed peanuts. Feeding the animals is officially prohibited, but this is largely ignored.
Rather than join organised excursions, we found a friendly local taxi driver who took us around. One day we visited the market at Serrakunda, the country's most populous town, which was a magnificent assault on the senses: colourful, noisy and busy, a fascinating slice of real West Africa. The two-hour round trip cost us around £6.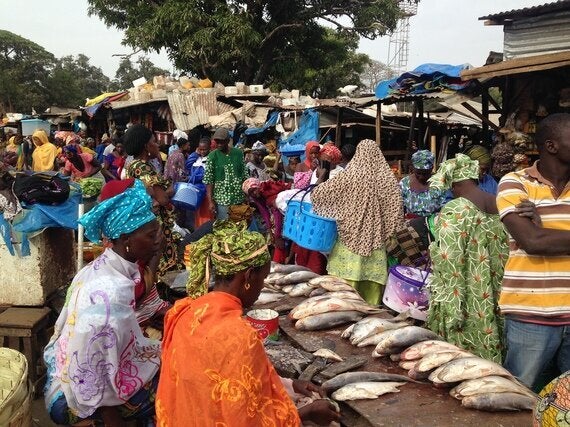 Serrakunda market is a lively assault on the senses
On another day we drove down the coast to Tanji, the country's busiest fishing port, where you can watch as the day's catch is carried up onto the long sweeping beach. There are smokeries - where we tasted the fish that will be transported inland - and rows of brightly-coloured wooden boats, many with young French-speaking crews. Painted along the sides of the vessels are lucky charms, blessings in Arabic script and the crest of a favourite football team: Manchester United and Real Madrid appeared most frequently.
In the evening we took a taxi to Kololi - the £6 return fare includes up to four hours waiting time - and strolled along the main strip, where there are several dozens bars, restaurants and cafes, some with live music, drummers and dancers. We had dinner at Tao, a southeast Asian restaurant that served up a decent Thai curry.
One unsavoury - and inescapable - sight is sex tourism. European men and women - many of them middle-aged, unattractive and overweight - go to The Gambia to pay for sex. Some return on a regular basis and I suspect their resilience compared to regular tourists makes them more visible now than ever before.
Prominent signs in tourist areas declare that child sex tourism is punishable by up to 14 years in jail, but on one occasion my wife saw two Dutch men accompanied by scantily-dressed girls who looked to be under age. It's a problem the government needs to address if it's to restore confidence in the country.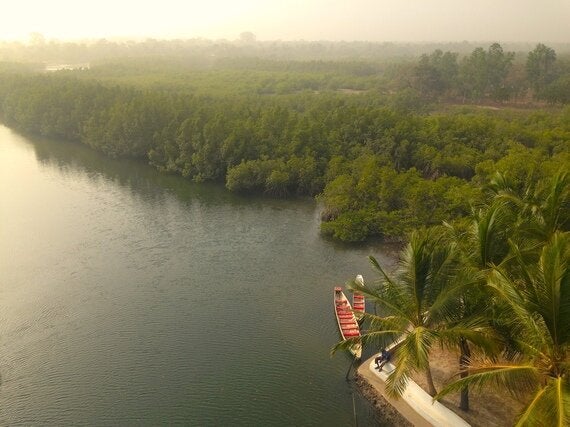 The River Gambia snakes through Makasutu Forest
For our last day and night in The Gambia we travelled a short distance up river to Makasutu Forest, a pristine area of palm forest and mangrove run by a British expat Lawrence Williams. Over the past two decades, he has developed Makasutu into a thriving eco-reserve, running day trips and hosting guests at Mandina Lodges.
Alongside a tidal saltwater creek are nine elegant and luxurious lodges - some floating on the river - and a central thatched dining area and swimming pool. It's an idyllic place where guests are allocated their own guide who will take them for walks through the forest and paddle them along the creek in a dugout canoe to see kingfishers, herons, bee-eaters, vultures and cormorants.
The forest is home to a troop of up to 300 baboons who present a constant threat to the lodges. "They are actually pretty friendly, but if they get in here they can cause a lot of damage," said Williams. "They've ripped off our roofs, and our solar panels, so we've trained our dogs to ward them off."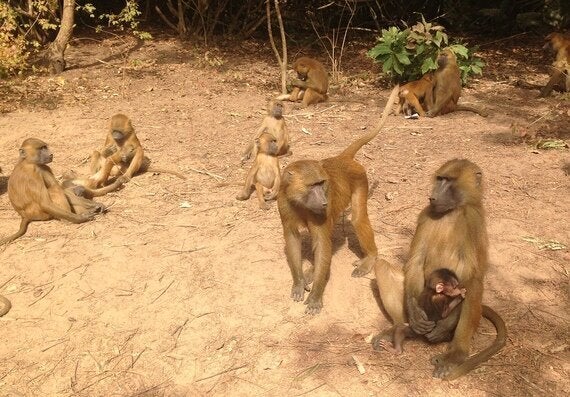 A troop of baboons inhabits Makasutu Forest
On our walk we encountered the baboons, strolling casually across the dirt path and play-fighting in the surrounding trees. "Stay away from the very young ones, or else the adults can get aggressive," said AJ, our guide. We stood in silence watching them watching us, a thrilling experience.
I'd go back to The Gambia in a shot. While holiday prices are pushed so low by largely irrational fears over Ebola, now is a great time to travel.
* The main tour operator from the UK is The Gambia Experience which has the latest travel deals on its website.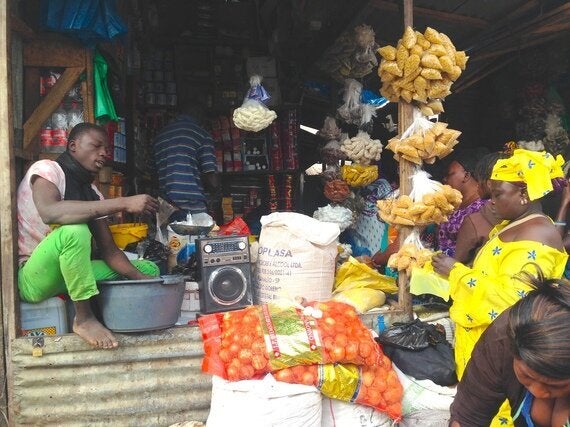 All images by Mark Hodson