Few tourists are familiar with the name, but Ras Al Khaimah is being widely touted as the next Dubai. RAK, as it's known locally, is one of the "other" emirates, along with oil-rich Abu Dhabi, that make up the United Arab Emirates.
RAK is just over an hour's drive north of Dubai on a six-lane highway that carves a straight line through the endless desert dunes. A stretch of coastline close to the world's largest ceramics factory has been designated for hotel development. It looks an unlikely tourist hotspot, but that's what most people thought about Dubai in the 1990s.
Already there is a cluster of upmarket hotels overlooking a wide sandy beach, including the newly-opened Waldorf Astoria, a vast palatial edifice with acres of marble, plush carpets and bejewelled chandeliers.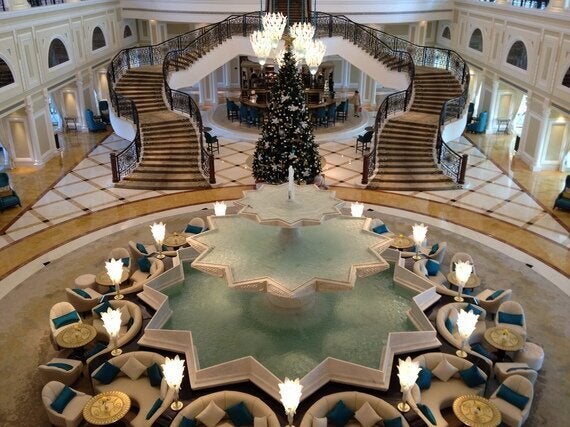 A group of five artificial islands connected by sandbanks has been built out into the sea where, within the next five years, 8,000 new hotel rooms are planned. The first have already opened with a Hilton Doubletree set to welcome its first guests on 20 December. The $8billion development is officially called Marjan Island but it quickly acquired the nickname "Mini Palm" after the larger Palm Jumeirah in Dubai, which appears to be loved and hated in equal measure.
"Essentially RAK is where Dubai was 20 years ago," says Andre Herrenschmidt, general manager of the Waldorf Astoria. "Tourism here has been growing for a few years but in the past 12 months it has really taken off. This place will see a lot more growth in the next few years."
A British expat living in RAK adds: "Eight years ago there was nothing here but desert, and the main industry was pearl diving - an incredibly dangerous and difficult way to make a living. This place has gone from camels to Lamborghinis in just 40 years."
This growth is being driven by RAK's ruler, Sheikh Saud Bin Saqr Al Qasimi, who owns many of the hotels including the Waldorf Astoria, which he regularly uses as a private dining room to entertain guests.
Unsurprisingly, the hotel oozes opulence with a clutch of gourmet restaurants, a lavish spa and a 17th-floor cocktail bar that boasts panoramic views over the Arabian Gulf. Even when full the hotel has two members of staff to every guest.
One of the attractions for visitors is that prices are considerably lower than in Dubai. A light lunch beside one of the two swimming pools costs about £15 per head, a bargain for the region. A standard room with two queen beds that would comfortably house a family of four were available on selected dates in January for just £150. While RAK remains relatively unknown, room rates are likely to remain low.
What's lacking are the shopping malls, indoor ski slopes and world record-breaking skyscrapers of Dubai. On the other hand, RAK is free of the round-the-clock noise and traffic that now characterises its more developed neighbour. This dramatic contrast means that many tourists are expected to treat the Emirates as a twin-centre destination: a couple of days of high-octane shopping, sightseeing and partying in Dubai followed by three or four days unwinding on the beach in RAK.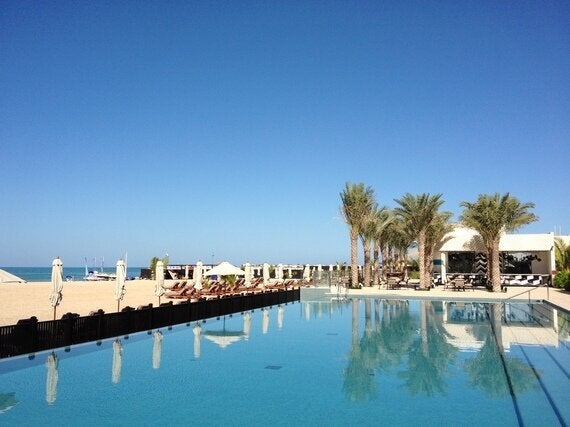 The setting is not quite as idyllic as the promotional literature suggests. The "azure waters" of the sea are actually a little murky (don't bother taking your snorkelling gear) and the "white sand" of the beach is in reality reddish brown. When I was there, the setting sun was framed by building cranes.
However, as a luxury fly 'n' flop destination, RAK delivers. The winter climate is sublime with long hours of guaranteed sunshine and gentle onshore breezes. The sea temperature rarely dips below 25ºC, making it ideal for a cooling dip.
What else is there to do? Not a lot if you head to the capital city - also named Ras Al Khaimah - which doesn't even have a souk. A much better bet is to join an excursion into the desert where you'll find mile upon mile of wind-sculpted dunes, a dazzling landscape of timeless beauty.
Tearing across the desert in a Toyota Land Cruiser with an experienced local driver at the wheel is a thrilling experience, as you bounce, skid and slide over dunes the height of two-storey houses. However, it is when the cars stop and you get out to breathe in the silence and gaze out to the peaks of the Al Hajar mountains that you start to truly appreciate the lure of Arabia.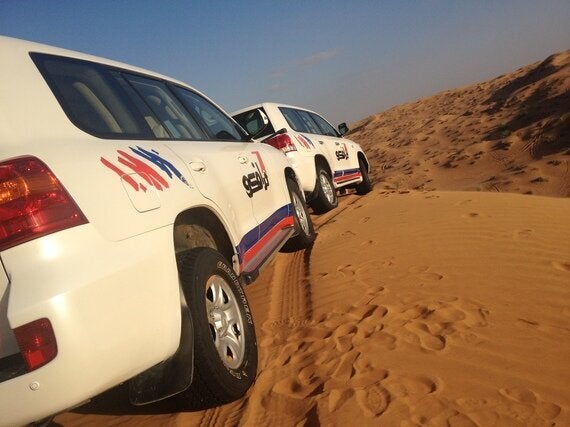 * All photographs by Mark Hodson