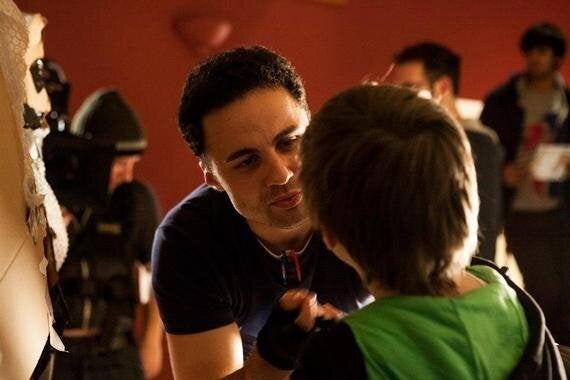 A few weeks ago I launched my new short film online. Mission stars Emun Elliott [The Paradise, Filth] as a failed astronaut who must cope after being rejected for the first manned mission to Mars.
Shorts are a brilliant way of finding your voice in the competitive world of film. The genre allows you to hone your skills and can function as a stepping stone in your career as a director, writer, cinematographer, or any of the other disciplines.
I'm a director. David Fincher once compared directing to painting, only that you're 200 yards away from the canvas. 80 people are holding the paintbrush and you're on a walkie-talkie going, "A little blue there... No, no, no, darker blue... No, DARKER BLUE!"
This is my favourite description of the role in that it establishes the director as commander and chief, while emphasising the value in surrounding yourself with the best and most committed people you can find from a number of different disciplines to help you achieve a consistent vision.
Many of our most celebrated filmmakers have gone down the short film route to enjoy successful careers.
As a respite from drawing cute animals for Walt Disney, Tim Burton made Vincent, a wickedly funny stop motion animation about a little boy who thinks he is B-Movie legend, Vincent Price.
Neill Blomkamp [Elysium] concocted mockumentary, Alive In Joburg while working as visual effects artist in Vancouver. Peter Jackson was so impressed by the film that he produced Blomkamp's first feature, the critically acclaimed and Oscar-nominated District 9, an expanded version of Joburg.
Doodlebug was directed by Christopher Nolan only seven years before he revitalised the Batman franchise. Filmed in a single location, this offbeat short packs a lot into a mere three minutes.
With regards to running time, there is some debate as to how long a short be. The Academy of Motion Pictures, Arts and Sciences specifies a running time of 40 minutes or less, while most film festivals recommend 60 minutes or less.
As a filmmaker, you shouldn't get too bogged down by this. I've seen brilliant shorts at 1 minute, I've seen brilliant shorts at 30 minutes. Write a great script, edit it, then edit it some more [I highly recommend getting feedback from trusted collaborators] until you have something that you think will make a nifty little flick.
Why not make something personal? Mission is about a guy who has a dream, but for reasons beyond his control, can't pursue that dream. I'm not clever enough to be an astronaut, but I certainly have a dream and it should be patently obvious what that is.
Festivals tend to be where the bulk of short film action is. There was once a constant flow of shorts through theatrical channels [the wee film before the big film], but aside from Pixar's notable efforts to keep the theatrical presence of short films alive, this has all but vanished from picturehouses through the UK. Popcorn, it seems, is a more valuable commodity.
That said, it's not all doom and gloom. There is a tremendous opportunity for filmmakers to premiere their short films online thanks to platforms like Vimeo. Don't get me wrong, film festivals have tremendous value - the atmosphere is inspiring, you get to meet loads of like-minded souls and you might walk away with a shiny award, which can energise valuable industry interest - but if the currency you value is eyeballs, online is definitely where the action is.
From personal experience, within an hour of my last short film The Search going live, we had 10 times the number of viewers that attended our entire festival run. This is why I chose to premiere Mission online.
Along with innovations on a distribution level, innovations on a production level has made it more affordable than ever to dive in to the tough but entirely rewarding world of filmmaking. As long as you have a great script that you feel you can achieve at the limitations you define for yourself, it is feasible to shoot and edit a short using only your mobile phone and a laptop.
Mission was self-financed with some help from a few friends. I also called in a lot of favours which allowed us to shoot a short at £5k, which at commercial rates would've been closer to £20-25k. However, self-financing should be the last resort. Thankfully, here in the UK, there are a lot of brilliant funding schemes and, although competitive, there are some tasty budgets being offered.
When making a short film you need to be a hustler. You need to convince a number of souls that your dream is worth investing their time in. But this shouldn't end at 'Yes'. You need to treat your cast and crew well. I promise you'll get a much better film as a result.
Unlike Fincher, I didn't have to scream and shout to get my different shades. The crew of Mission nailed them each and every time. They got it and executed without my having to micromanage. That isn't to say the production was a walk in the park - it wasn't - but like all of my flicks, I look back and remember the fun I had with all the amazingly talented individuals I was blessed to surround myself with for a relatively short, but strangely intimate period of time. I can't wait to do it again.
I'm still trying to chart a career course myself so it feels a bit odd offering advice to filmmakers who are in the same position as me. What I will say is that if directing, producing, writing or any movie trade is what you absolutely want to spend the rest of your life doing, you need to say 'yes' to every good opportunity that comes your way OR create opportunities for yourself, whether that be breaking onto a film lot, mounting your own productions, or a combination of the two! Every time I finish a project it feels like I've reached another step on the 'Director: Mark Buchanan' ladder. I don't know where I'll end up but I'm happy as long as I keep creating work that I'm proud of.