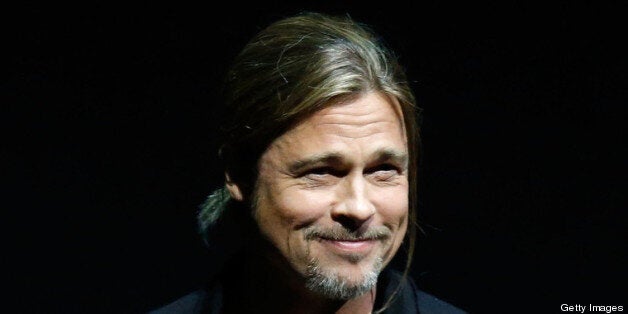 Brad Pitt could soon hold the ignominy of presiding over the biggest flop in film history.
The film in question is zombie epic World War Z, which originally had a budget of $170million, but has now ballooned to a reported $400million.
For anybody not keeping score, that is a huge $100million more than Pirates of The Caribbean: At World's End (2007), which is currently the most expensive film ever made.
Pitt's film is an adaptation of a novel by Max Brooks, which he is producing through his company Plan B, and thus is not actually part of an existing film franchise, which further exposes it to market pressures.
While zombie movies have had an unbelievable resurgence in recent years, what makes Brooks's subject matter distinct is the sheer scale of the story. The author's epic tale of a world being turned upside down by a rampant infection was always going to be precarious to adapt to the screen.
Ironically, given the name of Pitt's company, the first alternate course of action, when the proverbial crap hit the fan, seemed to be to throw another $200million at the film. This desperate attempt to salvage the project is even more baffling given the fact that the film is not part of an existing franchise and thus has little or no fan base.
Indeed, the signs do not look good for World War Z. Even before reports of the ballooned budget, the production has been riddled with bad press.
Director Marc Forster (Quantum of Solace) and Pitt reportedly clashed so much on the set, that they resorted to communicating through third parties and the passing of notes. Of course, this type of petulance is not uncommon in Hollywood but it rarely filters into the financing.
The history of Hollywood is littered with financial disasters, some so profound, that many of the talent involved barely worked again. Although, it is worth noting that Pitt's star power is so enormous that his career will almost certainly survive this.
Unfortunately, Forster will be only too aware of what will happen to his career if World War Z does indeed flop. The fact is some of the greatest filmmakers in history have had their careers crushed after similar apocalyptic box-office disasters, the most infamous of which is Michael Cimino.
After winning winning two Academy Awards for The Deer Hunter (1978), Cimino then bankrupted studio United Artists with his follow-up Heaven's Gate (1980), which had a final budget of around $44million.
That gargantuan failure was so profound that it is credited with directly ending the second golden era of Hollywood, which had seen art house directors dominate cinema throughout the 1970s.
Cimino's recklessness had a ripple effect across the industry and helped disrupt the careers of, in particular, Francis Ford Coppola. The Godfather director's lack of financial acumen was exposed when studios started to tighten their belts around any script that dared to challenge its audience.
World War Z's potential box-office implosion could further perpetuate this watering down of the mainstream. Quite simply, studios will see this as another warning against the hazards of taking big risks. Why develop an original blockbuster when another Batman or Superman movie can be regurgitated?
However, there are only two real certainties regarding the impact of World War Z's potential cataclysmic failure; first; the zombie movie genre will be thrust back into the art house and Marc Forster will never, under any circumstances, be trusted with a big budget in Hollywood again.
World War Z will hit theatres on 21 June
Related