The extension in Gloucestershire more than doubles the original six weeks to 14 weeks, dangerously deviating from the recommendations of the decade-long Randomised Badger Culling Trial, which warned that the longer badgers are subjected to disturbance, the greater the risk of bovine TB spreading more widely among badgers, and in turn, to cattle.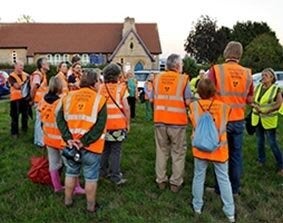 As a Gloucestershire resident, I know only too well how much local opposition there is to the badger cull, and how divisive this policy has been within the community. Over the last few weeks I've been proud to stand shoulder-to-shoulder with members of the Wounded Badger Patrol. Night after night these volunteers monitor the cull and search for injured badgers. Though news of the extension has been met with heavy hearts, I am certain that these extraordinary people will not be deterred in their mission to peacefully and lawfully protest. This is middle England on the march.
On patrol I meet people from all walks of life - parents and grandparents, teachers, engineers -- some fitting in time for patrols around their work, some retired. Most have never protested against anything before, but they are unable to sit by as this senseless slaughter plays out in the countryside.
Age: 64 years Occupation: Retired Royal Air Force and British Airways pilot from Dorset
"I have a background in science and the science says that culling is not the way. The government must be made to listen. I am appalled at the intentionally misleading information supplied by DEFRA. I have been a Conservative voter for most of my life, but no more!
"I try to get up to the cull zone at least twice a week and stay all night to cover the times when many of the Wounded Badger Patrol have to retire for work the next day. Throughout the cull the Moor has become more dangerous by the day. I still doubt anyone will be shot but the testosterone and adrenalin levels are running high and some of the driving near those of patrolling, is stupidly aggressive. In a former life I was a weapons instructor and I would never allow such excitable people to carry a gun."
Age: 52 years Occupation: Mature student (psychotherapy)
"I could never have imagined that my life would become dominated by badgers. But now I have become as nocturnal as those I seek to protect - sleeping during the day, ranging around the countryside at night on the lookout for suspicious activity, or sitting up till dawn monitoring individual setts.
"There are good moments, like the stillness of the small hours when we hear the badgers snuffling around in the sett we are guarding, or the camaraderie with extraordinary people who have come from all corners of the country to help. But these moments cannot prevent the terrible, underlying despair provoked by these nights of senseless barbarity. I dread the dusk when the day's killing begins. Village names like Forthampton, Newnham, Tibberton - once innocuous, are now heavy with deadly associations. I frequently think of a magnificent sett in Northwood Green, its majestic setting under a yew tree, home to generations of badgers and probably hundreds of years old, now facing imminent destruction in the space of one night."
Age: 48 years Occupation: Wildlife sculptor from Devon
"To say the atmosphere is tense would be a huge understatement; at times it is positively terrifying. There is nothing so frightening as to find oneself in the pitch dark, surrounded by an unknown number of shooters who can see you in their night vision gear, but who you cannot see at all. I have seen convoys of marksmen making their contempt for our peaceful protest known by filming us and shouting obscenities as they pass.
"All this is happening in beautiful rural parts of the West Country, all for a scientifically unjustifiable, politically motivated exercise to test the so-called 'humaneness' of the killing method used to massacre a nationally loved and protected species. The wounds inflicted on our rural communities by this government's reckless policy will take many decades to heal."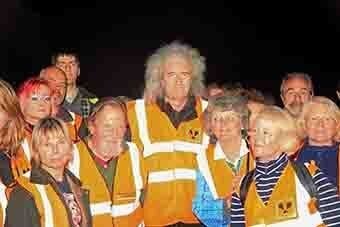 Age: 65 years Occupation: Charity worker; former editor at Catholic Herald
"Armed with no more than a flask of coffee, map, torch and mobile phone, I meet the half dozen others on patrol and trudge the footpaths to look for signs of badger activity.
"Each of us has a duty, mine being to telephone immediately on finding a wounded badger for the local wildlife rescue centre or RSPCA. So far my patrol has found only one, but was too late to save her. The young sow had been shot through the neck, the bullet exiting through her teeth. She must have travelled some distance in agony. She was still warm. One night we were deliberately intimidated with sounds of shots and headlights trained on us, but our resolve to continue is unabated."
Age: 50 years Occupation: Nurse, near Forest of Dean.
"I joined the Wounded Badger Patrol to make a difference, hoping we can stop this awful slaughter of innocent badgers. I am heartbroken to think it has come to this. I don't know what the Government is thinking of. It's time farmers went back to basics. As a nurse I know most infections are caused by bad water, bad hygiene and bad nutrition causing a weak immune system. Bovine TB is a dreadful disease, but this cull is not the answer.
"On Wounded Badger Patrols by day we walk the cull area looking for badger setts, noting any pre-baiting or cages left to trap animals. At night we wear hi-vis jackets, keep to public rights of way, and visit badger setts looking for wounded animals. I have met a lot of lovely people from all over the UK and some from overseas who feel passionately that this cull is very wrong."
Age: 69 years Occupation: Wildlife filming director/cameraman, now mainly retired.
"Our group of the Wounded Badger Patrol meets up in the early evening. We never know how many people will come, but are always amazed at the numbers and the distances they have travelled to walk with us. Over the last few weeks I have walked a lot of badger country, even before the cull started. There seem to be very few undisturbed, occupied setts. Badgers have been quietly persecuted for many years. We can forget about the special protection status they were once given.
"After several hours on patrol we are back where we started and contact badger HQ. There are various other anti-cull groups out and about, young and dedicated, spending nights in cold, dark ditches, waiting and watching for unusual happenings. The Wounded Badger Patrols tend to be the slightly older element - doctors, engineers - who have delighted in badgers over the years and are appalled at the prospect of a largely badgerless countryside."