Three years ago I came home from the 15th meeting of the Convention on International Trade in Endangered Species (CITES) in Doha, Qatar, and wrote an article entitled 'Is CITES still relevant to conservation?'
The two-week meeting had, from a conservation perspective, been very depressing. Several proposals to afford greater protection to species heavily traded across international borders had failed.
It seemed then that the international community had little appetite for protecting many imperilled species from the ravages of international commerce. Trade and short-term profit were clearly considered far more important than species conservation. I came away with little confidence that CITES could protect commercially valuable species from overexploitation, and fulfil its mandate as the world's most important and relevant body regulating international commercial trade in wildlife.
I have just come home from the 16th meeting in Bangkok, Thailand, where most of the 178 member nations to CITES had once again gathered. The mood could hardly have been more different. During the meeting, parties to CITES afforded increased protection for a wide range of species in international commercial trade, mostly by consensus.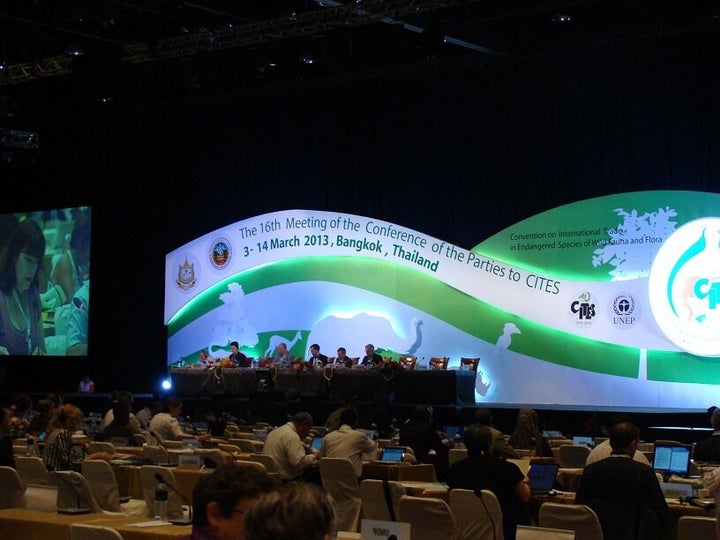 A large number of plant species, including rosewoods, sandalwoods and a number of succulent plants native to Madagascar, were listed for protection. Dozens of freshwater turtle and tortoise species, threatened by the trade for their meat and the exotic pet markets, were listed or had their status upgraded to give them greater protection. The oceanic whitetip shark, hammerhead sharks, porbeagle shark and manta rays were included in CITES Appendix II, while the freshwater sawfish joined others of its kind in Appendix I. Another major success was that the African manatee joined its West Indian and Amazonian cousins in Appendix I, which effectively bans all international trade in parts or products derived from these gentle creatures. The list goes on.
It wasn't only proposals to list species for protection or 'uplist' their status that were achieved at Bangkok. Parties also agreed on measures that should improve protection for rhinos and elephants. Also, a decision that will allow CITES a heightened role in global fisheries management was made. After more than a decade of debate, CITES rules for 'introduction from the sea,' which governs trade in listed marine species caught on the high seas, were finally agreed upon. The rules stipulate which parties are responsible for issuing import and export permits when listed species are landed from international waters. This is important because, although some marine species like whale sharks, basking sharks and great white sharks, are already listed, it is now clear who bears responsibility for upholding CITES requirements.
None of these positive outcomes would have been possible, however, without the support of many conservation and animal protection NGOs, including Humane Society International, which in many cases worked together for the greater good. This is how it should be, and what supporters of these organisations have a right to expect.
So what has changed in the three years since Doha? Certainly there seemed to be less lobbying from traditionally pro-trade and anti-restriction governments. Many countries engaged constructively in efforts to find solutions to some of the problems species face. Perhaps things have become so bad for many species that it's now impossible for countries to deny the problems that exist.
Of course, there were disappointments in Bangkok. Perhaps the biggest was the failure, for the second meeting running, to increase protection for the polar bear with an Appendix I listing. This would have effectively banned international trade in skins and other parts from Canada, and in doing so greatly mitigate one of the factors threatening the polar bear's survival. There also was a missed opportunity to improve transparency by adopting stricter rules on when secret ballots can be used for CITES decision-making.
Nevertheless, the Bangkok meeting has restored this writer's faith in the significance of CITES as a conservation tool. Now, the task at hand is to make sure the decisions made and the words crafted and agreed upon at CITES are turned into real, tangible protections for all species concerned.