Nine years, six years, three years and counting. It's hard to believe but this is how long the families I met on 15 November have waited or are still waiting for an autism diagnosis. I've been at The National Autistic Society (NAS) for over eight years now and I'm still taken aback when I hear just how difficult it is to get a diagnosis - the days, months and years of pain and distress families have to go through just to understand who they are and to have a chance of getting support.
Call to action
We gathered outside the Houses of Parliament to draw the Government's attention to the diagnosis crisis and to compel them to take action. This event was part of our diagnosis campaign and was timed to coincide with the Government's consultation on the NHS' priorities in England. Thanks to pressure from our supporters, autism diagnosis waiting times are being discussed as part of this consultation. But we need to make sure this leads to action, and for the Government to commit NHS England to prioritising reducing waiting times and to introducing a waiting time standard. That's why we're calling on our campaigners to build pressure by emailing their MP and telling them why this issue is important.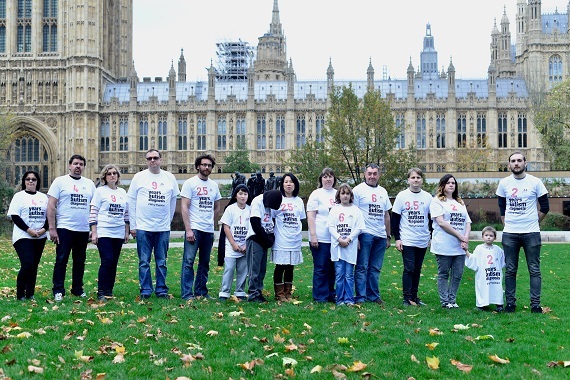 Families call for action to end the diagnosis crisis
National guidelines state clearly that people should only wait three months between being referred for an autism assessment and their first appointment. But on average, children end up waiting more than three-and-a-half years for a diagnosis after first seeking professional help, while adults wait two.
Many people wait even longer. Take Wesley, for example, who made the long trip down from Lancashire for Sunday's event. He first went to his GP over three years ago, looking for help with his anxiety, and was told he may be on the autism spectrum. But three years later, after various referrals, he's stuck on a waiting list for a formal autism assessment. He feels like he's in limbo, waiting for a diagnosis so he can get the support he needs to start the next stage of his life.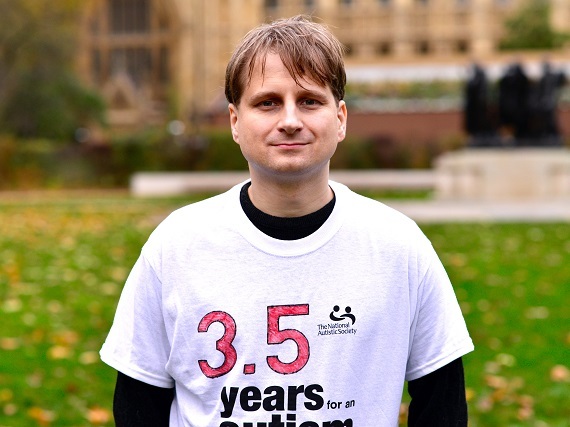 Wesley - "It's been over three years since I first sought help and I'm still waiting for a formal diagnosis"
Melanie and her husband Richard waited nine years to get a diagnosis of Asperger syndrome for their son Sam, now 20. They told me how frustrated they are with the professionals who repeatedly missed the signs and how different their lives could have been. Without a confirmed diagnosis, they just didn't know how to support him, how to help him cope with the world and he developed serious mental health issues. But since the diagnosis, they've been able to understand his needs, support him better and help him get to university. He will always face significant difficulties - he becomes extremely anxious in social situations and has a number of sensory difficulties which make everyday life very difficult - but there are support networks in place and he's on a good path.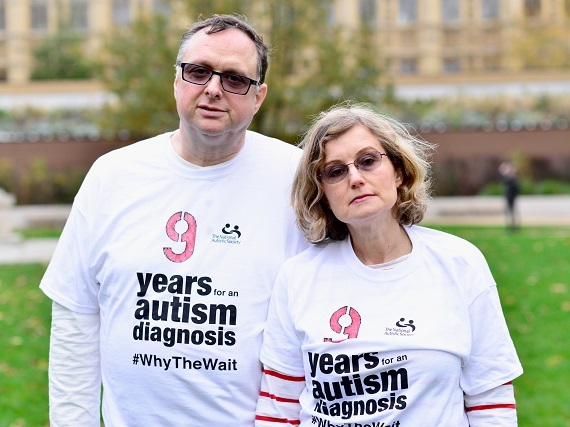 Melanie and Richard - "We don't want anyone else to have to go through the years of uncertainty and helplessness that we did"
Stories like Wesley's, Melanie's and Richard's are far too common and demonstrate the uncertainty and helplessness that so many families experience when waiting for a diagnosis. But their stories also show how life changing a diagnosis can be. It can explain years of isolation, give people essential information about what might help, and unlock professional advice and support. An early diagnosis would also help the NHS save money by reducing the number of GP appointments, emergency admissions and use of costly mental health services. The National Audit Office calculated that identifying and supporting 8% of adults with high-functioning autism and Asperger syndrome would save the public purse £67 million per year - that's a potential saving of £335 million by 2020.
What are NHS England and the Government doing about it?
We raised our concerns with the Chief Executive of NHS England, Simon Stevens, and the Health Secretary, Jeremy Hunt, back in August, sending them a letter signed by 11,627 people, including prominent autism experts Professor Simon Baron-Cohen and Dr Judith Gould. Simon Stevens and Jeremy Hunt have both responded, recognising the seriousness of the issue and making tentative steps to address it. But they have fallen short by not committing to start monitoring autism diagnosis waiting times across England. Without this, it's very difficult to effectively measure performance, work out what's causing long waits in different areas and ultimately improve services.
However, there have been some steps forward. NHS England has promised to start reporting each month on the number of people with a diagnosis of autism using mental health and learning disability services across England. They are also set to meet with service commissioners in some areas where waiting times are particularly long, with a view to identifying common barriers to timely assessments and improving services. The Government has also made the positive move of including autism diagnosis waiting times in its consultation on the NHS' priorities in England.
So what happens now?
We welcome these moves but, as they currently stand, they're not going to solve the autism diagnosis crisis - the Government and NHS England need to do more if we're going to make sure future generations of autistic people don't have to go through the pain and distress endured by Wesley and Melanie, Richard and their son. The good news is that you can help by asking your MP to tell the Government and NHS England to put their words into action and prioritise reducing autism diagnosis waiting times.
Please, join Wesley, Melanie and Richard and tell Simon Stevens and Jeremy Hunt to end the autism diagnosis crisis here.