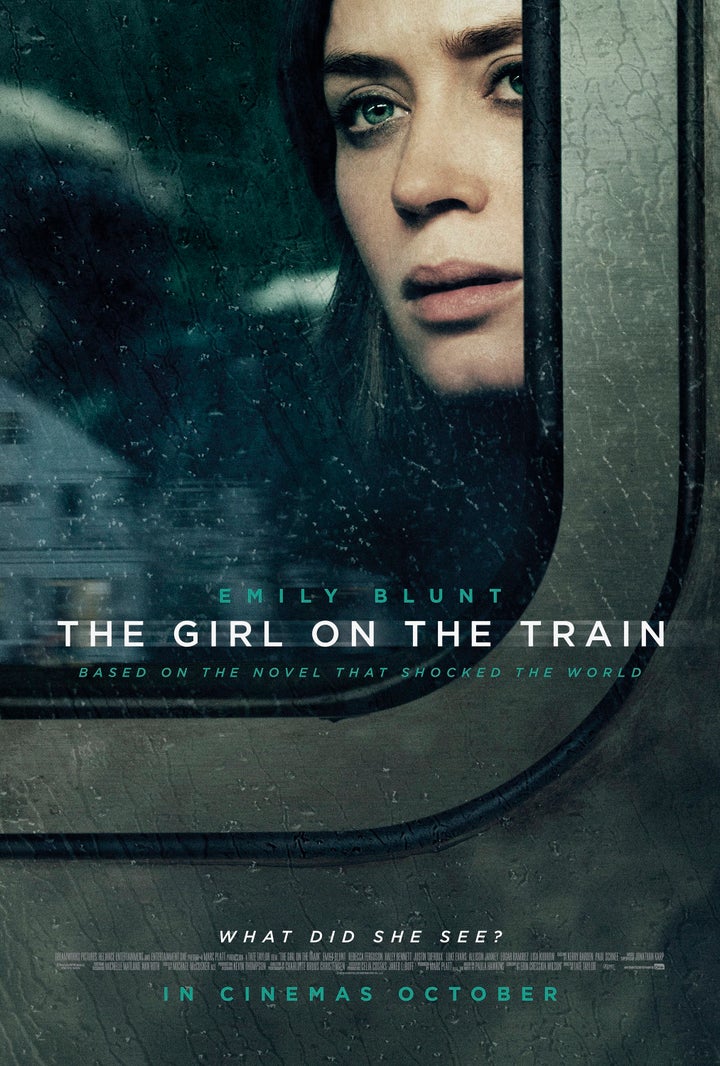 The Girl On The Train is this autumn's most anticipated movie and comes fast on the heels of the monumental success of Paula Hawkins' debut novel. The book has established itself as a constant presence on the suburban transport networks around London where reading Girl en route to work has made for the ultimate meta-commuting experience - reading about commuting on a train while commuting on a train. Last week, on my way to Fenchurch Street station in the City of London, I counted three people reading the book on various devices as well as an analogue paper copy, all seemingly captivated by the same meandering narrative. The ironically asocial nature of the mutual experience of coming together to make a journey with defined and definitive end points (in other words, commuting from A. to B.) has long seen commuters burying their heads in a book, or its electronic variants of smartphone and tablet, closing off the proximity of others who are engaging in their own equally separate-but-joined activities. Hawkins' novel successfully tapped into this shared experience; an experience that synthesises proximity and distance - the closeness of bodies trapped in confined spaces while moving through space each locked in their own personal universe. With its dark themes of guilt, betrayal and murder, comparisons with Gillian Flynn's Gone Girl are inevitable - another suspense novel that successfully crossed over into film - although Hawkins could find some solace in The Guardian's verdict that her work presents "a less flashy but altogether more solid creation". Optioning the title for film was clearly a no-brainer as the rights were sewn up well before the book's publication date. But why does The Girl On The Train, and stories about commuting on trains in general, appear to be so popular in the adaptation genre?
Over recent years, film adaptations from sources about train journeys have seen the success of works such as The Taking of Pelham 123 (1974, 2009), Shall We Dance? (2004), Derailed (2005), The Midnight Meat Train (2008), among many others, as well as the forthcoming Liam Neeson vehicle The Commuter, slated for a release early next year. These adaptations all utilise our fascination with movement, travel, and the inevitable and unstoppable force of time and space as a device to articulate post-industrial anomie by juxtaposing the suburban with the urban, the momentary with the static, and the unknown with the known. The central point zero upon which many of these films spin is, of course, the quintessential commuting adaptation: Brief Encounter (1945), adapted from Noel Coward's 1936 stage play Still Life. Here, happily married Laura is rescued by dutiful doctor Alec on the station platform after a piece of grit becomes lodged in her eye. What could have been simply a momentary meeting of strangers becomes practically a full blown affair (or what counts for a full blown affair in 1945). However, by being offered an insight into the possible consequences of being found out, Laura recognises that the comfortable and comforting domesticity of the family home and her patiently pathetic husband Fred have some value after all. Looking at the more recent film adaptations of the genre, including The Girl On The Train, it is difficult to avoid seeing them as further adaptations, rewritings or improvisations of the Brief Encounter source and its rigorous promulgation of marriage and domesticity.
Shall We Dance?, for example, adapted from the Msayuki Suo-directed Japanese original, translocates Tokyo for Chicago, evoking an easily recognisable filmic landscape of trains, steel, and skyscrapers. Here, Richard Gere is cast as the lonely commuter whose voyeuristic, furtive glimpse of a seedy dance school from the window of his train leads to him taking secret dance lessons in order to fully realise the joy his lacklustre marriage patently lacks. Just as Laura returns to Frank at the end of Brief Encounter, so too Gere returns to his wife after his flirtation with ballroom dancing teacher Jennifer Lopez goes sour. Heart, it transpires, still remains where the home is. The Chicago transport network also provides the backdrop for the appropriately entitled Derailed, adapted from the James Siegel novel, with Clive Owen and Jennifer Aston as the couple who are unfortunately already married to other people when they meet and find a connection on the train in to work. The affair, consummated in a hotel room (in yet another nod to Frank and Laura's ill-fated misdemeanour) sends Owen's character Charles on a murderous path from which only the domestic home can ultimately provide sanctuary. Every plot twist, every complication in Derailed serves to offer Charles a caution that the dangers of infidelity are far more devastating than he could have possibly imagined. Even in the fantasy-horror genre in which The Midnight Meat Train (adapted from the Clive Barker short story) firmly resides, disjunctures in relationships come to the fore when Bradley Cooper's uncovering of a psychopathic butcher on the New York subway causes a breakdown in his relationship with long-time girlfriend Leslie Bibb. Cooper's dark obsession with photography, symbolised by the mystery lying beneath the underbelly of New York, comes at a deadly cost both to his relationship and what counts for a normal life.
The Girl On The Train sits somewhat uneasily within these subsequent explorations of the Brief Encounter source text where the central character Rachel posits a kind of 21st-century post-Laura looking to reconnect with the apparently innocuous Fred (now Tom) who threw in the towel on a relationship that was going nowhere some time ago. The train ride here is less a journey into hidden passions than a fragmentary unlocking of past events invoked by the daily journey from Ashbury, Berkshire to Euston. Translocated to a commute from Irvington, Westchester to Manhattan in the film adaptation, the central and unreliable narrator, Rachel, is played by Emily Blunt who provides a convenient signpost to the British source text, her accent instantly marking her out as Other - a stranger among Strangers On A Train (to invoke yet another film adaptation of a mystery novel source set on public transport). While the marriage has already evaporated into its post-divorce state from the outset of the story, Rachel becomes obsessed by both Tom's new relationship and that of the neighbouring perfect couple upon whom she projects her hopes and fears. Once again, the prospect of an affair - glimpsed from the window of the train on Rachel's commute into work - becomes a trigger with devastating consequences as this contemporary take on infidelity reveals a desperate, alcoholic-fuelled, 21st-century Laura, desperately needing to recover her ability to discern reality as she judders and glitches her way through life like a train carriage coming loose from the rest of the rolling stock.
Adaptation is a natural process of evolution and The Girl On The Train film necessitates multiple enhancements, embellishments, and additions to Hawkins' source in ways that perfectly mirror its twin themes of infidelity and betrayal. Seen as a further iteration of the cinematic commuting vehicle, the film joins a back catalogue of many others which, while embracing a wide range of genres, successfully tap into the individual imagination evoked from our daily shared experience of travelling on trains.