Of the 11Million Disabled people in the UK, 6% of those are Children.
That means that 1 in 20 families have a child with a Disability. Yet a study found that nearly two-thirds or 65 per cent of people, have admitted they avoid disabled people because they don't know how to act around them.
So why don't people know how to act around someone with a Disability, when they are so common? Well the truth is that Disability isn't mentioned a lot in society, and when it comes to Kids TV, there are certain broadcasters like Disney and Nickelodeon that would lead you to believe that disability doesn't exist at all.
"We need to get away from this idea of 'perfection', the handsome prince and beautiful princess - these stories have a powerful grip on the imagination and how children come to see the world."
Well I have come across one man who wants to change all of that.
Dan White. Husband to Aimee and Father to Emily, Dan has a very special vision.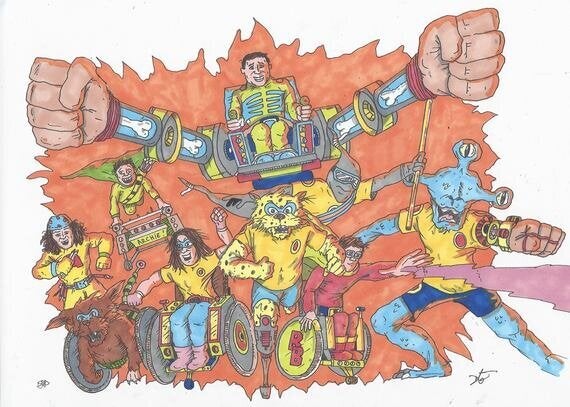 Dan says that "The Department of Ability' was born into his crazy world a few years after his daughter Emily was born. She stormed into the world with Spina Bifida yet although she has this disability she has an insatiable appetite for life!!"
Dan noticed a lack of positive media coverage of disability and the strong, independent kids involved and decided to take it upon himself to develop a set of Super Heroes who each use their disability as their superpower! And the Department of Ability was born.
Dan believes that Disabled people should have every opportunity to Integrate into the day-to-day life we all face each day.
"The Department of Ability is not there to lecture you" Dan says. Instead They are there because they are the last heroes left. Brought together to save the world!!! ...Born to be different. Born to save the world!!
The great news is Dan's vision is starting to gather pace. The Strongbones Children's Charitable Trust which aims to take Disabled children out of social isolation and give them the ability to participate in everyday life, have offered to pay for publication and distribution of the Department Of Ability and the Strongbones Super Heroes. These books will be given to disabled children across the UK.
Dan has spoken to some of the parents of children of Strongbones and has included some of them in the comic. Dans appeal has travelled around the world and a Rock Band from Australia, Calling Utopia has even made the D.O.A a theme tune.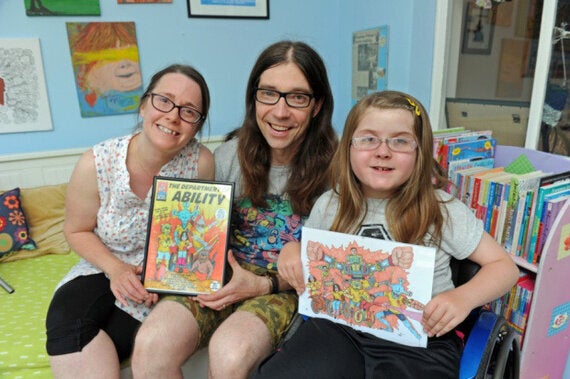 The Department of ability has become a White Family event, as wife Aimee, has been learning how to set up and run the website. Emily has written blogs. And whilst Dan himself is not being paid to create the comic book, he has taken the bold decision to give up his full-time job, to concentrate on getting the comic book done.
Dan said that "I was the sole earner, as my wife is the fulltime carer for Emily. Therefore I haven't got any income to support my family. However, my family and I are so passionate and believe in the project, we decided it was worth the risk"
Dan has come up with many ways of keeping a roof over the family's head though, one such way is through a DOA Merchandise range.
What is really needed now, is to take this to the next level. Every good Comic book needs a TV show, and Dan has been fighting hard to get this done, but sadly as of yet, TV production companies keep turning the idea down. The truth is it would seem the executives of these TV production Companies and Networks like Disney and Nickelodeon are clearly in with the 65 per cent of people, who admitted they avoid disabled people because they don't know how to act around them.
If they gave Dan's idea a go, Disability would be seen more in everyday life, and maybe there wouldn't be such a hang up on how you act around someone with a disability. The truth is Ability is only disabled because of the social, attitudinal and environmental barriers an individual faces. Or as I say there is no Dis in Ability. And now there is even a Department of Ability to show that.
I wish you the best of Luck Dan, and can't wait to see the Final Print, and hopefully set our Series Link on the TV for the TV show soon.
To find out more and keep up to date on Dan and the Department of Ability click here.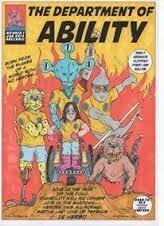 Popular in the Community