Now that's out of the way, let's focus on a couple of matters that have been lost in the melee of David Luiz's Tasmanian Devil style of defending. The Selecao's ultimate humiliation has overshadowed just what Germany and, in particular, Miroslav Klose achieved on Tuesday.
The veteran marksman became the competition's all-time record goalscorer, netting the second of the seven to usurp Ronaldo's tally of 15 in what must have been a difficult night for the former Brazil legend. We're so accustomed to seeing players of his calibre pull on the gold jersey but the XI that faced the Germans on Tuesday, even before the mauling, on paper, looked like one of the worst Brazil sides in history.
Germany, meanwhile, not only have world-class players but a world-class team - the two do not always go hand-in-hand. Klose, ironically, is one of those lining up for Joachim Low's side that would not be considered under that bracket by most, at least not at the ripe old age of 36. Another is perhaps Thomas Müller, who is somewhat of an unheralded hero for both club and country.
He's not as glamourous and arguably not as technically gifted as the likes of Özil, Götze or Reus, but if he lacks the natural ability of his compatriots he more than compensates with his desire and work rate, to become more crucial to this impressive German era. The 24-year-old burst onto the international scene at the previous World Cup as one of an impressive crop of young talent coming through the ranks and boy did he hit the ground running. In only his third senior international appearance Müller netted for the first time for Die Mannschaft in their opening match against Australia.
Müller would go on to feature in each of their group stage encounters before scoring twice in Germany's round of 16 rout over England, once in the quarter-final with Argentina and again in the third-place play-off against Uruguay. Germany have gone one better already in this year's tournament and Müller will hope to do the same having already matched his individual tally of five from South Africa.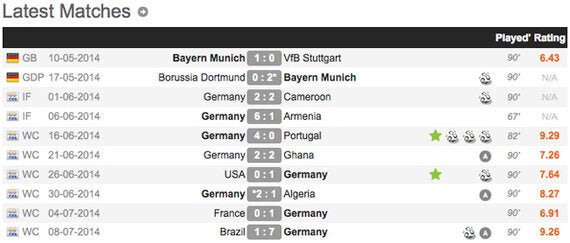 The versatile attacker sets the tone from the front for the side, with his willing running not allowing opposition defenders time to settle. It's no coincidence that in each of the last five World Cup matches in which he has netted, Müller has opened the scoring. It's also no coincidence that Germany have ran out victors in each of the seven matches that the Bayern-man has struck at the finals. He is of great importance. Germany have failed to win in regular time of four of the seven World Cup games in which Müller has featured and not found the net.
Here is a player that comes to life for the national side at World Cups. Of his current 22-goal haul for Germany 10 have come at the finals. He failed to score in five appearances at the Euros in 2012, and in 13 appearances in total for the side in that calendar year.
He's scored crucial goals for club and country but isn't really one to take the glory. Müller is an unselfish player, and amidst the egos - although there do not appear to be many from the current German crop - that much is crucial and invaluable to a coach. He's led the line and played out wide at this World Cup but is the kind of player that you probably wouldn't be too concerned about playing anywhere on the pitch.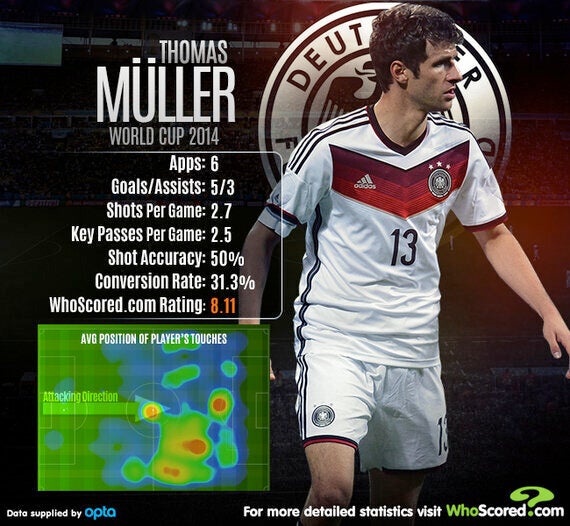 The 24-year-old has laid on three assists for teammates at this World Cup and would have had another if Klose had taken his chance for record-breaking glory at the first bite of the cherry. In turn, no player has had a direct contribution to more goals this summer (eight) than Müller, who has only created one chance for teammates fewer (15) than he has had shots at goal (16), which - given that he has started four of six matches to now in the central striking position - is testament to the sort of player that he is. A team one.
Müller scored an impressive 13 league goals last season but also laid on 10 more for his Bayern colleagues, with just 25 of his 31 appearances coming from the first whistle. He's registered double figures for both goals and assists in three of the last four domestic campaigns.
You'll find very few forwards who cover more ground. The playmaker is willing to run the channels for his team to open chances for other players in the side to counter, dragging defenders out of position and ensuring they have their hands full at all times. It's not uncommon to see an opponent take a swing, and a miss in Luiz's case, at him. He's a nuisance. Just ask Pepe. When you have a player like that on your team it's great, when they're on the opposing side it's 90 minutes of frustration.
More than just a pest with the determination to win, Müller is on course to write his name in the World Cup record books, perhaps to the dismay of Miroslav Klose. If Müller were considered for selection as long as the Lazio man has been he could yet feature in another three World Cups, with the current campaign yet to come to a close. With 10 goals to his name already, Müller will be desperate to add a World Cup final strike to his collection - something his compatriot is yet to manage - and earn the tournament's Golden Boot award in the process.
Now that he's reached double-figures, Klose's record is well within Müller's sights.
Do you think Müller will end the 2014 World Cup as top scorer? Let us know in the comments below
All statistics courtesy of WhoScored.com where you can find yet more stats and player ratings.
Popular in the Community