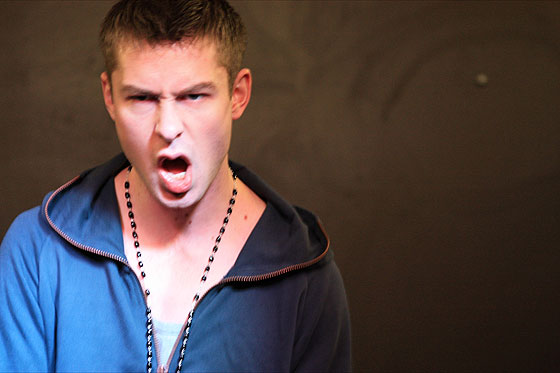 Toby Wharton as Fog
I had a friend years ago. We were close for a while, but she was complicated and when she was through with you that was it. So I knew her for a year then never saw her again. She was the same age as me, we were born a few days apart, and despite her not having seen anything at all of the world outside London and Slough she seemed to have lived a much longer life. She told me things that made my hair stand on end.
She'd been in the care system and she'd been raped. She'd been slashed with a knife by a gang. She had no connection with her two younger sisters, who had been abandoned with her, but had both been fostered out to a 'nice' family. For her the care system was a series of failed placements and homes where she was preyed upon by older children and on one occasion a carer.
If you met her in the street you'd never think she had a problem in the world because she had the brightest smile there was. But she'd beaten a crack habit, was semi-literate, dissolute and scarred permanently by her experiences. No amount of love or care, it seemed, could make any of it right again.
Working on a newspaper I learnt over the years that her story was not unique, but part of a pattern of abuse within a system where children could not be properly protected. The care system in Britain as a whole is a very poor substitute for the love and affection children need to develop.
In the past few days two things have reminded me of this: A powerful new theatre production about being in care and a warning from Barnados that served to validate what the play had to say.
The Finborough Theatre's Fog, about a returned serviceman's attempts to reunite his family after leaving his kids in care for a decade where they were abused, is harrowing. But it is a very matter-o-fact kind of harrowing. It tells us awful things that somehow aren't as shocking as they should be, because in a way we have already come to accept that things like that occur when you are a ward of the state in Britain.
Barnados warned this week that children older than 10 in the care system are being "forgotten" and have become almost unplaceable among foster carers. The charity said 12,000 kids entering care last year (43%) were over 10, and while it didn't give the figure on the number placed in foster homes, Government statistics tell us that just 3% of children aged over 10 in care were adopted out last year. Of these 84% were white, giving a less than 1% chance that a black or Asian child aged over 10 will find a home.
Some will be unfortunate enough to live out their childhoods in one of the 17 secure care homes for children that operate throughout Britain. In these the majority (66%) are detained or placed by the Youth Justice Board, while the vulnerable remainder are neglected or abused children who have been removed from their homes by local councils.
Throughout the wider care system a much higher figure of 62% are placed because of neglect or abuse. Just as worryingly, the standard of these childrens' education is well below the norm, with just 45% attaining the basic level of education for their age. Barnardo's say at least 8,750 new foster families must be found within the next year to avoid a catastrophic increase in the number of emotionally damaged children. And while homes are more likely to be found for babies and toddlers, UK adoption figures show that only 60 children under one were adopted out last year.
At the Finborough, on the outskirts of Chelsea in West London, hard-hitting Fog is selling out fast with its mixture of powerful acting and devastatingly pointed writing.
Penned by Tash Fairbanks, a 63-year-old feminist playwright, and her partner's 27-year-old actor son Toby Wharton it is funny at times, disturbing and very, very real. It is also mesmerisingly sad.
Many people who have been in care may find it hard to watch.
Played by Wharton, in a riveting performance, the main character Gary or Fog (his nickname 'F*** off Gary') sets his sights low. He wants a big TV and a council block flat with a view. His dad Cannon (Victor Gardener) wants to provide much more, but can't stomach working for £12k a year as a security guard. In the end Cannon's half-hearted efforts will prove futile, an outcome the audience can sense from the first sighting of director Che Walker's bleak concrete set.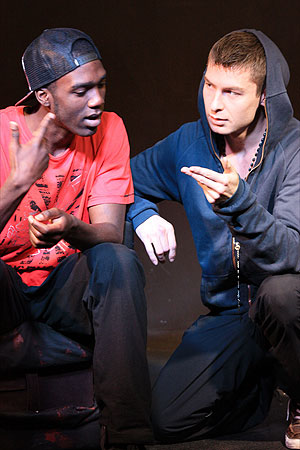 Benjamin Cawley and Toby Wharton
Meanwhile sister Louise (Annie Hemmingway) has been ostracised by Gary and hates her father for leaving them. Going in the other direction, Gary's best friend Mike (Benjamin Cawley) is doing well at school and heading for Oxford - he comes from a poor home but a supportive one, in the form of his nagging sister Bernice (Kanga Tanikye-Buah). There family provides the contrast between those with hope for a future and those crippled by their experiences.
While in care Lou has deliberately put herself in harms way to protect her younger brother from the predators around them. But her efforts have only mitigated the abuse. Hemmingway plays her bolshy and tough, but with a fraught tenderness. Her first appearance on stage made me well up, even though I knew little about her, such was the hurt she conveyed in her eyes. Her character is the only one that really cares about Fog and the audience knows intuitively that this ex-drug addict is the one hope he has - even though he rejects her. Lou has 'put out' in the children's home 'Brock House' to protect Fog and been dubbed a whore, but she understands his pain and fear, as she shares it.
Some see the play as being about dad Cannon, about him being unable to adjust to coming back to a 'Broken Britain' that doesn't care, to messed up kids he can't get through to. There ARE real issues about returned soldiers in Britain - I see them everyday on my drive in to work, manning the check points at Docklands. War-hardened veterans forced to work in 'by comparison' Mickey Mouse security jobs, given no counselling for adjusting from a war zone to civilian life.
But this play is not about that, and it is only about Fog's father in so much that it is to do with the effect his selfish desertion of his children has had. Played by the muscular, physically impressive Gardener, Cannon's naïveté about the tough upbringing his children have endured provides the few moments where he shows his weakness. He's a tough army man who can't face up to the fact his kids have been abused in his absence...because of his absence.
Fog is a subtly rich play, at times a whirlwind of words, at others a bleak place of silence where pleas go unanswered. But for the verbose, black street slang spouting Fog, the script is remarkably restrained and often minimalistic in its detail. It releases information about the characters like secrets, and never labours explanation. But it gives us enough to piece together the tragedy of their lives. There are no formulaic responses, no cop outs and no pat ending.
That one-time friend of mine is out there somewhere, and hopefully in a better place, but the things that messed her up are still very real and they're messing up a new generation of children.
Go see Fog - if you care.
Until January 28
The Finborough Theatre
118 Finborough Road
London SW10 9ED
020 7244 7439