When artist Stephen Taylor's mother and father and an ex love all died within a year of each other, his own life began to unravel.
Having spent years studying and teaching painting, quietly honing his craft, he suddenly crashed emotionally and psychologically, under the burden of his misfortune, unsure of his place in the world.
But for Taylor the answer to this identity crisis would take time and devotion. Without fully comprehending what he was doing the artist, now in his 40s, immersed himself in his work and developed an obsession with a single tree - one that would take over his life and define him.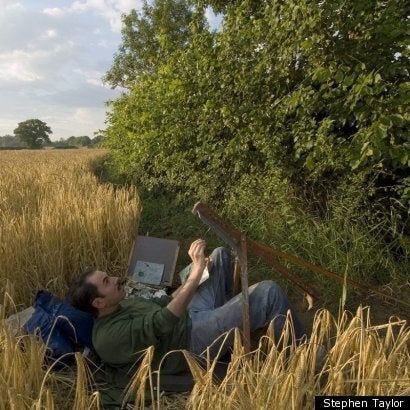 He cast himself into the wild, shunned company, and for three years set up his easel every day in a farmer's field in East Anglia. Taylor assembled himself and his materials in front of a magnificent 250-year-old oak tree - one that he had picked out after examining numerous others in the area and decided it was 'the one'.
Day after day he trudged through the wheat and rape, in all weathers and at different times of the day and night to paint the tree.
He painted it in detail and in abstract, he painted it so it filled his canvas, and he painted it as a distant dot on the horizon. Among the branches of the great tree he documented the inhabitants: crows, beetles, larks and lichen.
He sat, he lay on the ground, he stood on a ladder. His perspective, moreover, changed with the seasons, the one constant being the farmer and his tractor - who would appear in the distance occasionally, going about their enmeshed business with not so much as a wave or a snort of acknowledgement.
The philosopher Alain de Botton mentions Taylor in his book The Pleasures and Sorrow of Work, alluding to the tragedies which led him to this point and how the business of work had somehow helped him in a stoic, meditative way.
There have been many artists and writers who have dealt with their own sense of personal despair, their sense of failure or perhaps just the fear of failure, by walking alone into a field and lying down to die with a gun or a razor in their hand.
But the story of Taylor, his box of paints and the beat-up old Citroen he would coax through the English countryside each day to his field, bears little correlation to Vincent Van Gogh or Ernest Hemingway.
His is a story that is uplifting in its universal ethos that you do what you know, and you make all that you can of it.
Now, five years after Taylor packed up his easel and left the field for the last time, a book has been published of 50 of his paintings from that time.
Entitled simply Oak, it is itself a workmen like volume, full of analysis of sunlight and shadow, of gradients of paint and how the eye plays tricks on the mind. It is the diary of an artisan, obsessive in its chronicling of technique and the thought processes that led to the final image.
But on personal details it is scant, and on the subject of the tragedies he suffered - which had brought him to the field in the first place - he devotes just five lines in the entire book.
This is the measure of the man, rather than the artist. He does not seek out the limelight, which is why he has never spent much time in it. Nor does he seek some material advantage in mixing his personal life with his craft as a painter. That is too much a foreign concept to him.
What little we know of Taylor has been wheedled out of him by people more astute in the selling of paintings and books, and yet even that is slight and no more than a footnote to a great canvas.
I spoke to Taylor for just over an hour on the phone one day recently to fill in some of the blanks.
He had been living in Colchester at the time of his 'mid-life crisis' and when the paintings were made between 2003 and 2006, but now resides in Ely in Cambridgeshire.
Immediately prior to this Taylor's mother Lillian, 70, died of a brain tumour and his father Jack suffered a stroke not long after, succumbing finally to a heart attack within the year, at the age of 76. In between Taylor's former girlfriend, the woman he describes as being 'the closest woman to me after my mother', also died of a brain tumour. It's still a sensitive point and he will say no more about her.
Taylor told me: "Father's death was the last straw. You lose your sense of identity when you lose friends and family and I suddenly didn't know who I was. I think it helps you to work out who you are if you know where you are, and I think that's what was going on.
"I walked into this field one day and just sat down and started to paint. I painted the tree from every angle, in oils and watercolours, I drew it and photographed it. I did start to wonder why I felt it so easy to work in this field on my own for such a long period of time. I think I was trying to feel at home.
"I was trying to connect with something much bigger than me and all my concerns."
Taylor, who studied at Leeds, Essex and Yale universities, said the process was cathartic and the tree was a link to pictures he grew up with in his family home in Wolverhampton, in the West Midlands.
His grandfather, a brewery worker, painted in his spare time, and a picture of an oak tree in a field hung prominently in Taylor's boyhood home, alongside watercolours of birds painted by his father, a postman.
But his career as an artist had taken him around the world and, for prolonged periods, away from his family.
He added: "My family had been there for 100 years and when that was all finished I was left wondering 'what am I going to do with my life?' I went through a mid-life crisis brought about by the deaths of important people in my life that I was coping with.
"At the time I started painting the tree I didn't think about why I was doing it, but looking back now I think I needed a sense of place. I had lost everything that anchored me. By taking this one little area of England and feeding off it spiritually I found some redemption. I got to know the history of the place and its links to John Constable. I built up this little world that seemed to confirm who I was."
Taylor was aware, too, of the oak's powerful symbolism, its solidity and defiance of time and change, adding: "The oak has a feeling of permanence.
"You find it crops up a lot in the paintings of Constable, in Virginia Woolf's Orlando and also in War and Peace, where it takes on a symbolic meaning - the oak tree carries on and that helps Andre make sense of all the loss he's had.
"And the paintings themselves are very much like ones in my family, ones my grandfather did. Painting was how we knew who we were."
The time spent in the field also expanded his artistic range.
"I began to work on ways that would help me paint nature in a fresh way and to help me make visual contact with this new place," he wrote in the book.
"By being in the field so often and by working so carefully in colours belonging to particular conditions, I had developed an understanding of the limitless of natural colour."
Since the oak, Taylor has spent time in the Rheidol Valley in Wales where he took on a new project, determined to properly understand and depict falling water.
Now his attention has turned to the great expanse of clear sky over the rush-covered fens.
He speaks cheerily of his work and his life. He is keen to discuss theory, both traditional and that which is technologically innovative, and our conversation wanders over Cezanne and Pissaro, Constable and Warhol, colour grids and Adobe Photoshop.
"I embraced as much science as I could. I spoke to scientist friends and found ways to use science to help me see more clearly," he said.
"You can define a field of colour using photoshop, pick out one colour and see where it falls across a landscape. That's an amazing tool to analyse how light appears to the viewer.
"I think it's important to embrace new technology where it helps our understanding of how we see objects and how we see them interact with other objects in a landscape."
Painting the oak hasn't given him all the answers though, it hasn't eradicated problems from his life. He speaks ruefully, almost apologetically, about a rejected recent marriage proposal and how his unrequited love interest is happily ensconced in matrimony with another.
He is guarded about his age, because he feels artists, like every other profession, get pigeon-holed and discriminated against if they have not 'made it' within a decreed timetable for success.
But he is grounded once more and happy within his own skin.
He ended our conversation as breezily as it began, and on a positive note about reconnecting with his past and finding himself.
"What I got from my dad," he said, "was how nice it is to be alive."
Oak: One Tree, Three Years, Fifty Paintings By Stephen Taylor
Princeton Architectural Press £19.99
Related