What a ridiculous headline you're thinking, chessboxing was born a decade ago, it's profile has never been so high, with the sport being played everywhere from Iran to India. If you're a fan of legendary hip-hop group Wu-Tang Clan, their 1993 hit, Da Mystery of Chessboxin, will mean that the sport's not only serious but also old news to you. If you aren't the headline's ridiculous because you don't believe it's is a real sport and don't respect the craft of the "athletes".
Introduced to the capital five years ago, every couple of months someone new within the media 'discovers' the sport and reports on it. As did I, producing a feature for London360, Community Channel's magazine show, and attending my first outing at the Scala, Kings Cross. It's callous - the game's played with two opponents, who interchange between the disciplines of chess and boxing, attempting to claim victory via checkmate, knockout or in any of the other conventional methods of each sport. After repeatedly having their heads pummeled, blurry-eyed athletes are required to make sense of a chessboard.
The Scala hosted a sold out event for an audience made up of as many chessboxing lovers and as there were first time attendees. In the second of night's three fights we watched as chessboxer Tim 'CSI' Bendfeldt won in his eighth professional bout. A forensic lawyer by profession, on the ropes in one round, he hung on to checkmate his opponent in the following. Many attended for the novelty factor and a part time, chessboxing lawyer should appease that, but talking to Bendfeldt and learning of his six-day a week training regime, or his ambitions of becoming world champion whilst maintaining his day job, you'd struggle to question his commitment.
It was his opponent, Richard 'The Razor' Frazer, who pointed at a divide: "There's two camps of thought on chessboxing. Some of the organisers think it should be really serious, breeding the superhuman competitors, that they should be physical and mental champions. The organiser here likes to put on more entertainment, there's a bit of cabaret, it's a bit more fun, the guy's still train extremely hard, they take it very seriously but ultimately it's about the entertainment."
London Chessboxing's format differs to that of the sport elsewhere. Iepe Rubingh, the creator of the sport, envisions that one day it'll give birth to the world's strongest and smartest man, but some believe London's approach hinders its image. Grievances, disputes or an application to become a chessboxer should be directed at Tim Woolgar, founder of London Chessboxing. Woolgar's organization that put on the show at The Scala, are taking sport into Manchester for the first time and have run a Saturday morning class at Islington Boxing's Club for members of the public for the last five years.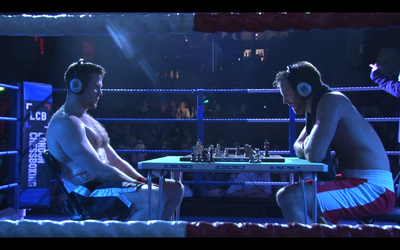 Woolgar emphasized the need for the sport to inspire the next generation, "With a sport like chessboxing you've got the perfect opportunity because you capture the imagination of youngsters at a crucial period of development. You can demonstrate that they have intellectual power as well as physical power and they can only achieve their goals in life if they have a strategic plan to do so"
I agree, and I'd go as far as saying the classes are as vital as the showcase events, as it sustains the life of the sport. The challenge isn't getting people engaged, but in having to teach them an entirely new set of rules and disciplines. I met Zena-the Technician training at the gym and she has been learning chessboxing for the past year and plans to take it up competitively. Islington Boxing Club is where she honed her skills, and during her time there she's seen a number of people walk through the door.
Zena said, "It's really easy to come to the training here because every level is welcomed, even for someone who's never boxed or never played chess". The other attendees included a university art graduate and a guy who'd 'come to check it out' after finding out about it on Google, supporting her notion.
Woolgar asserts that the only thing the sport needs to propel it to another level is financial backing: "Personally, I just don't understand why the sponsors aren't beating down my door to get involved in this sport, Richard Branson where are you? Come on! This is something you should be involved in!"
Although half- joking, if you could see two things going together, chessboxing and the audacious Branson would make sense. At the very least, a marketing campaign of Usain Bolt playing speed chess and fighting himself makes it worthwhile prospect?!
My London Chessboxing experience was seriously fun and I don't see why these two things need to be separated. The sport should continue to embrace its difference and not try and fit in. The misconception is that the novelty will eventually wear off, hence the resistance on behalf of the sponsors. However, continued sold out shows, expansion across the country, entertained punters, new athletes and chessboxing gyms suggest differently, and are all things that London Chessboxing takes very seriously.
To watch the feature in full, go here