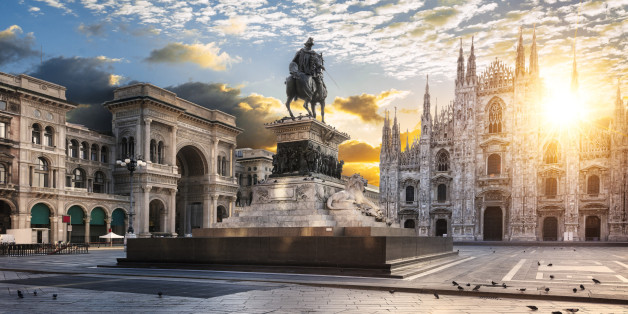 ventdusud via Getty Images
I know I'm not alone in revisiting my favourite cities again and again; research has found that half of Britons have returned to their favourite destination at least three times. It seems the appeal of "boomerang travel" is just as strong as the allure of new cities and countries.
Paris was the most favoured spot for repeat visits, however Milan has always held a special place in my heart, and I've lost count of the many visits I've made to the city. I've been an Inter Milan football fan since I was just five years old and whilst these days my exploration of the city may be more focused on food than football, the city still excites me just as much as it did back then.
If you visit Milan, whether for the first time or the fifteenth time, there are so many wonderful places to explore morning, noon and night.
Start the day properly with a traditional Italian breakfast; Pavè on Via Felice Casati has a delicious coffee selection, amazing bread and pastries and cool music. It's the kind of place where even the breakfast basics are special.
After your breakfast, you should explore the markets of Milan, which are brimming with hidden treasures. Personally, I would recommend a trip to the Fiera di Sinigaglia flea market in Porta Genova. I've been going since I was a teenager and even all these years on, the stalls never fail to amaze me. It sells old records, jewellery, clothes and even furniture from the 1950s. The last time I went with my wife Lara, we bought these 1960s Mario Bellini-designed telephones in yellow and orange. I also bought some old Billie Holiday 45s the last time I was there. Head there in the morning to discover the very best finds.
Pause for lunch at Pizzeria Gino Sorbillo, their pizza is the most superb authentic Napolitan pizza which has a thick crust, cooked very quickly in an extra hot oven. You'll be able to spot it very easily on the Via dei Tribunali, there's forever a line out the door.
Milan is a city fortunate enough to home so much beautiful art however I would suggest picking out specific works to see in the Milanese museums rather than trying to see it all, especially if your time in the city is limited. One of my favourite places to go is the Pinacoteca Ambrosiana gallery in the charming neighborhood of Brera. There you'll see Caravaggio's Basket of Fruit, one of the first ever still life paintings. If you prefer contemporary art to the classics then take a trip to Largo Isarco, where the new Prada Foundation is based. The way the industrial architecture plays with contemporary design is quite fascinating and there are constantly new art shows opening, I'm a huge fan.
The food scene has never been better in Milan than it is right now so when it comes to dining out you're simply spoilt for choice. The city's restaurant offering is at a key point of evolution, the fine dining has never been anything less than superb but chefs such as Andrea Berton, Davide Oldani, and Viviana Varese are pushing the classic idea of 'trattoria' to new heights with their sensational causal offerings - it's very exciting and means that every time you go back to Milan, there is always something new to try. Carlo Cracco's more casual restaurant in a former wood shop, Carlo e Camilla, is certainly worth a visit. And there's this great restaurant called Contraste run by a really young Michelin Star chef called Matias Perdomo who is creating cutting edge food in a beautiful setting.
Milan certainly doesn't stop once the sun has set so for a drink after dark the Elita Bar (which is owned by actor Alioscia Bisceglia) is a real treat. Some of the best bartenders in town work in this place, and plays an impressive selection of music, whether you're looking for drinks, dancing or simple late night eating, you won't be disappointed.
When finally the time comes to rest your head and go to sleep, I suggest The Yard Hotel, just out of the centre of Milan in the Navigli district. It's chic, very stylish and a little bit bohemian - just like this wonderful city.
Massimo Bottura is a contributor to Companion, a new insiders travel guide for five of the most popular revisited cities in the world including Milan and New York. Visit: amex.co.uk/companion.