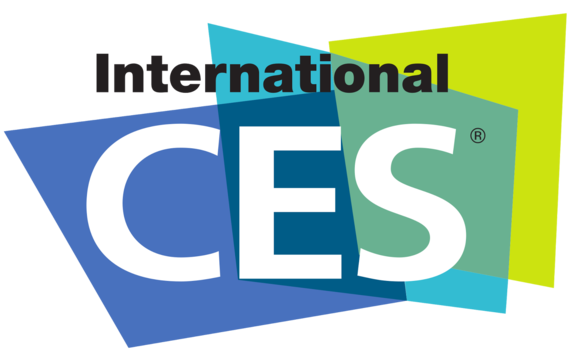 The Consumer Electronics Show (better known as CES) is an ideal place to take the pulse of technology for the coming year. Last week's event in Las Vegas could have taken that pulse with a wrist-worn fitness monitor as wearable technology dominated proceedings.
It looks like the next twelve months will be the year of the wearables, but with so many gadgets about to hit the shelves - not to mention your wrists, head and possibly your feet - what should you be looking out for? Here's five gadgets that whetted our wearable technolust at CES 2014.
Sensoria - Smart Fitness Socks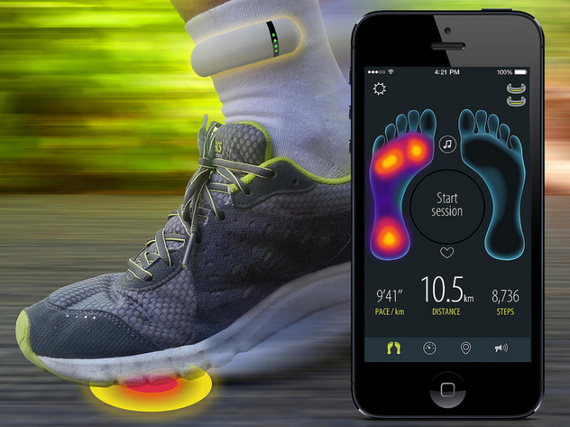 Photo supplied by Heapsylon.
Fitness monitors are typically a wrist-worn gadget, ideally positioned for keeping an eye on your pulse whilst tracking your speed and location via GPS during your run. But these devices can only tell you what you are doing and can't do much to say what you should be doing, which is where the Sensoria Fitness Socks come in.
Unveiled at CES 2014 as part of the Sensoria smart-garment range by Heapsylon, the Fitness Socks use sensors in the sole to monitor the feet whilst running - things like weight distribution on footfall, number of steps and speed - and analyse the runner's technique. The data is recorded by the detachable ankle-sensor and sent via Bluetooth to an app on the user's smartphone, which advises them with vocal instructions on how to change their running technique to avoid injury.
It's slated for a US release on March 15th at a price of $199, with no indication when or even if the Sensoria Fitness Socks will be available elsewhere. Either way, smart socks! The future is here!
Mimo Baby - Smart Baby Monitor Onesie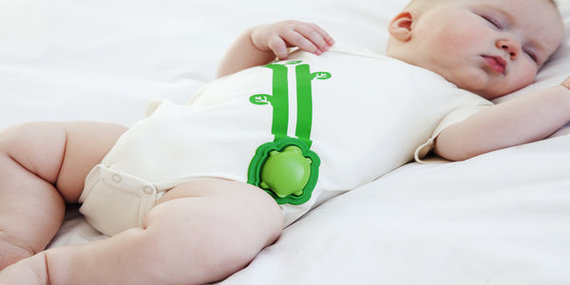 Photo provided by Mimo Baby.
Intel were at CES with a new line of smart products, including Edison: a full computer with 400MHz processor the size of an SD card. To demonstrate how the Edison chip can be used, they showed it off in the Mimo Baby - a "smart" onesie baby monitor developed by Rest Devices at MIT.
The onesie comes equipped with a range of sensors to monitor your baby's breathing, motion, temperature and sleeping habits. The data is processed by a detachable turtle-shaped Edison computer that clips onto the onesie and relayed through a Wi-Fi enabled lilypad that sends the telemetry to the cloud. The lilypad doubles as a microphone to transmit sound from the baby's room to the receiver like a conventional baby monitor. The anxious caregiver can use an app (available on iOS and Android devices) to keep track of the child and gets alerted if anything seems amiss. Any sensitive equipment can be removed so the onesie can be safely washed.
The Mimo Baby onesie will be available for concerned parents the world-over for $199 (£120) in February 2014 from the Mimo website. For which you'll get 3 onesies in sizes 0-3 months, 3-6 months and 6-9 months along with a turtle sensor and a Wi-Fi lillypad. However, pre-orders have sold out.
Pebble Steel - Second-Generation Smartwatch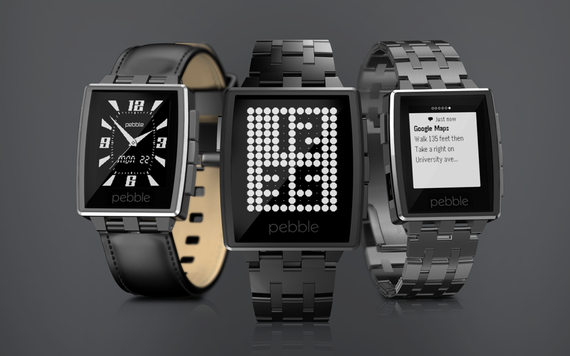 Photo provided by Pebble.
The ePaper smartwatch of Kickstarter fame has undergone a makeover for its second-generation release, shown off at CES 2014. The smartwatch is expected to be the most prevalent form of wearable technology in the coming year, so it's good to see that Pebble are not resting on their laurels before the real competition arrives (Samsung Galaxy Gear notwithstanding). Indeed, the Pebble Steel feels like a grownup version of the original Pebble watch that famously made $10 million on Kickstarter in 2012, with an original goal of only $100,000.
The casing and buttons of the main Pebble Steel timepiece are now brushed metal, coming in a choice of stainless steel or matte black finish, giving it a far more professional look and feel than the plastic original Pebble watch. It comes with both metal and leather straps, which you can swap around to suit your style, though they are tailored to the Steel itself so you can't stick on a strap you've bought elsewhere.
In terms of functionality it's very similar to its predecessor, connecting via Bluetooth to the wearer's smartphone and displaying notifications such as text messages, caller ID and app-specific info. Pebble also announced an app store that will open on the Pebble Steel's launch day at the end of January, which will greatly help the Pebble Steel's sales as the uses for it become more numerous. It's currently slated for a release price of $249 (£152).
Crystal Cove - Oculus Rift's Latest VR Headset Prototype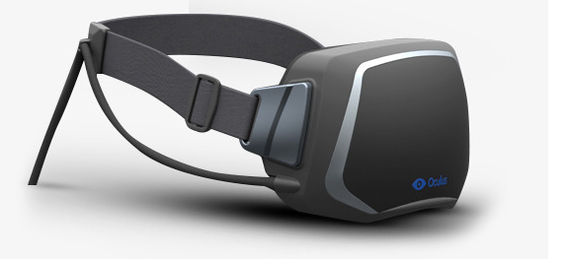 Original Oculus Rift prototype. Not pictured: Crystal Cove. Photo provided by Oculus VR.
Though the Oculus Rift has yet to receive a consumer release date, anticipation for the VR gaming headset has been maintained by a demonstration of the latest prototype, codename Crystal Cove (not pictured above), at CES 2014.
The latest model does away with the dual 720p LCD displays of the previous prototype, now coming with two 1080p OLED displays built into the headset. Not only will this improve the resolution of the gaming experience, it also greatly reduces the image latency that plagued the older displays and resulted in a nauseating amount of motion blur.
Whereas previous prototypes only allowed for motion to be controlled by head movements, the use of an external camera and additional sensors on the headset will enable more accurate head and body tracking. Using the camera to identify the position of the headset in its real-world environment, a limited range of movements (such as leaning and crouching) can be tracked independent of head movement and translate more realistic motion into the game environment.
As mentioned, we're yet to find out when the Oculus Rift will hit the shelves or how much it'll cost. Though there are rumours (to be taken with a fistful of salt) that we'll see it this summer for less than $500.
Jarvis - Intel's Digital Assistant Headset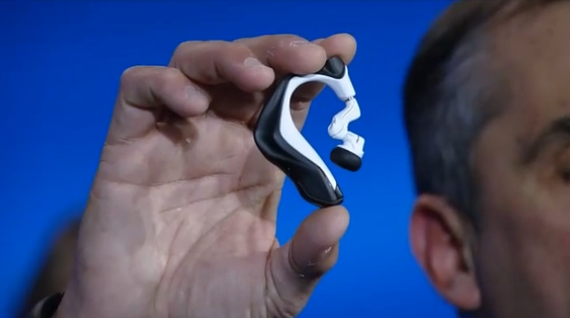 Photo provided by Intel.
In terms of wearable technology, Google seems to be the only one making headway in headsets. Unfortunately, the biggest obstacle that Google Glass is likely to face will be persuading people that strapping a conspicuous piece of machinery around their supraorbital ridge won't look stupid or boastful - not helped by the fact it's already spawned the term 'Glasshole'.
Intel's approach to cranium-based weartech seems to be a little more understated, unveiling a digital assistant headset that wraps discreetly around the ear named Jarvis. Lacking a screen or means of physical interaction with the device, Jarvis is controlled entirely through voice commands and links to the user's Android smartphone via Bluetooth to gain a data connection and perform the tasks you give it.
CEO Brian Krzanich introduced a real-time demonstration of Jarvis on stage at CES 2014's opening keynote, topping off Intel's newest line of smart products that included the Edison chip powering the Mimo Baby onesie we looked at earlier. An Intel representative (named Larry) demonstrated Jarvis by having it recommend a nearby Indian restaurant and give him directions at a later time, which Jarvis pointed out would conflict with an existing meeting. Larry asked Jarvis to cancel the meeting, notify the other attendees and ignore the messages from Mrs. Larry. Sadly, Jarvis is not voiced by Paul Bettany - instead responding in a female and distinctly Siri-like voice - but hopefully that'll be an option eventually.
Krzanich explained that Jarvis is always listening when you have it turned on, ready to accept and carry out any orders given and capable of (politely) interrupting you to deliver relevant information, such as reminders of upcoming meetings. Indeed, most of the demonstration seemed to focus only on calendar and local information, so it'll be interesting to see what Jarvis can do when it's working with other information services in the future.
It's important to know that Intel demonstrated this as a reference design only, giving us an idea of how the system can be used. It's up to Intel's partners to take the technology and turn it into a consumer product, so we don't know when we'll see Jarvis again, how much it'll cost or even what it'll be called. But I'd gladly pay for a digital assistant that didn't make me look like a reluctant Borg cosplayer.