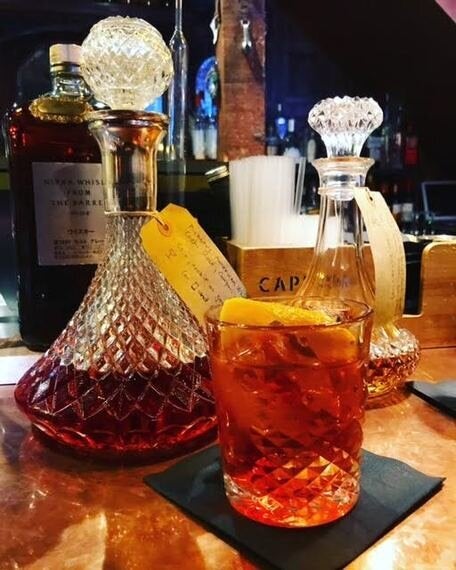 Whisky cocktails are popular in bars, but what about at home?
Image © Whisky For Everyone.
Over the last few years the whisky industry has been making a concerted effort to attract more consumers. One such way has been the idea of mixing your whisky or drinking it in a cocktail, particularly at home. Adding a mixer to a whisky is nothing new - one thinks of whisky and coke as easily as one thinks of gin and tonic or vodka and lemonade, for example - and is easy. But does anyone really make cocktails at home? Can they really be bothered?
Of course, this does not just effect whisky brands but all other genres of spirits. Within whisky, it is not just one brand or company that is pushing the concept either - it encompasses the entire industry. With every new press release or at every launch event attended you are greeted with an accompanying cocktail recipe or welcome drink. Influence the influencer, so to speak.
For a whisky brand, cracking the cocktail code is the Holy Grail. Breaking down the preconceptions that cocktails are complicated and fiddly to make is the key it seems. Get consumers, particularly new ones, using your product in a multitude of ways and you are on to a winner. But has any brand really cracked it yet?
"Most of our customers will buy their whisky and drink it neat, with a splash of water or maybe ice. I think virtually none would consider attempting a cocktail at home", says Alex Huskinson, Manager at The Whisky Exchange store in London. "They will try a whisky cocktail when out in a bar but see it as something a professional bartender would do, rather than something they would do. Cocktails at home are seen as needing skill, time and lots of ingredients".
Despite this assessment, brands remain persistent. Leading bartenders, such as Ryan Chetiyarwardana (AKA Mr Lyan), are increasingly being consulted with to create innovative cocktails for new brands or classics using established brands. You only have to look at the whisky press or online to see that. One recent edition of Whiskeria magazine included a large feature on Chetiyarwardana himself and his whisky cocktail revolution, plus numerous different cocktail recipes.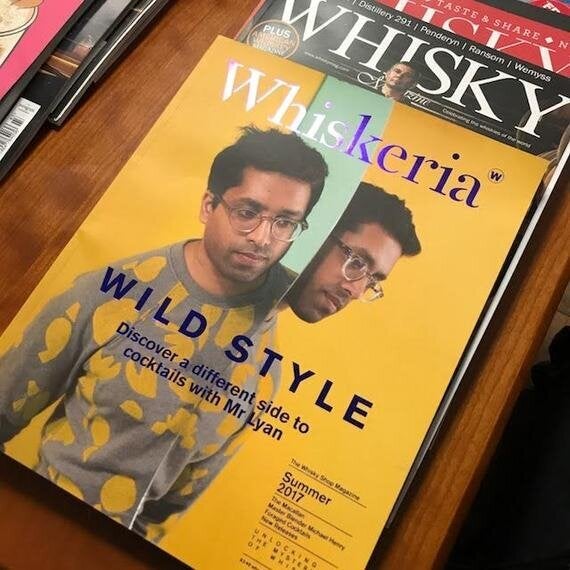 Magazines are now featuring whisky cocktails more and more.
Image © Whisky For Everyone.
Another recent development is a brand associating itself with a cocktail competition. These bring bartenders from around the world to compete against each other to create new drinks from their product. Within the last few months we have seen such competitions operated by brands as diverse as Johnnie Walker and Chivas Regal to Auchentoshan and Talisker.
Bars in particular have been trying to make it easier for consumers - many now have cocktails mixed and presented in bottles or oak barrels for ease. There is also a boom in 'ready to drink' options in cans at the supermarket - numerous brands, particularly American whiskeys, have premixed their product with cola or ginger ale. All you need to do is chill it at home and then enjoy.
An extension of this is growing number of premixed products that make the more complicated cocktails easier for those at home. Companies, such as the innovative Tails Cocktails, have basically made the drink for you and all you have to do when you get home is chill it or shake it with some ice and serve. Having attempted to make my own cocktails at home in the past, it is definitely the easier option and does not get much simpler.
"Over the past five years, there has been a huge shift towards quality cocktail serves being enjoyed beyond the traditional bar scene, " Nick Wall, the founder of Tails Cocktails, tells me. "Batched or premixed cocktails offer a route into the cocktail scene for those who aren't confident in mixing themselves or for those who wouldn't normally consider serving them at home."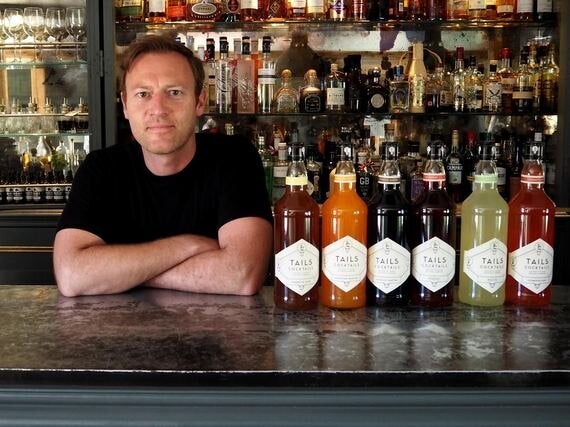 Nick Wall of Tails Cocktails is pioneering the making of cocktails at home.
Image © and used with permission of Tails Cocktails.
So what will ultimately be the thing that makes the breakthrough? Is it more coverage in the press? Or more brands running competitions and talking about mixing whisky? Or maybe more premixed options, either in our bars and supermarkets? It is difficult to tell. Maybe it is just consumers' perceptions about how to drink whisky that need to change? One thing is for sure - the brands, bartenders and those making the premixed cocktails will keep trying for as long as they can ...