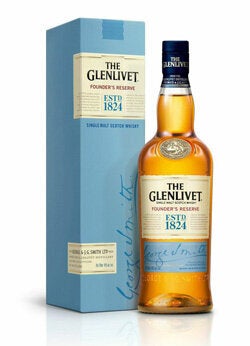 Image credit - Pernod Ricard/Richmond Towers
The recent release of The Glenlivet Founder's Reserve seems to be causing a stir amongst the whisky community. The Glenlivet has long been one of the biggest selling single malts but Founder's Reserve represents a departure for the brand as it strives to grow even further. It is the first permanent core range product to have 'No Age Statement' (or NAS for short) and this has got some people very annoyed.
What does 'No Age Statement' mean? It refers to all whisky that shows no age on the packaging. Many do show age, such as 10 or 15 years old, and the Scotch laws state that any age must be that of the youngest whisky included. A NAS product can be constructed from different ages of whisky, with the manufacturer choosing not to declare the age of the youngest. This always raises suspicion amongst whisky fanatics, so why do whisky companies not declare the age?
It allows more flexible management of maturing stocks. The recipe for a NAS whisky can mix younger and older whiskies together to create a desired flavour profile, as opposed to simply reaching an age milestone. Whiskies mature at different rates so it allows companies to change the ages and recipes slightly in their final product, while maintaining that desired flavour and quality.
The whisky companies need to make money. That is the main function of any business. The time that whisky has to legally mature, which is a minimum of three years in Scotland, means that initial expenditure goes unrewarded for a significant time before the companies see any return for their investment. Therefore, using some younger whiskies in a product makes financial sense.
There remains a stigma attached to expressing youthful ages, especially under 10 years, on labels. Therefore most companies still avoid it, opting for a name instead. Most NAS whiskies are designed to be at the beginning of a brand's core range, as Founder's Reserve is, and aimed at bringing new consumers to whisky. Many may never have tried whisky before. The reality for retailers, be it specialist or supermarket, is that new consumers are less concerned about age or that it somehow defines quality.
The whisky fans that complaining about NAS whiskies seem to forget that many popular whiskies do not carry an age anyway, and never have - think of Johnnie Walker Red Label or Blue Label, the best selling and arguably most popular luxury whiskies on the planet respectively. Also cult single malts that receive constant praise, such as Ardbeg Uigeadail or Aberlour A'bunadh carry no age. However the reality is that most NAS products are not aimed at connoisseurs or more discerning drinkers.
So do the negative commentators simply not like certain NAS whiskies because they are produced by a large company? Is this their issue with Founder's Reserve? The Glenlivet is owned by Pernod Ricard and they, plus Diageo, seem to take constant flack from self-professed online whisky experts about the motives and quality of their NAS products.
Why do smaller or independent whisky companies not invoke the same vitriol when they do likewise? This action, or lack of it, creates a hypocritical and flawed argument. Ironically, most online fanatics commentate on a whisky through their preconceived ideas, rather than what it is actually like. Many a comment on whisky forums or social media is made without having tasted the liquid.
Or maybe the real issue for these commentators is the threat to a favoured whisky? In the case of Founder's Reserve, is it that it will replace the popular 12 years old expression in selected world markets? This attitude only highlights the wider perception that NAS whiskies are inferior products and anyone reading the negative comments could easily be put off buying that particular whisky.
Are NAS whiskies here to stay or a passing fad? The proliferation of such products, by large and smaller companies alike, suggests they are here to stay. This is confirmed when speaking to people working within the industry. There are many excellent NAS whiskies currently available, just as there are some average whiskies that carry age statements. The popularity and quality is shown in the increasing amount of awards these whiskies collect. Six of our Top 10 Whiskies of 2014 at Whisky For Everyone were 'No Age Statement'.
Surely NAS products are good for the whisky category? The more people that drink whisky, then the brighter the future. Maybe it is time for the malt fanatics to stop the negative commentary and look at the bigger industry picture, embrace 'No Age Statement' whiskies with a more open mind and realise that whisky is not an exclusive club designed purely for their enjoyment.
Related