Whiskey in Ireland is experiencing an unprecedented boom. On the back of a general increased global demand for whisky as a spirit, the Irish side of the industry is witnessing something of a re-birth. But can this growth be sustained or will the market reach a saturation point somewhere in the future?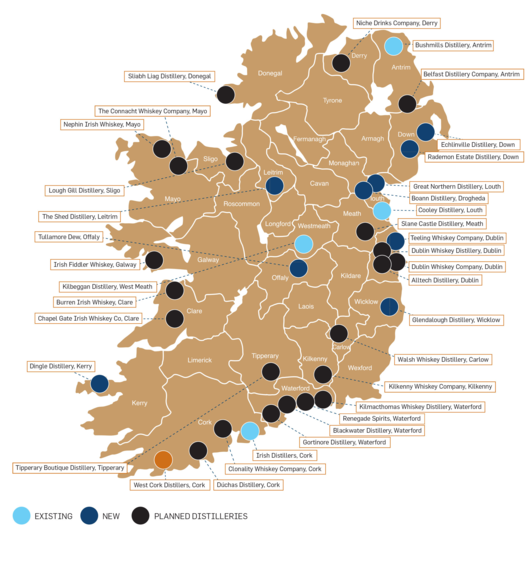 The Irish whiskey landscape is changing.
There are a staggering 30+ new whiskey distilleries in Ireland that are currently at the planning phase or actually under construction. These range from small craft style and independently owned operations to large production facilities owned by some of the world's major drinks companies.
This growth is driven by a worldwide increase in consumer demand for Irish whiskey and also an increased awareness of existing brands. This has been led particularly by Irish Distillers, Ireland's largest producer of whiskey including Jameson and Redbreast, who have opened up the category with an increased portfolio of whiskeys.
In this ever-growing market there will undoubtedly be enough space for everyone to sell the plethora of new products. But the big question is whether the demand remains once many of these distilleries have been built and their spirit matured and bottled? Will all of these new ventures survive?
That is the big gamble with setting up a whisky distillery anywhere in the world - it is expensive and takes time. Others who make gin, vodka or eaux de vie do not have the time aspect. They can instantly bottle and sell their products and begin recouping some of their investment immediately.
The recent surge in popularity is welcome for the Irish industry. Sales had declined so badly following the post-Prohibition period in America that the number of distilleries in the country was reduced to just two by the mid-1980s - Bushmills in the north and Midleton in the south.
This had not always been the case though. When the famous whisky explorer and writer Alfred Barnard visited Ireland in the 1880s to research his seminal book, The Whisky Distilleries of the United Kingdom, he found a thriving industry. He went to 28 distilleries and this included six in Dublin and three in Belfast.
The distillery revival was really kick-started by the revamping of Cooley near Dundalk in the late 1980s. The owners had a mission to recreate a number of the lost whiskeys from around Ireland and grow the category and consumer choice by doing so. They achieved this but remained the only new distillery to begin production until very recently.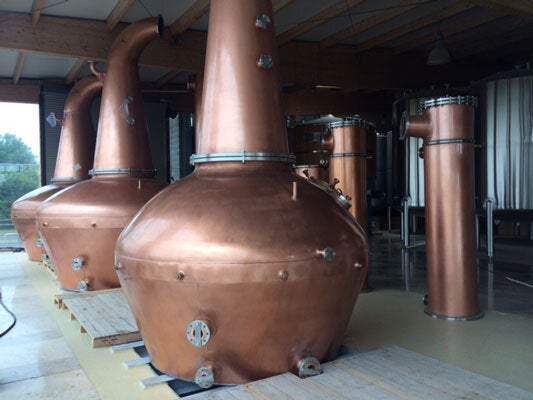 Boann distillery plans to be operational by the end of 2016.
Image © Whisky For Everyone
Now we are seeing many more small independent operations, such as The Teeling Whiskey Company in Dublin and the forthcoming Boann distillery near Drogheda, going toe-to-toe with projects from drinks giants such as William Grant & Sons with their two year old distillery at Tullamore and Brown-Forman with their proposed €50 million proposed Slane distillery. In addition, Irish Distillers have significantly modernised and expanded their Midleton distillery to cope with the increased demand.
The mix of new products is adding great diversity to the marketplace and will continue to in the future as more of these projects come on line. But is there a danger that it may also add confusion for consumers? Only time will tell I guess. For now, let's just enjoy this wonderful Irish renaissance.