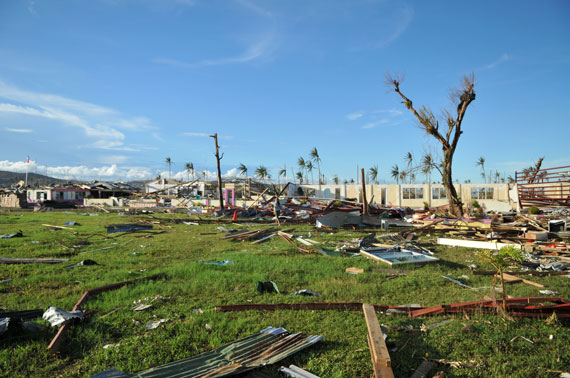 With so many homes destroyed, schools ruined and communities turned upside down in the wake of Typhoon Bopha, known locally as Pablo, children in Davao Oriental, Mindanao, must be the highest priority of aid organisations and local and national authorities in the Philippines.
I was in Davao Oriental, about 950 kilometres southeast of Manila, for about a week, primarily in the municipalities of Boston, Cateel and Baganga. I'd never seen this kind of destruction before. People have lost everything and the children have been through unimaginable events that will stay with them for the rest of their lives. There are lots of girls and boys now with nowhere to go. Their homes are gone, as are their schools. They don't have anywhere safe to play and this is one of our biggest concerns at Plan International as we respond to the disaster.
The vast majority of homes in Boston, Cateel and Baganga have been destroyed. People are now living in rubble or staying with their neighbours, friends or family. On one of my walks around Cateel, I met mother-of-four Lucila Castro, whose house has become a kind of refuge for a large group of now-homeless children and families.
"We're helping the displaced children cope by telling them we're just playing a game of 'house'," she told me.
In the short-term, this is a kind of solution, but in the long term it just won't do, which is why we've been setting up tents across Davao Oriental to be used as child-friendly spaces during the day and as shelters at night. Children are the most affected by any kind of disaster and when they have no stable homes or places to play, they are vulnerable to exploitation and abuse.
This is particularly so with such a widespread disaster where families are preoccupied with rebuilding their lives. The capacities of local and national authorities are stretched to their limits as 6.2 million people have been affected and about a million don't have homes to return to. The United Nations Office for the Coordination of Humanitarian Affairs is seeking a massive g $65 million to respond to the needs of nearly half-a-million people.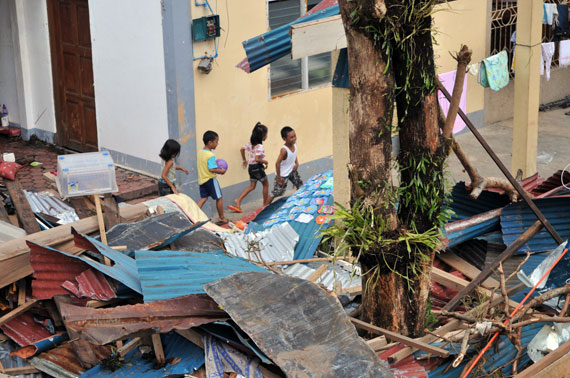 What they need most
In a small hillside community in Baganga, children were running around left, right and centre as Maria Hermoso told me, "The most important thing now is money to buy things and fix our houses."
People's priorities are generally focussed on their basic needs while the needs of the children are often overlooked. We'll be distributing tarpaulins and repair kits full of tools and items people can use to rebuild their houses to alleviate some of the burden but we'll also be distributing play materials for the children, most of whom have lost all their toys.
Mother-of-seven Lucy Myrna Lui is the principal of the vocational high school in Cateel. "All classes have been suspended. All the school buildings were destroyed," she said.
"Nobody will go to school because all the municipality is affected. Most students come from different villages so it's not easy for them to get here. We don't have any places where we can do our classes. We have to prioritise, to settle everyone in their place and move people to temporary shelters."
Plan was one of the first organisations to get into the affected areas and work with the people there to identify what communities need most. We've set up our tents up across the area and will ensure they're put to good use. Part of our response will also be psychosocial support to help children and their families deal with the stress of a disaster.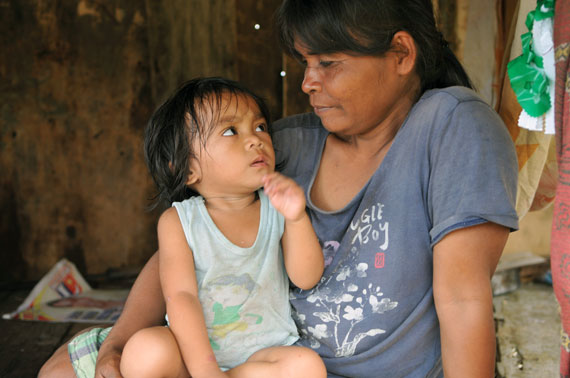 "The children have been through a very difficult situation and many of them will need psychosocial support in order to process everything that's happened to them. This is essential for children and adults alike to avoid longer-term psychological problems. In the child-friendly spaces we're setting up, our network of volunteers will use play therapy to lift the children's spirits and keep them smiling," said my colleague, Baltz Tribunalo, from <Plan Philippines.
This network of volunteers that we're establishing and nurturing is essential for child protection because it makes the community the driver of the solution and creates a safe environment. These volunteers will be trained on how to deliver psychosocial support and also on how to assist with management of the response centres we're setting up. One of the places where we've put up tents is the district hospital in Cateel, which was destroyed by Bopha. Medical supplies have been hard to come by and so we have been relieved to see other aid organisations coming to offer medical support.
A key part of our response will be an explicit focus on support for women and children. This is essential because the conditions in affected areas are so bad.
Potential danger all around
There are many potential dangers in Davao Oriental at the moment. For starters, it's still raining, so children and their families living in houses with no roofs are going to suffer. Then there are security concerns. There have been reports of looting in Cateel, as 83-year-old Flordeliza Nero told me:
"We don't know what will happen now. We have been terrified. People have been going round shouting tsunami alerts to get people out of their homes so they can loot them."
While there is a fair-sized police presence during the day, at night, it's a different story. And the fact that there is no power means the place is pitch black and will be for the foreseeable future. Couple all of this in with the downed phone lines and you have all the ingredients for child abuse and exploitation. People are hungry, they're tired and they're desperate.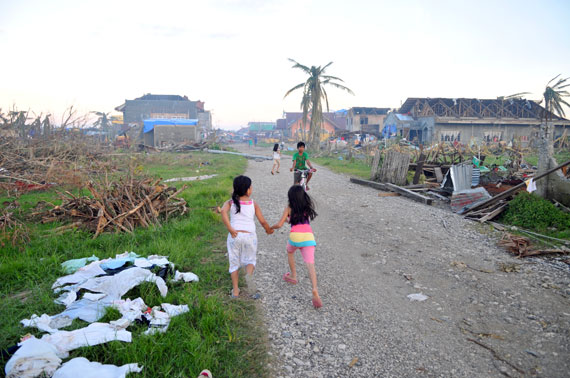 Everywhere I went, people had two questions for me: 1. What are you doing here? 2. Will you help us? People are literally pleading for help and the full response to Bopha cannot come quick enough. We have to find ways to release the tension and get rid of some of this desperation - and this is where child-friendly spaces can come into play.
The children want and need to go back to school, or at least something resembling school. This is universal. In Boston on Sunday we drove for an hour up and down hills, over a river and across a rickety old bridge to reach isolated Mandaya ethnic tribes. There, I met a very smart seven-year-old girl called Thrixce, a student at the elementary school in Caatihan village. She told me she is keen to get back to class and resume a normal life.
"I was very angry when Pablo came because Pablo destroyed our house. It's painful now that our school is destroyed also. I want to go back to school. I miss my school."
One of the way we're looking to help in Thrixce's community is by setting up tents to be used as temporary schools. Later on will come the rehabilitation of the damaged classrooms there.
If there's one thing I learnt during my time in the disaster zone, it's that the Filipino spirit is a wonderful thing, but it has its limits.
"We're not trained how to do this, but we're resilient. We just smile as if we're not affected," said Therese Obatonon, a member of the local government working on the recovery in Cateel.
Plan is raising an additional US$2.3 million to respond to Typhoon Bopha. Plan's response efforts will focus on education and child protection in emergencies with an initial duration of 18 months. To find out more about how to donate, click this link.