I am writing this blog on the building site for the Ecover garden at this year's RHS Hampton Court Palace Flower Show. I am a newbie to the show garden world having built my first conceptual garden at the show last year. It is fair to say it was the most nerve-wracking, time consuming, but exciting experience of my life to date. I promised my partner and family I wouldn't do it again this year but here I am. Addicted!
So, back to the building site. Behind me as I write is the classical backdrop of the palace and its magnificent gardens. In front of me the Ecover garden is taking shape, providing a striking contrast with contemporary shapes, vibrant colours and lots of smooth, curvaceous, tactile recycled plastic. Having never worked with this material before in the garden it has been a great adventure and something I am now eager to shout about.
The central theme to the the Ecover garden is the fundamental principle that 'water is life'. We all depend upon our watery environments, but they are under threat from pollution such as waste plastic. When I did my initial research into the problems facing our waterways I was shocked by some of the statistics. Research from the Marine Conservation Society reveals that plastic debris accounts for almost 60 per cent of all litter found on UK beaches, and the UN Environmental Programme estimates that more than one million seabirds and more than 100,000 marine mammals die every year from ingesting plastic debris.
I have taken inspiration from Ecover's pioneering spirit as a champion of sustainability. I wanted to design a garden that was about solutions to these problems and how the products and materials we buy and use can provide a way to make a sustainable lifestyle an easy option.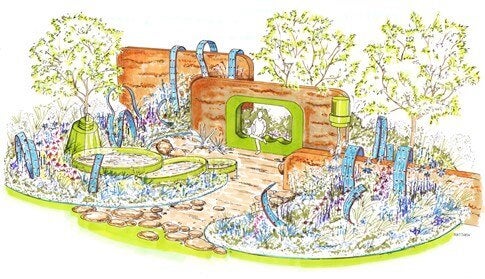 Recycled plastics are the centrepiece of the garden and we are hoping to put this material in the spotlight. However, they are only part of Ecover's packaging innovation story along with other sustainable plastics such as Ecover's 100% renewable 'plantastic' made from sugar cane and ocean plastics made from recovered waste plastic floating in our seas.
I have used recycled plastic in both sculptural and functional ways in the garden. They form benches, lampshades and edging, but also fun visual elements such as a fountain, pools and sculptural waves that crash over the walls and through the planting which has been chosen to reflect the colours and movement of water.
The overall effect I am hoping to achieve is of dynamism and energy showing recycled plastic as a visually attractive and versatile material. The message is that using sustainable sources of plastic is not only beautiful and in harmony with the environment but also aids its recovery.
Recycled and sustainable materials are not a new proposition, but I do feel the perception of them and their potential uses has been slightly worthy, functional and perhaps a little uninspired. I believe it's time to show them in a vibrant, exciting light making people aware of their use in Ecover's packaging and encouraging them to think about other potential uses in the home and garden.
This project has really been an eye opener for me and I've been really inspired by Ecover's ethos towards sustainability. I've realised that there are some really simple things I myself can do to be more sustainable both at home and as a designer. Here are a few ideas you too might want to try:
When planning a new garden look for ways to re-use and recycle existing hard landscaping rather than filling a giant skip.
Plant drought resistant plants and mulch your beds to retain water in the soil during the summer.
Collect rainwater from your home drainpipes and why not make a water feature of it at the same time.
When buying new things for the garden such as a new table and chairs see whether there is an alternative made from reclaimed or recycled materials...they often have so much more character.
Hope to see you at the RHS Hampton Court Palace Flower show from July 9th -14th.