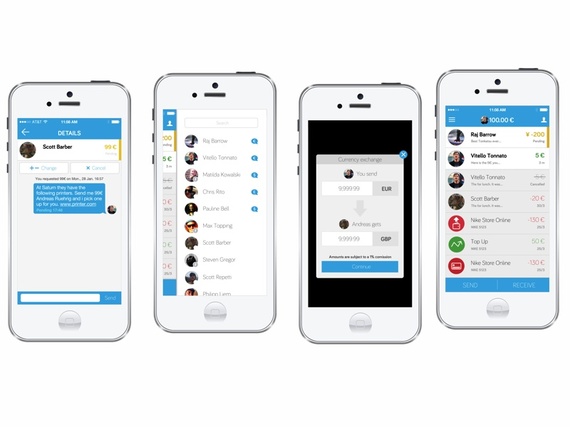 With Snapchat allegedly in talks with Chinese e-commerce giant Alibaba to raise funds taking the discreet messenger service to a $10 billion valuation, chat is big business.
Snapchat's core user demographic of 13 to 25 year-olds send 700 million photos and videos per day, making it one of the fastest growing (and most valuable) social networks online.
With Facebook pushing to make further inroads into the space with this week's announcement of the Bolt photo sharing app, messenger services are becoming a fiercely contested battleground.
But while Facebook, WhatsApp, Viber and the like are locked in an arms race to help users send photos and videos with increasing speed (and discretion), one London based startup is looking to capture a more niche part of the chat market: sending money.
Payfriendz is an iOS and Android app that allows friends to send money with the same level of simplicity as you would a tweet or snap. Founded in 2013 by Volker Breuer, Andreas Rührig and Christian Ritosek, the three were looking to combine a chat service like WhatsApp with online money transfer such as Paypal.
"I was intrigued why money matters tend to be such a hassle, especially among friends. The idea is to share money and good times with those close to you," explains Volker Breuer.
The app has a Facebook style messaging service at its heart paired with a remarkably simple money transfer facility. Users add money from either a credit or debit card - up to £400 - and select anyone in their contacts book to send money to.
To register, all a user needs is a smartphone and a cell phone number. Money is sent exclusively from one Payfriendz account to the other without users having to swap bank account data. Transfers are free, except if you're doing cross-currency transactions, which incur a one per cent charge.
"I believe associating payments purely with banks is a misconception and that they are not particularly interested in providing fast and cost-effective payments. They are more driven by commercial interests like loans," continues Breuer.
While banks in Europe and the US have largely ignored micro payments, tech companies are increasingly looking to smaller transactions as a way of better understanding what customers spend their money on.
Amazon recently introduced an experimental app that lets people store gift cards and loyalty cards from a variety of retailers and check some balances on Android phones and Amazon devices. Users can display gift cards as a bar code or QR code so that it can be scanned at a register.
Online payment giant PayPal meanwhile has updated its iOS and Android apps to allow users to store loyalty cards in addition to your regular PayPal sources.
With Apple rumoured to be dabbling in the mobile payments market also, the space is about to become very congested.
Can a minnow in the two overlapping ponds of messaging and mobile payments survive?
"Mobile payments, it's been the next big thing for three or four rounds of next big thing," said James Wester, the director of global payments research at IDC Financial Insights to the New York Times. "I would say we're probably still three to maybe five years away from seeing mobile payments really common, with most of us using it."
Payfriendz may have come along at just the right time.