Uber is causing havoc on the streets of cities worldwide. We all need to get about town and there's a load of services on offer to help us do so. Last week I needed to jump in a cab to get get to a meeting and having heard quite a bit about Uber, I decided to give it a go. Armed with a bit of referral credit that lured me in, I booked my car. The app is pretty neat. A nice responsive interface and pretty simply to use. All good I thought. So I made a coffee and waited for the driver to arrive. With ten or so minutes to kill I had a bit of a play about on the app and took the opportunity to irritate my housemate with news of the name of my driver and the type of car he was driving. One could say I was in my element. But it was short lived. Brutal news soon arrived via text message. 'I won't make it'. It was from an unknown number. The driver I presumed. I was confused, lost and baffled by this statement that surely contradicted the entire point of the service. So I replied, 'the car is not coming?!''Yes sorry' was the response. 'Not good!' I typed and he graciously closed proceedings with 'well blame the traffic'.
Nicht good really. Quite laughable but I was pretty late for the meeting by this stage so didn't have much time for laughter. I ran out the house and jumped on a bus to get there instead. TFL saved my skin on that one. I had a bit of time on my bus ride to ponder over the events that had passed and being quite unimpressed, I sent Uber a tweet. There was an unusual amount interaction from Twitter users on my seemingly generic complaint. I didn't think that cabs were that bigger topic but I guess I was wrong. Quite a few people got in touch and in particular @Billcabbycutts opened my eyes to some issues with the service that has quickly expanded across 36 countries globally. This infamous app company has been making the headlines over the last few weeks and it seems that people have some pretty strong views about it. Fare shocks. Uncheckable work histories. Drivers accessing personal information. Protests planned in June. It all makes for an interesting read. But these are some pretty big problems for a company that is seeking a $12 billion valuation in its latest funding round.
I decided to dig a bit deeper and stuck a message out on my website asking 'was I just unlucky? Is it horror stories or all good news?' I wasn't expecting too many messages of adoration for the service and obviously this was an opportunity for complaint. However, one particular message did seem to sum up the general consensus.
"Uber is a good technology, but their prices are absolutely ridiculous. They quote one price and charge two or three times more at the end of the journey, this is from my own personal experience. SURGE PRICING is extortionate. The last two rides the drivers spoke little English and had to repeat my post code at least ten times.
As a young lady out on a Saturday night I prefer to hail a black cab who will take me right to my door without getting lost or any directions asked. I guess you get the service you pay for."
Ultimately it comes down to trust. From the moment you decide to order a cab you need to feel safe. You need to know it's going to come - that's a given. But it's easy to forget that a car can be a dangerous place to be and you want to feel looked after. I usually use my local cab firm 'Royal Borough Cars' in Greenwich and they just get it. You speak to a controller who knows the area, they tell you exactly how much it's going to cost and most importantly of all, it's personal. It strikes me that if Uber or indeed any of its competitors want to build lasting relationships with their customers, it's personality that they need to embrace. That's a tough ask for an app business. But if you're using them, they live in your pocket and in return you deserve an exemplary service.
I'm all for technology and for products that make the world a better place. But for the time being, I don't think Uber are quite there and I'm going to keep my business with the people who do it best. As a little aside - Addison Lee got involved with the cab conversation on Twitter and sent this message.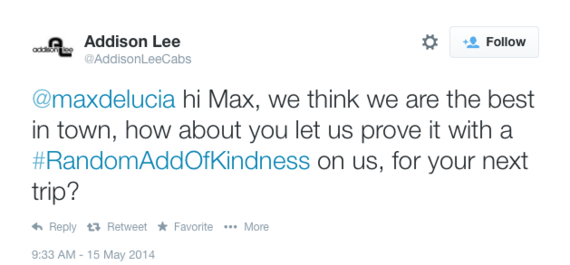 Reaching out to customers in personal ways such as this is a way for the big brands to show that they care. Because in the end we all know that there's a direct correlation between success and customer service. Make the customer feel special and you're onto something. Perhaps that's near on impossible in the app market but I firmly believe that it should certainly be the next step.
What do you think? I'd love to hear from you.