Did you see Google's announcement about opening up Google+ Pages for businesses and brands? If you've been waiting and watching Google Plus from the wings, you've now been given a place to stage your brand entrance. Learn our ideas about the possibilities for brands on the 40-million-user Google+ social network, and how you can get involved with Google Plus Pages in this post.
(Note: Tom, one of our fantastic product managers, channelled these predictions after a very close assessment of Google Plus coupled with his attention to trends in social media marketing. They don't represent the perspective or plans of the Google Plus team.)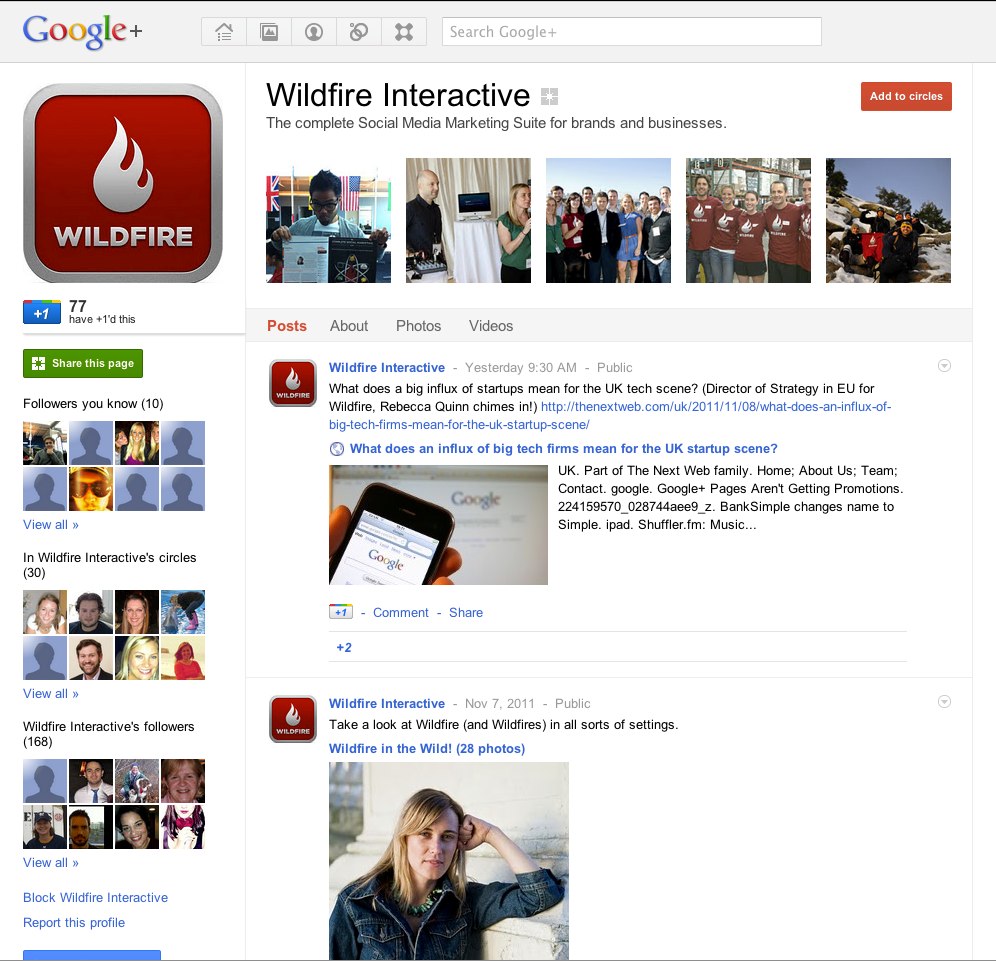 1. Move your brand up the search engine listings, and spend less on ads by increasing Google+ user engagement.
Google has already begun to incorporate a company's social engagement levels into its search rankings. Now that users can plus 1 your brand (the equivalent of a "like" on Facebook), your plus 1 count could figure into the popularity and relevance rating of your brand in search results. Google could adjust search results based on even more types of social engagement the future.
Creating an engaging brand experience on your Google Plus Page will help improve your search rankings and your paid Google ad performance on Google.com, as well as across Google's ad networks. Your social presence matters now more than ever in both consumer engagement and your marketing bottom line.
2. Pull in a potentially huge mobile audience.
Google Plus comes standard on most Android phones and will immediately provide brands with access to a massive mobile audience. Imagine consumers seeing a message in their "Nearby" stream from a brand they assigned to one of their Circles. The message announces a flash sale on ladies winter boots over the next three hours, and includes driving directions to the store via Google Maps. Coupled with the astronomically rising popularity of the Android mobile platform, we're seeing a serious opportunity for you to engage your audience on the run.
3. Target messaging to audience segments more easily than on other social networks.
Now businesses can use Circles to segment their social media audience in order to target content and maximise engagement. For example, you might have circles of users who took a brand survey, so you would add them to an "Engaged Responders" Circle. Another circle may include those who seem "Slow to Warm up." Or maybe everyone would start in the "Slow to Warm up" Circle only to be moved to a more niche circle as they engage with your brand.
Brands could even host live video chats with a "Focus Group" Circle of power users (via Hangouts) to get feedback on new products, and generate "the love" with early adopters.
4. Tap into the massive audience using Google's other apps.
Google Plus will also help you reach and engage with the vast, existing audience of Google consumer app users (Gmail, Maps, Chrome, YouTube etc). First, you'll see opportunities to bring your branded content to users inside of Google+ and enable them to easily share it with friends. Take YouTube, for example. Google has now added a YouTube search tab along the top right edge of each Google Plus screen. When users search for a video, they now see a pop-up video player and playlist of related videos, and each one can be +1'ed and shared with the user's Circles.
In the future, we can imagine Google enabling users to create user generated content (UGC) from a YouTube experience inside of Google Plus as part of a brand-sponsored promotion.
Google has already implemented additional integrations with Chrome and Google Reader, and with each integration comes the opportunity for brands to hook audiences and draw them back to social experiences on Google Plus Pages.
5. Collaborate with your internal and external customers.
We see the potential for Google Plus to be an excellent internal company information sharing and collaboration too.
Google already has experience delivering products with the security and reliability necessary for enterprise solutions, as it offers with the popular Google Apps platform (used to create shared work documents, spreadsheets and presentations). Now that employees can create Google+ accounts with their corporate email addresses, it's not hard to imagine companies using Google Plus as an internal social network for workplace collaboration.
Using Circles, companies could allow secure sharing of selective information with customers inside and outside of an organisation to easily enable focus groups and crowdsourcing. With these potential uses, Google Plus could even provide services similar to Jive or Salesforce.com's Chatter, which also offer social collaboration tools.
So What's Your Game Plan for Google Plus?
With the launch of Pages, Google+ has finally opened its doors to brands looking to build an audience on the network--a network that is, like it or not, intimately tied to Google search and massively popular consumer applications like YouTube and Chrome. Now is the time to get your Google Plus game on, so you can rise above competitors at the onset and attract a valuable audience. Here are some ways we suggest you do it:
Drive as many +1's as possible
Devise criteria for how you would segment your users into Circles and how you would customize content for each Circle
Continue to build up your audience on other social networks using Wildfire's Social Marketing Suite, in order to seed your Google+ presence
Plan for cross-promotion from your Facebook page, Twitter account, and website to help bootstrap your Google+ presence
Brainstorm now how you could leverage Google+'s interactive new features such as Hangouts to more deeply engage your users
What makes you most excited about using Google+ for your brand? Share your insights in the comments, we love hearing from you!