Growing up, I had always felt like a cultural tourist in the world of hip-hop. I remember listening to Dr. Dre's Chronic album as a kid and marveling at how an adult like Dre could use words that I wasn't supposed to use around parents. In high school, groups like the Insane Clown Posse and the Bloodhound Gang fused rap with rock in a way that made sense to me musically. In college I was drawn to underground hip-hop acts like Atmosphere and Aesop Rock who used abstract poetry and emotional honesty to express deep, profound truths.
I was the publicity director of KZSU, Stanford's radio station, and made it my job to reorganise and alphabetise the collection rap records that dated back to the 70s. It gave me an education that I'll never forget and allowed me to make interesting connections. As an English major studying the elements of poetry, I would hear the same poetic elements and techniques on wax: meter, rhyme, consonance, assonance, alliteration, metaphors, similes...the list went on and on. Rappers like KRS-One believed in the value of hip-hop to function as "edutainment", and would rhyme about African-American history on tracks like You Must Learn. I loved it, and wrote as many papers on it as my professors would allow.
Mainly for fun, I began to take the works I was studying in class, such as Melville's Moby Dick, Poe's the Raven etc., and turn them into rap songs. Somehow, I managed after college to turn this into a full-time career. In the winter of 2003, my sophomore year, I went to the Stanford in Oxford program to fulfill my Shakespeare requirement. While there, I began to perform my literary-themed rap songs in the pubs and clubs around the city. I opened for bands and eventually got signed to a UK indie record label. MTV did a piece on me when I got back to Stanford. My life changed.
In 2005, I graduated and became a full-time rapper. My Moby Dick rap Ahab was released as a single in the UK and the CD included an in-depth interview with my professor, the late Jay Fliegelman, on Melville's meaning. I rented a warehouse in Brooklyn and made a music video with an NYU film school graduate. We enlisted the help of kids to stage and film a grade-school play version of the book, a YouTube hit.
In Moby Dick, Herman Melville writes, "Nantucket! Take out your map and look at it. See what a real corner of the world it occupies." It's a beautiful, boomerang-shaped island, thirty miles off of the coast of Massachusetts, and was formerly Grand Central Station for the American whaling industry in the nineteenth century. A combination of factors changed this, however: a decrease in sperm whale availability, a horrific fire that ravaged the city centre, the California Gold Rush, and the eventually electricity eventually replacing a need for whale oil. The mansions of the former captains have been preserved and now stand elegantly on this 19th century island.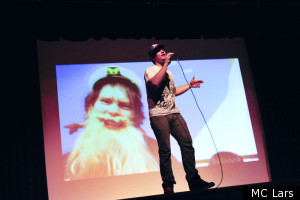 These days, tourism is one Nantucket's main sources of income. The Nantucket Historical Association runs an amazing, world-renowned state-of-the art Whaling Museum that tells the story of the island through artifacts, visitor engagement and a beautiful layout. The literary history on Nantucket is incredible as well. Herman Melville visited the island, inspired by the true story of the ill-fated Essex, a ship that was rammed and destroyed by a vengeful sperm whale. He met with one of the boat's survivors, George Pollard Jr., who was the inspiration for the character of Ahab.
Marjan Shirzad, the NHA's Director of Visitor Experience, is an Iranian-born, University of Virginia graduate with a master's in visual anthropology from a university in England. She grew up in Queens and understands hip-hop like no other woman I know. Last month, at the invitation of the NHA and guided by Marjan, I visited Nantucket and infiltrated the grade schools, middle schools, high schools, Boys & Girls Club and even the beloved retirement community, Our Island Home. In each case I brought tailored in-depth lessons on hip-hop culture and how it relates to Nantucket in the 21st century. We wrote rap songs, made beats and music videos, culminating in a well-attended concert that featured the residents of the island and myself performing our Nantucket-inspired raps. The students were amazing and impressed to see how hip-hop can make literary history fun and exciting. Through embracing the tools of the present and the future, the people of Nantucket saw that we could utilize hip-hop to help us make sense of our nation's past.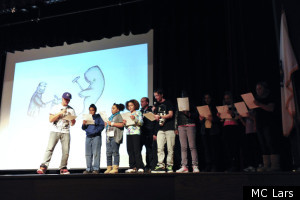 The Nantucket Historical Association is a forward-thinking institution; they brought a rapper to come teach poetry and literature. It was a lot of fun for all of us and was a great educational experience; the first of what I hope will be many successful hip-hop outreach programs there and elsewhere.