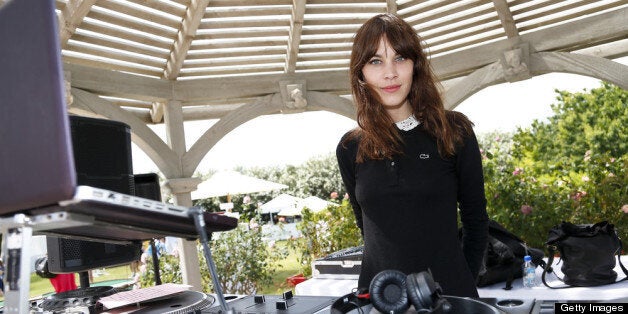 I'm a firm believer of the idea that it's perfectly healthy to have a style crush. Many a morning I have found myself studying the contents of my wardrobe to find an outfit, thinking "What would Alexa do?" And it seems that I'm not the only one who takes a tip or two from my favourite fashionista; maybe today's fashion elite aren't so original after all. Haven't I seen that look before?...
The Swinging Sixties have had a Noughties revival, thanks to head girls of the Mod Squad- Alexa Chung and Suki Waterhouse. These ladies are partial to a shift dress or ten, and are rarely seen without a shaggy fringed hair do. Alexa is a British Vogue cover star, British Fashion Council ambassador, and front row regular; while Suki is an up-an-coming model who is rumoured to be taking over from long-time friend Cara Delevingne as the face of Burberry. With these fashion credentials, you might think that their style is 100% original, right? Wrong. Alexa's collection of teeny tiny shift dresses look pretty similar to those once worn by quintessential 60s muse Lesley 'Twiggy' Lawson. Suki's fashion staples are her circular shades, white tights and Go-go boots; meaning that she is reminiscent of 60s model/ Beatles WAG Pattie Boyd. Alexa and Suki are style savvy, and know that the best way to create a current look is by looking to the past. With these girls around, the swinging sixties will never be forgotten.
It's true what they say- classic style will always be 'in'. The golden age of feminine fashion may have passed, but the legacies of style icons like Audrey Hepburn and Grace Kelly live on, as their timeless looks are emulated by today's fashion royalty. Miranda Kerr- one of the world's most sought after supermodels- often pays homage to Hepburn's Breakfast at Tiffany's wardrobe. The Australian born Victoria's secret model usually dons a pair of Cat Eye sunglasses, and sophisticated tailoring is her fashion rice cake and low fat butter; much like Hepburn.
Another modern day fashionista who channels old Hollywood glamour is Lana Del Rey. The soulful singer has quickly made a name for herself in the fashion world, and has even had a Mulberry handbag named after her. With her signature sweeping locks and typically All-American style, Del Rey is on her way to becoming a style icon akin to the original American poster girl, Grace Kelly. Miranda and Lana aren't too proud to take inspiration from the stars of the past; they're bringing the glamour back into Hollywood.
If you were to flick through the pages of any fashion mag today you would almost certainly see the faces of Cara Delevingne and Rita Ora. This pair of A list pals are both fairly new to the fashion scene, but have wasted no time in making themselves known worldwide for their outlandish style and even more outlandish personalities. Twenty year old Cara is the supermodel of the minute and has walked in shows and starred in Campaigns for designer heavyweights Chanel, Burberry and DKNY. Although she is preened to perfection when on duty, Cara's down time style is considerably more laid back. She is usually clad in skinny jeans, slogan t shirts, biker boots and oversized jackets- androgynous style definitely works for Miss Delevingne. But wait... haven't we seen this somewhere before? Parallels have been drawn between Cara and her predecessor as 'coolest girl on the catwalk', Kate Moss. Cara has definitely taken style notes from Kate circa the 90s- and so far it looks like that is working out pretty well for her.
Cara's new best mate Rita is also taking inspiration from a veteran of her industry. With her weird and wonderful wardrobe containing everything from MC Hammer style trousers and beanie hats to Emilio Pucci ball gowns, the How we do singer is a bit of a style chameleon and is in a league of her own in the pop star style stakes at the moment. But, look through the fashion archives, to almost 20 years ago, and you will find that a certain Gwen from No Doubt was already working the fashions that Ora favours today. Gwen Stefani was one of the first pop artists to rip up the fashion rule book and wear whatever she felt like; nothing was too 'out there' for Gwen, and the phrase "She who dares wins" springs to mind. So, who can blame Rita for following suit? There's nothing wrong with learning from the best.
The next time you find yourself struggling to create the perfect, original outfit- take a few deep breaths and think about what your style icon would do. It's officially ok to be a copy cat.