The 7.9 magnitude earthquake that hit Nepal on Saturday morning can only be described as a 'nightmare waiting to happen'. Mega-quakes like this one happen roughly every 80 years in Nepal, with over 9000 people being killed the earthquake of 1934. When I visited last year the possibility of another devastating earthquake was a matter of 'when' rather than 'if', however Nepal was in no way prepared for it. Rapid migration into the Kathmandu valley has occurred in recent years, with people living in hastily constructed buildings. Building regulations exist, but a relatively new democratic government, so corrupt that it released an X-factor style TV-show for politicians entitled 'Integrity Idol', fails to enforce them. Seismologists regularly say that Earthquakes don't kill people, buildings do. This has been very much the case in Kathmandu.
Nepal has thankfully received a huge amount of foreign aid. Luckily, a number of schools and hospitals in Kathmandu had been reinforced by various charities to ensure they would withstand the quake. Media teams from all over the world have closely been following the developments in Kathmandu and at Everest base camp. The situation in Kathmandu is obviously critical. However, the rural areas of Nepal face an even worse crisis.
I spent my summer in a village in the rural Helambu valley, Gunsa. To reach Gunsa, it took a 6-hour jeep ride, and then a 5-hour uphill hike. The area is so difficult to reach that the government doesn't even bother to collect their taxes. The school has never had a government inspection in its history. The village can only be described as medieval; the houses were made out of mud and bricks without concrete, children washed in the waterfall with the buffalo they were minding. The majority of villagers are subsistence farmers.
I have painted an idyllic picture, but Gunsa faced a set of serious problems, even before the earthquake struck. Mohan, our host, sadly told me that the reason there were so few older girls in school was because they were sent to Mumbai to find work, but often ended up as child prostitutes. Younger children had the bloated bellies that are a telltale sign of malnourishment. Parent regularly lost children due to lack of medical care. The government has obviously taken an 'out of sight, out of mind' attitude to villages like Gunsa.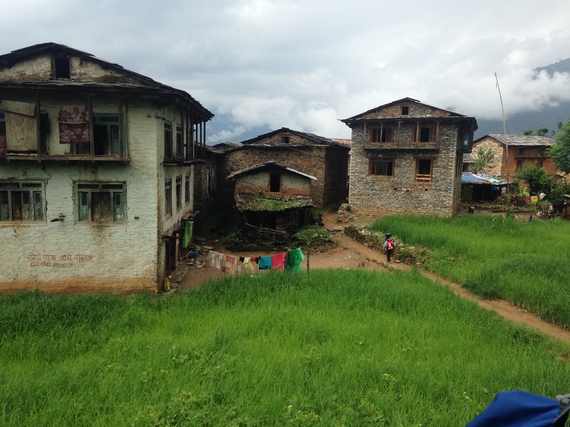 A typical house in Gunsa. Source: own photos
It sounds like a cliché, but it is entirely true to say that despite all this the people of Gunsa were the most welcoming and kind I have ever met. We were invited to a different villager's house for tea (and 'Nepali water' their sake-like home brew) every day, to their hotel (misleadingly named, as it had no rooms to stay in) for snacks which we were not allowed to pay for, dressed up in Saris for their womens' festival and made to dance for three hours in the hope we would find husbands. It was a privilege to have been part of their unique community.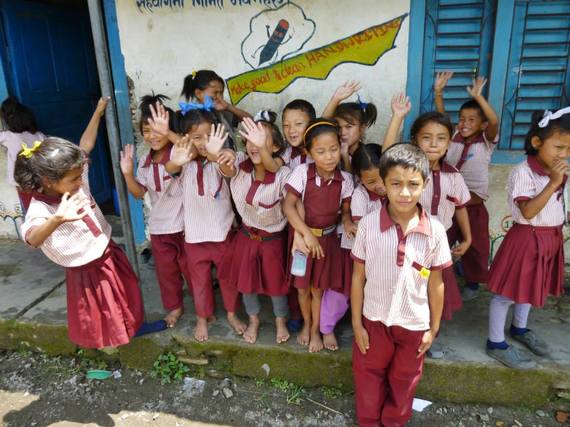 Children from Thangpalkot School. Credit: Imogen Buxton
You can imagine the impact the earthquake will have had on a village like Gunsa. The official death toll for the earthquake currently stands at just over 2500 people. But this does not take into account totally inaccessible villages that no media, officials or aid has reached. All the information we have had has been from social media messages friends in the villages have managed to send to the charity. I was heartbroken to hear yesterday morning that 60 people out of Gunsa's population of 400 have died, along with 50 people in neighbouring Thangpalkot. We received a Facebook message from Anu, the daughter of a family in Thangpalkot, who is currently living in Kathmandu. She wrote "there is no any house in my village". The image below shows that this wasn't an exaggeration.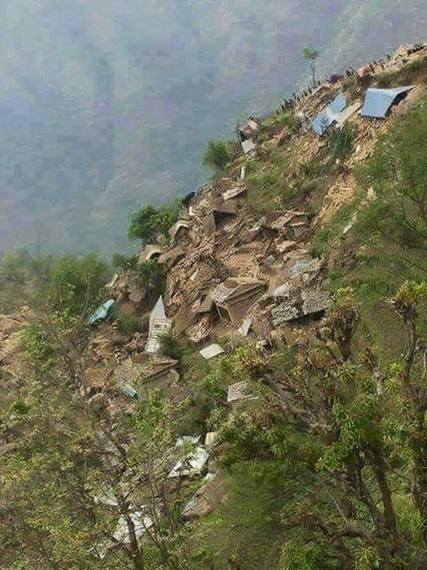 Lower Thangpalkot after the Earthquake. Credit: Mina Thokar
Jimmy Lama, the head of the charity HELP Nepal has informed us that the roads in the Helambu valley to villages like Gunsa and Thangpalkot are completely impassable. The likelihood is that international charities like Oxfam and the British Red Cross will never get to Helambu. It is depressing to think that while Kathmandu will have the opportunity to rebuild, stronger, these villages that already had next to nothing, completely isolated and abandoned by their government in this time of crisis will have a much harder recovery process.
CU HELP, the Cambridge society affiliated to HELP Nepal, through which many students have volunteered has today launched an appeal to help these villages in Helambu who have been forgotten in the coverage of the disaster in Nepal. The appeal supports Mondo Challenge Foundation, the parent charity of HELP Nepal, who have people currently on the ground in Helambu assessing the damage to 30 villages in the region; they are the most effective means of reaching the Helambu communities. Within a day of launching the appeal, our past volunteers had already raised almost £4000. This is a testament to just how much these communities mean to us; we wanted to give back to the incredible people with whom we forged such strong friendships.
In Helambu there is just so much worth preserving. Abandoned by their government and out of the eyes of the media, rural areas like Helambu really do need extra support.
The link to donate is https://www.justgiving.com/helambu-appeal
You can also donate using our text code: Please send CUHN 50 plus an amount £1, £2, £3, £4, £5 or £10 to 70070.