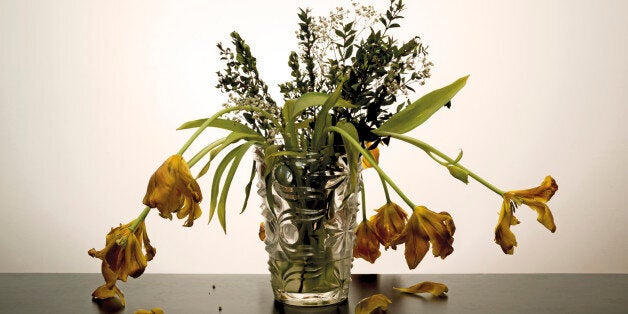 Christmas Day was almost perfect at Casa Briggs this year. Then at 11.30pm it all went tits up; I was woken from my eggnog coma by the cat regurgitating all the trifle he'd stolen and made the mistake, in my disorientated state, of glancing at my phone and seeing the BBC breaking news notification that George Michael had died.
Wham! were the first group I properly fangirled. The first posters I put on my bedroom wall. The first band t-shirt I wore (I saved up the tokens from Monster Munch to send off for one and wore it constantly for a month until my mother mistakenly ironed the transfer on the front and melted George's face off). How did I feel? Deflated. Upset. Other than that, the same sense of unease and sadness as when anyone dies prematurely. I would not describe what I felt as grief.
Can you truly grieve someone you have never even met? Grief is, by definition, triggered by a significant loss. I recall the sudden death of Joe Strummer in late 2002 and how upset my husband was; understandably so. Joe had been his hero and a major musical influence for many years; the photo of when they met still has pride of place in our living room. I also recall one of my husband's friends ringing in floods of hysterical tears and saying she that she felt his death was "worse" for Joe's fans than his friends and family. I don't recall her rationale for this astonishing statement but it is an example of where the significance of the loss seems to be massively, disproportionately claimed.
Overstated, vicarious grief isn't a new thing. My own heroes, the Pet Shop Boys, wrote an excellent B-side called After the Event, presumably about Diana, Princess of Wales ("Everyone's over-reacting/ With clichés and bad acting/ Misty in the rain/ Flowers in their cellophane/ Policemen intervening/ Drama without meaning"). I remember the days after Diana's death well; the collective shock, disbelief and sadness that someone so young, vibrant and yes, famous could die so suddenly and violently. I also remember the grief tourism; the vast crowds on the mall, people hurling themselves, wailing, over the bonnets of the cortege. I remember wondering if those people behaved like that when someone they actually knew died. Juxtaposed with the quiet, devastated dignity of the two children that walked behind Diana's coffin, it felt obscene and disrespectful.
I worked at Our Price Records at the time of Diana's death and the queue to buy the remake of Candle in the Wind was incredible; it was the only time I'd ever felt intimidated by a new release mob. When the boxes finally arrived, the doors to the delivery bay were forced open by the crowd, colleagues who tried to hold them back were abused. It was like grief one-upmanship; I bought it first, I loved her more than you. The queue was almost as big, albeit more well-behaved, to buy the CD recording of her funeral the week later. I still wonder whether those CDs were ever listened to again.
Vicarious grief, whether genuine or overstated, seems even more of a thing in 2016. Undoubtedly, there has been a rash of genuinely upsetting celebrity deaths. And unlike when Diana and Joe Strummer died, we now have multiple social media platforms. This enables us to share our feelings about people in the public eye who have died, our recollections and, where applicable, their creative content. And if you want to tell the world how especially devastated you are about a celebrity death, you no longer have to leave the house; a status update or tweet about how you are "struggling to cope" or "can't stop crying" will do it. For those who want to go the extra mile, you no longer rely on the mainstream media to report your outpourings as anyone can now self-publish their grief tourism; the pictures taken of the oceans of flowers and candles outside George or David or Amy's house, sadface selfies, and look, here's us in a nearby pub afterwards, feeling the loss more acutely than you.
I sound cynical because I am cynical. I don't buy it. The same way in that I don't post "curse of 2016" status updates about how "tragic" the deaths of actress Liz Smith and novelist Richard Adams were because they were both in their mid-nineties, and we should all be so lucky to last that long. I saw someone else attacked on social media for sharing the same view; "Would you say that to their families?" The answer is no, I absolutely wouldn't. Because "good innings" will not diminish the significance of the loss of these two incredible people, and the grief at losing them, one iota to those whose lives were actually intertwined with these individuals. And therein lies the difference. It's sad. But it's not my tragedy, and it's not yours.
But please, Mr Grim Reaper, don't take the Pet Shop Boys.
Related