The term Scandi style is bandied around by millennials and hipsters, but have they got it right? I recently read a feature in a well known UK glossy magazine about Scandi style based on the recent Copenhagen fashion week. Now I know how fashionistas dress is not how the regular person does but it made me chuckle a little as I had never seen anyone dressed like that on the streets here and here was a magazine urging women to embrace Danish style.
I asked about it amongst Facebook groups I am in and one 22 year old woman in London said this to me, "Certainly in my group of friends we say 'scandi' for clothes that are more contemporary and interesting shapes, like cut off culottes or tops that are not traditional shapes. Forward thinking in design, maybe using interesting illustrations, practical work and casual clothing with an edge essentially. But now you mention it I have no idea if that actually reflects what's going on in Scandinavia."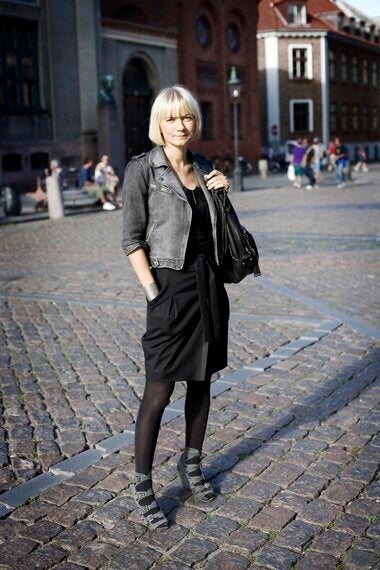 Photo credit: Ty Stange/Visit Copenhagen
In a way it does reflect Danish style but Danish fashion is like their homes -- sleek, simple and pared down with the odd bit of crazy thrown in.
Monochrome and simple lines are always in fashion here. Take one of the super stylish mums I see at the school gate everyday -- she has a pair of loose silky black trousers on most days (not the same pair I am sure!), a simple T shirt (sometimes with an image on, sometimes stripy and sometimes plain, never in a bright colour) and a pair of white sneakers. What, on paper, could sound sloppy looks anything but. When I mentioned how stylish she looks, she was genuinely surprised.
So here are the key things you need in your wardrobe to embrace Scandi style this winter...
skinny jeans in black or grey (rarely blue) or loose black trousers tapered at the ankles

shorter black skirt with thick tights

simple but well cut T shirts
tailored shirts or jackets
soft leather jacket
soft woollen jumper or long cardigan (again monochrome). Chunkier on top with skinny jeans
a scarf (it's how Danish women keep their heads on) -- this can be colourful but don't go mad
sneakers especially from New Balance or Nike
or ankle boots that look just the right side of worn
big stylish bag or statement handbag by a Scandinavian designer (black leather bum bags as shoulder bags are still a thing here)
But like I say there is always a bit of crazy thrown in. An enduring fashion in the nine years I have lived here is bright patterned trousers -- first they were MC Hammer style and now more skinny legged but crazy nevertheless.
This year's crazy is sparkly or novelty socks (avocado is not just for your toast) with sneakers and culottes. Sparkly skirts and animal print (but not together) or vintage band t-shirts. The crazy is always paired with the simple style above so works. Vintage is also a great way to show a bit of individuality and there are some great vintage shops in the city. I recently popped into a little one in my neighbourhood (which I am keeping in my secret address book) and came out with two amazing silk tops for less than £15.
So if you want to really dress like a Dane then check out these five Instagrammers for some real style inspiration.
Laura is the digital director at Elle Denmark and is about to go on maternity leave. Her feed at the moment is great inspiration as to how to dress stylishly whilst pregnant.
Blogger at Trine's Wardrobe, one of the biggest Danish fashion blogs and the owner and creator of her own beauty line.
Lifestyle blogger and chief marketing officer at startup Woomio.
Fashion blogger and beauty director at Costume magazine
Fashion blogger and writer
Melanie Haynes is originally from the UK and has lived in Copenhagen for eight years. She writes about life in Copenhagen on her blog Dejlige Days and after experiencing relocation to Copenhagen and Berlin, she runs a settling-in service aimed at helping expats called Dejlige Days Welcome.
Popular in the Community