Over the last year or so running my relocation business and interviewing expats for articles I have found an overriding message about why people of all ages from millennials to forty something families are moving to Denmark.
Part of the story is what people read in the media about Denmark - regularly listed as one of the happiest countries in the world ), the surveys that say it's a great place to work or start a business, hygge (of course) and the wholesome image Danish lifestyle has.
But the biggest driver is a disillusionment with life in the UK. I hear over and over how people are fed up with long, expensive commutes and how they feel they are wasting their lives sitting on crowded trains and can see themselves still there in ten years time. How families seem to be disconnected with parents working long hours, high costs of childcare and the pressure on kids to perform in school testing as young as six. Throw in the uncertainty of Brexit and I am finding more and more people looking towards Denmark as an alternative, whilst it is still relatively easy to move here from other EU countries.
A more relaxed lifestyle
This relaxed nature of the Danes can be seen as they cycle to work and childcare. People sitting in the sunshine enjoying a can of beer with mates after cycling fifteen minutes from work to do so. There is a sense that life is to be lived and not worked. With a work life balance that is sorely missed in the UK people can enjoy life just that little bit more.
Steph Lambert, a British primary school teacher working in the only council run international school, noticed this straightaway. "The work life balance here is amazing, after work I still have time to go out and socialise, attend Danish classes and even read a book."
This was a big contrast from her life teaching in the UK. "As a primary school teacher in the UK I was working a 60 hour week, with a to-do list that was never ending. I spent many sleepless nights worrying about whether certain children would reach their targets, irrelevant of whatever maybe happening in their lives outside of school. Working within a municipality-run school in Copenhagen, the focus is completely different. To start with, the recent government reforms in education mean that I can legally only work a 40 hour week, which took some getting used to!"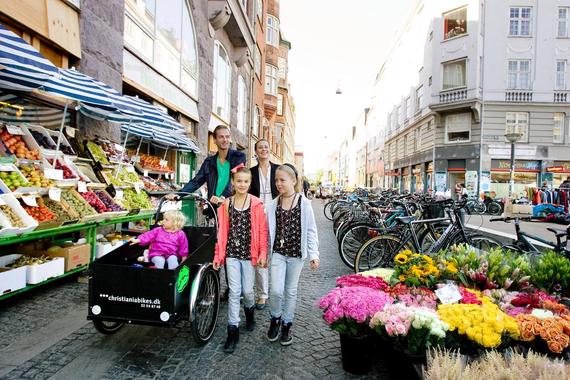 Photo credit: Kasper Thye
Time to enjoy family life
Denmark is well known to be a very family friendly environment from subsidised childcare to shorter working hours to generous parental leave. You can often see dads walking pushing strollers at five in the afternoon, having knocked off work at 4pm, something that is not unusual as Denmark has the shortest working week in Europe.
Tim Farrell from Australia works at the UN in Copenhagen and he has found that life in the Danish capital has given him more time with his family. "The whole ethos towards work life balance has meant that I have been able to enjoy my time with my family here whilst still building my career and undertaking interesting, challenging work which has a high impact and is very rewarding."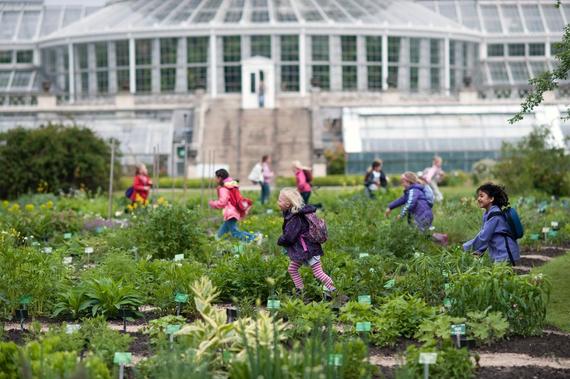 Photo credit: Christian Lindgren
Support for working mums
It is very usual for mums to return to work after the first year of having a baby. Heavily subsidised daycare means that this is possible. One month daycare here can cost the same as one week in the UK or even less. Many women return to their old jobs but there is a lot of opportunity for starting a business, especially as there is also a lot of support for entrepreneurs offered. Terri Galappathie, from the UK, launched her business, Spice Mamma, selling fresh curry kits, when her children were young, something she would never have been able to consider in the UK. "I knew I wanted to do something new and the opportunities for inexpensive, excellent daycare in Denmark meant that I was able to be a working mum much more easily." Her kits are now carried in two of the major supermarkets in Copenhagen.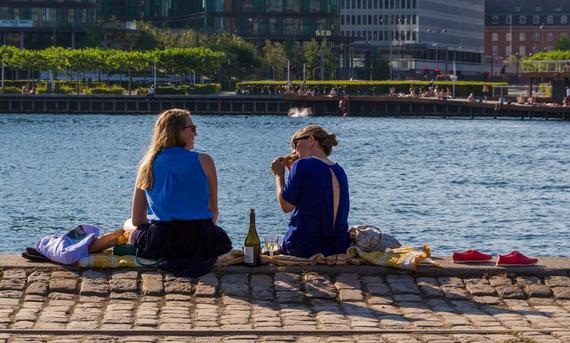 Photo credit: Thomas Rousing
Millennials' playground
It's not just great for families. Many millennials are making the move to the city either as students or taking jobs in the vibrant technology and gaming industry in the city. Danielle Mancini is a UX designer who had been living in London until her move here last year. She now lives a short cycle from her work and her office overlooks the beautiful harbour-side and its just a short walk to buzzing bars and cafes on the picturesque Nyhavn, popular as a postcard image of the city. "I had been living in London for around eight years and I could feel myself increasingly being drawn into the rat race. The move to Copenhagen was very much driven by a desire to achieve a more healthy balance to my life. Sometimes I get home at 5:15 and I'm almost a bit overwhelmed with how early it is, I'm just not used to it."
I have lived here over nine years and every thing above was true then as it is now. So why not think about moving to Denmark and jump off the hamster wheel of UK life? Don't just take it from me....
Visit Melanie's website at www.dejligedayswelcome.com